Ballerina and Cleopatra
A pregnant domestic short-haired cat named Bellarina arrived at Helen Woodward Animal Center back in March. After introducing a Sphynx/American Curl blend kitten named Cleopatra to Ballerina, the two immediately connected.
This Mother's Day Weekend, the healthy hairless feline is celebrating her chance at a beautiful life, thanks to a mother's love. A purebred and only 4 days old, the kitten's Sphynx mother had shown no interest in nursing her babies and the other kitten siblings had passed away.  The Center took the tiny feline and began bottle feeding but knew she would have a better chance at survival with a mother to watch over her. 
With the love of her adopted mother, Cleopatra is flourishing and will have a chance to find her forever family.  Bellarina and her original kittens (named Bean, Biscuit, and Bunny) will be available for adoption in the next 2 to 3 weeks.  Cleopatra will be given a few more weeks for final health checks and her spay surgery and should be available in the first or second week of June.
Have you ever wondered why Sphynx cats are hairless? 
According to Purina and other sources, it turns out the Sphynx cat is actually Canadian!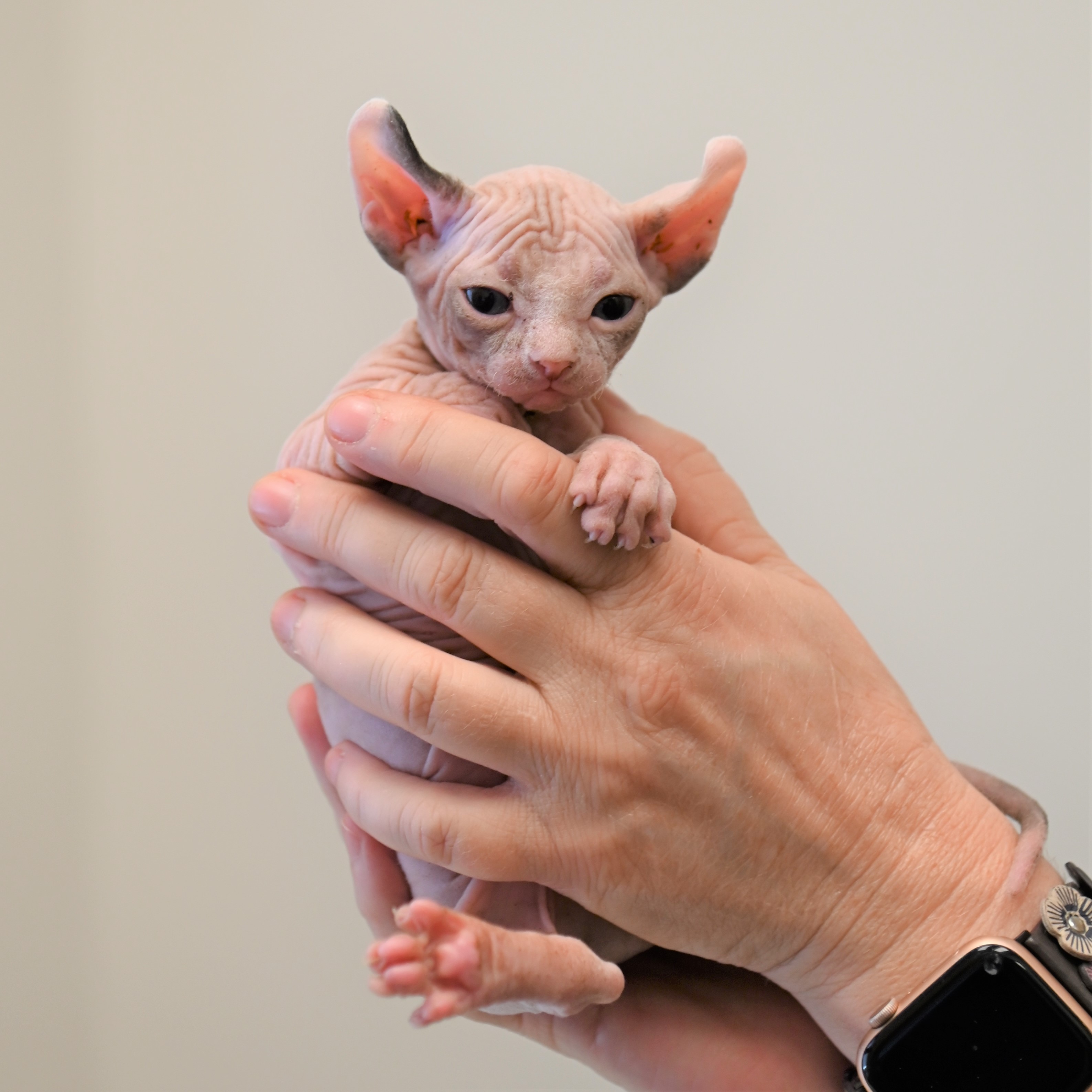 These hairless cats were discovered in 1966 when a genetic mutation produced a hairless kitten in a litter of domestic shorthair cats in Ontario, Canada.
Aztecs were said to keep hairless cats throughout history. Most of the modern Sphynx cats today are descended from two kittens found in Minnesota in 1975, and three kittens found in Toronto in the 1978.
Known to be high energy cats, Sphynx come in all colors and coat patterns. Some even have peach fuzz.
Those interested in adopting Ballerina or Cleopatra can fill out an adoption application at animalcenter.org/adopt-a-pet or call (858)756-4117 ext. 1.  You may also stop by Helen Woodward Animal Center at 6461 El Apajo Road, in Rancho Santa Fe.