For animal lovers, like all of us here at LATF USA, sometimes it's more heartbreaking to see dogs and cats on the streets without a roof over their heads, than it is to see homeless humans (many of whom are substance abusers and turning sidewalks into trash cans).
We are advocates of adopting shelter and rescue animals all-year-round, but Saturday, April 30th is a particular day to educate prospective pet owners about the benefits of rescuing pets from shelters. It's National Adopt a Shelter Pet Day.
According to the ASPCA and Shelter Animals Count data (2019 report), 6.3 million companion animals, dogs and cats combined, enter U.S. animal shelters across the nation every year.
Tragically, 920,000 shelter animals are euthanized. The good news is that more people are choosing to adopt, especially since the pandemic. One in five households acquired a cat or dog since the beginning of the COVID-19 crisis, which would account for approximately 23 million American households based on the 2019 U.S. Census, according to the ASPCA.
Dogs and cats can become our best friends and even help with decreasing our levels of stress. Yes, animals can be your daily therapy. Many studies over the years have found that animals can reduce loneliness, increase feelings of social support, and boost your mood. There's a reason why many hospitals and senior living use therapy dogs (and cats).
So, on National Adopt a Shelter Pet Day, you could change your life for the better by adopting. Here are a few animal shelter resources for those interested in adopting in Southern California: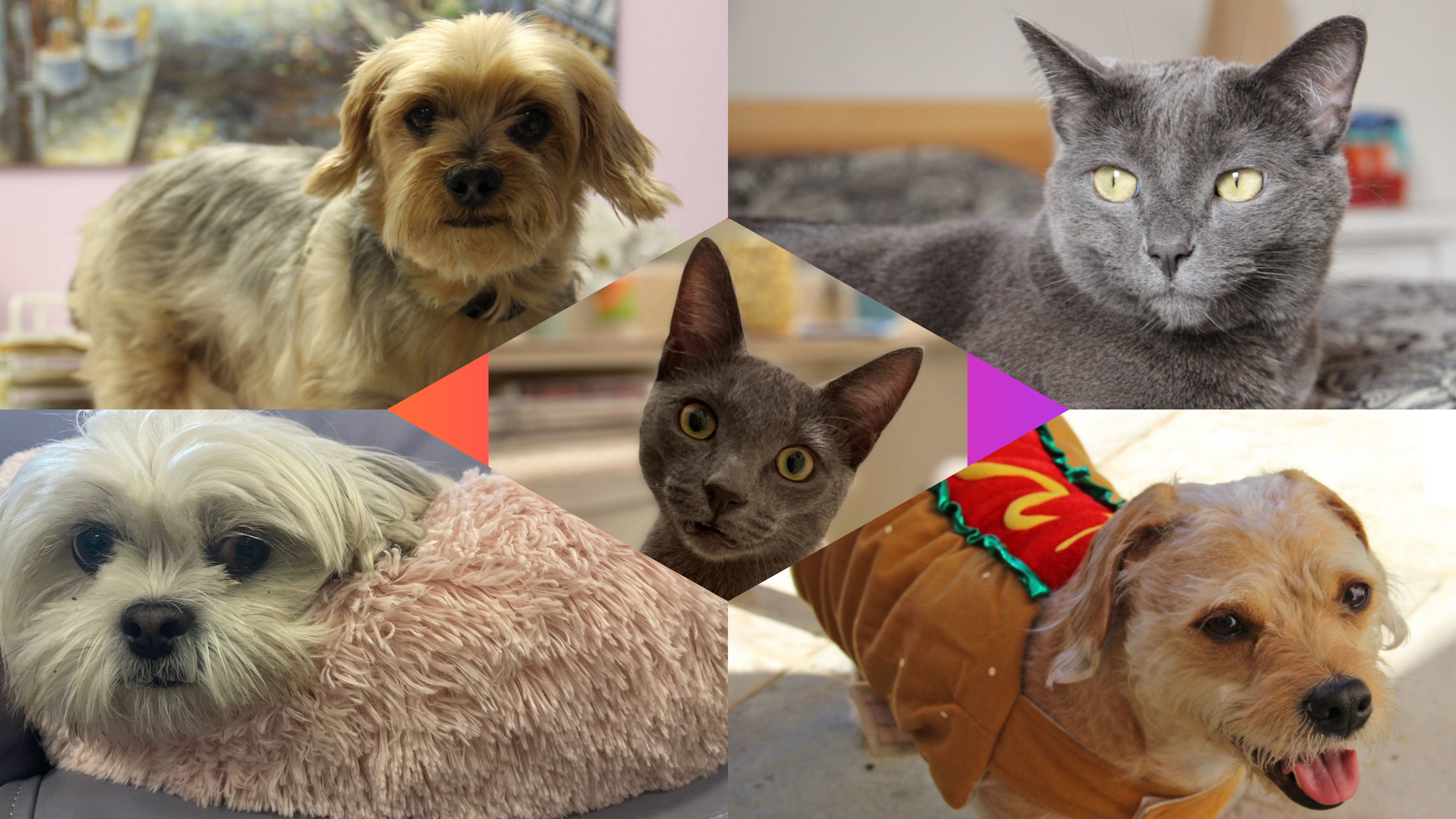 L-R: Elvis the Yorkie Terrier (Adopted from NKLA), Blanche the Cat (Adopted from Best Friend's Animal Society), Missy the Shih Tzhu adopted from Helen Woodward Animal center), Tom Cruise the Cat (Adopted from Helen Woodward Animal Center), Laurie the Spaniel Terrier (Adopted from Downey Shelter via Barkin' Bitches)
This weekend, the Center has more than 80 precious pets hoping to wag and wiggle their way into forever homes including dogs, puppies, cats and kittens. In celebration of National Adopt a Shelter Pet Day, the Center is giving away free premium "wag bags" to new pet parents including things like their pet's first collar, leash and toy, plus a $20 gift card generously donated by Kahoots Pet Supply and litter from our friends at Naturally Fresh for cat adopters (while supplies last from Friday, April 29 to Sunday, May 1). I adopted my second cat, Tom Cruise at Helen Woodward Animal Center and our latest office dog / pet reporter, Missy the Shih Tzu is from HWAC too!
To encourage pet adoptions, LA Animal Services will be offering reduced adoption fees on Saturday, April 30 and Sunday, May 1, and with the first week of May being National Pet Week, they have the support of Petco Love in sponsoring special adoption fees for dogs and puppies, from Monday, May 2 through Sunday, May 8. The adoption fees for cats and kittens will be waived thanks to a generous grant from the ASPCA. If you are unable to adopt, please consider fostering one of our amazing pets from their Centers to give them a temporary break from kennel life.
Fellow shelter pet rescuer and animal advocate, Emily Kincaid introduced me to this incredible non-profit in Los Angeles after she rescued her baby girl, Margot who is a Pit Mix. Fostering dogs from the streets, this organization shares available dogs who need foster, forever homes and healthcare aid via their Instagram page. There are many pitbulls who are extremely loving and in need of a home.
Our publisher, Michele Elyzabeth adopted Elvis the Yorkie Terrier through one of NKLA's amazing adoption events. Their state-of-the-art pet adoption center for NKLA Coalition partners features:
More than 100 kittens, puppies, cats and dogs excited to meet you
Pets who are up-to-date on vaccinations, microchipped, spayed or neutered, and ready to go home today
Gift certificates to go towards a pet adoption
I adopted my first cat, Blanche from BFAS at a pop-up event. Right now they have a special: Two pets for one adoption fee. Applies to pairs of dogs over six months old, cats and kittens at the Best Friends Lifesaving Center! Check out their location in Mission Hills and events around Los Angeles.
If you adopt this weekend, send us photos of your new furry family member @LATFUSA on Instagram / Twitter and we will share!