The dream lifestyle portrayed on Emily in Paris is now a retail reality. The Mint Group led by Mindy, and Jean-Phillipe Prugnaud, have teamed up with MTV Entertainment Studios and ViacomCBS Consumer Products to offer a lifestyle shopping experience inspired by the hit Netflix series.
The classic French-with-a-Hollywood-twist wardrobe created by Emily in Paris costume designers Patricia Field and Marilyn Fitoussi for the cast—starring Lily Collins and Ashley Park—explores luxury savoir-faire offering a visual storyline as captivating as the City of Lights. By leveraging strong ties in the fashion industry, the Mint Group has partnered with French and European brands that channel Emily in Paris' distinctly au-courant Parisian style for a unique opportunity to shop fashions inspired by the series. A branded Emily in Paris shop featuring many of the collaborations will roll out later this fall on Saks.com, aligning with the much-anticipated Season 2 of Emily in Paris, releasing December 22, 2021.
The collaborations secured by The Mint Group will include both styles that bear a subtle chic Emily in Parislogo and pieces that reflect the show's luxury attitude. Participating brands include AZ Factory, Pierre Hermé, Roberto Coin, Eye M by Ileana Makri, and Zeus + Dione, bearing collaboration branding. World-famous Chanel Métiers d'Art collections from Maison Michel, Goossens Paris, and Barrie round out the selection curated by Mint Group. Aligning with the initiative, My Beachy Side resort wear will also add to the product mix with a separate partnership.
Each unique piece furthers the storytelling of the show's stylish Parisian life. Chanel Métiers d'Arts brands that include luxe hats, jewelry, and knits epitomize stylish Rue St. Honoré. Pierre Hermé's macarons convey the opulence of the Opéra Garnier. AZ Factory's silky pajamas and rose-colored handbag evoke the amorous and sultry nature of Montmartre, while Roberto Coin's Art-Deco inspired jewelry pays homage to the grand jewelers of Place Vendôme. The giddiness of the American-in-Paris tourist at Tour Eiffel is expressed in charming message jewelry from Eye M by Ileana Makri. Zeus + Dione's glamourous sunglasses suggest a people-watching lunch at L'Avenue on the tony Avenue Montaigne. My Beachy Side taps into the sexy St. Tropez seaside, where a portion of Season 2 was filmed. Just as Emily discovers the nuanced charms of Paris, fans and shoppers alike will discover the artisanal luxury the French capital is known for.
The first items for the 'shoppable content' from Roberto Coin will be available on Saks.com and select retail locations starting in November. The additional brands drop on December 22nd, on Saks.com and the respective brands' e-commerce sites plus select retail locations. Netflix.com will also carry a selection of the merchandise for sale, timed to the release of the show. Emily in Paris boasted a global audience of 58 million fans within a month of its release in October 2020; thus, distribution is aimed at a worldwide audience.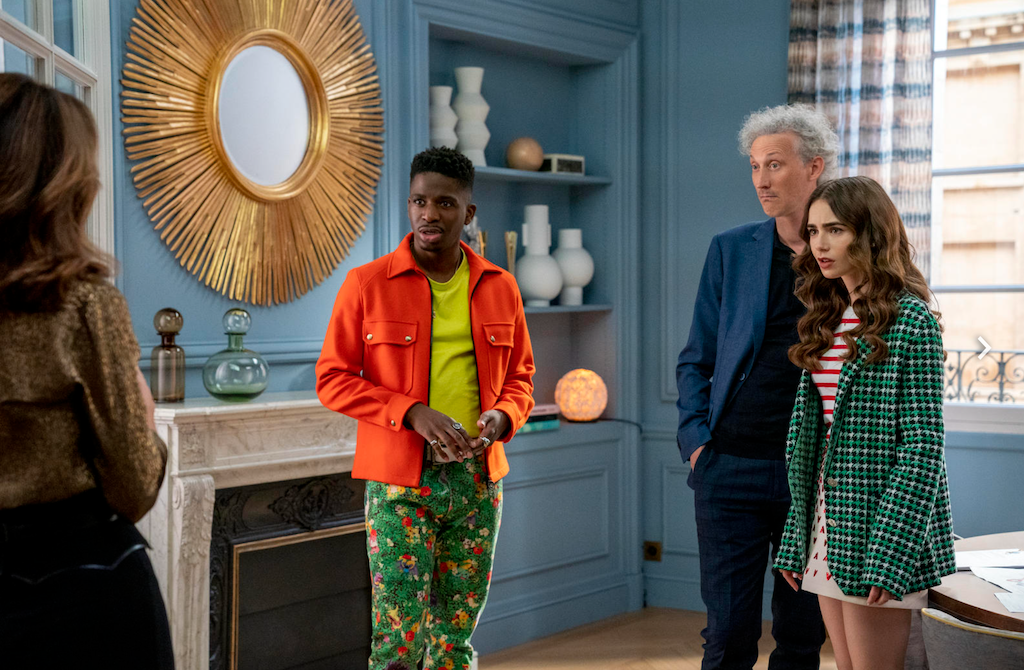 The idea to co-brand and curate select merchandise tied to the show came after Mindy Prugnaud had a meeting on the set of the first season of Emily in Paris with creator Darren Star. "I'm a big fan of his work," she said, "There was an opportunity to associate this TV project with luxury for the first time; Afterall it's shot in Paris, and the costume styles are created with European brands." Mint Group strongly believes 'shoppable content is the future connecting entertainment and retail.'
Added Jose Castro, Senior Vice President, Soft Lines, Fashion & Lifestyle Licensing and Global Collaborations, ViacomCBS Consumer Products, "Emily in Paris gives us a glimpse into Parisian beauty and luxury and created a sense of desire for more. We are so excited to let fans bring a piece of that luxury home with them with these gorgeous global collaborations brokered by The Mint Agency."
Price points align from accessible to luxury offerings. For example, a box of seven macarons from Pierre Hermé is 30 euros or an Eye M by Ileana Makri 'Amour' necklace retails for 195 euros, Cat Eye sunglasses from Zeus + Dione are 250 euros, while an AZ Factory LOVE handbag retails for 790 euros, and a pair of Roberto Coin earrings are 7,430 euros.