Four-time NBA Champion and Senior Advisor to the Los Angeles Lakers' Kurt Rambis stepped out on Sunday, September 12th to honor LASIK Dr. Andrew Caster at the Daytime Beauty Awards.
The award show recognizes science behind beauty and spotlights health and wellness professionals in the fields of dentistry, medicine, health and fitness, aesthetics, skincare, color and styling, cannabis, beauty innovation and more.
"Growing up, I didn't know that you were meant to be able to see the signs across the street. I got my first pair of glasses when I was in the third grade. And I spent the next 25+ years dreaming about being able to get rid of them. My sight was so bad that when I'd wipe my sweaty goggles off during timeouts, I couldn't even see Paula and the Lakers girls – and they were ten feet away from me. Getting my sight back was an amazing, life-changing gift and it's thanks to this year's Outstanding Achievement in Medicine honoree," Kurt Rambis said on stage.
Dubbed the Best Lasik Surgeon in LA by Los Angeles Magazine, Dr. Caster has dedicated his career in ophthalmology to perfecting the art of LASIK eye surgery. Completing his medical education at Harvard and the UCLA Jules Stein Eye Institute, Dr. Caster became just one of twenty doctors who performed the initial Lasik treatments evaluated by the FDA for approval in the 90s.
Operating on professional athletes like Hall of Fame Golfer Amy Alcott, Los Angeles Laker Kurt Rambis, as well as stars from Steven Tyler to John Stamos, Chelsea Handler and Chris Tucker, Dr. Caster has performed over 30,000 laser vision correction procedures.
Having written five editions of his book Lasik: The Eye Laser Miracle, studied by Harvard students, Dr. Caster founded Caster Eye Center and continues to be a pioneer in using the latest laser technology procedures.
OmegaXL by Great HealthWorks served as the event's title sponsor. The award statuette, better known as the 'Holly,' was designed by Christopher Guy.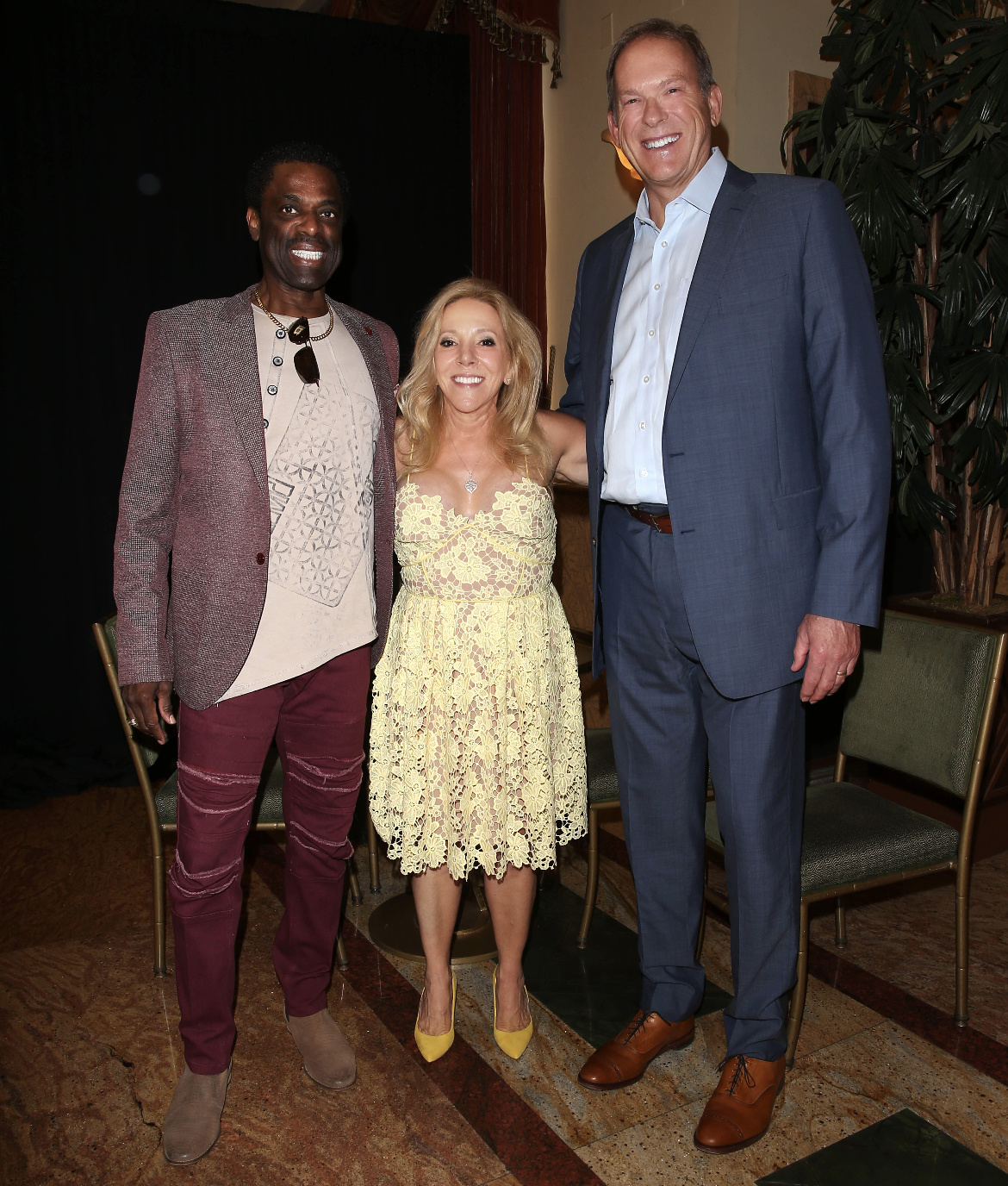 President Otis Stokes, DBA founder Michele Elyzabeth with Kurt Rambis backstage
Danielle Lauder, actress, entrepreneur and the great-granddaughter of Estée Lauder, officiated as the Ambassador for this year's Daytime Beauty Awards. The 2021 honorees included: Paula Abdul (Outstanding Achievement in Health), Dr. Moncef Slaoui, former Chief Scientist for the U.S. government's Covid vaccine development effort (Special Tribute Award), Chris Appleton (Outstanding Achievement in Fitness), Gary Archer (Outstanding Achievement in Dentistry), Dr. Stafford Broumand (Outstanding Achievement in Aesthetics), Dr. Andrew Caster (Outstanding Achievement in Medicine), Tracey Cunningham (Outstanding Achievement in Color and Styling), Michaeline DeJoria for John Paul Mitchell Systems (Brand of the Year), Nancy Duitch and Nicole Kidman for Sera Labs (The Breakthrough Award), Gary Trudell for Custom Comfort Mattress (The Sleeping Beauty Award), Rea Ann Silva for Beautyblender (Tool of the Year), Erica Skynn for Derm7 (The Innovation Award) and Imelda Walavalkar & Tracy Anderson (The Zen Award for Pure Beauty).
The 2021 presenters included: Jonathan Berlent, Tommy Chong, Regina Hall, Richard Halpern as Austin Powers, Chelsea Harris, Cheryl Hines, Karen & William Lauder, Kurt Rambis, Cesar Deleon Ramirez, Ogema Larry Romanelli, Melissa Rue, Halston Sage, Jordin Sparks, Kitty-Blu & Billy Appleton, and Dr. Jeffrey Tucker.
This year's event featured a silent auction and cocktails followed by a luncheon and the award ceremony. The Daytime Beauty Awards benefits Helen Woodward Animal Center for their efforts 24/7, 365 days a year rescuing animals of all kinds from natural disasters, providing healthcare and forever homes.