Tracey & Halston Sage backstage
Tracey Cunningham is one of the most renowned hair colorists in the world. On Sunday, September 12th, she was honored with Outstanding Achievement in Color & Styling at the Daytime Beauty Awards.
The award show recognizes science behind beauty and spotlights health and wellness professionals in the fields of dentistry, medicine, health and fitness, aesthetics, skincare, color and styling, cannabis, beauty innovation and more.
Client, friend and actress Halston Sage presented the career achievement to Tracey.
"Science applies especially when it comes to hair color. Not only do you need the right mix, but you also need the scientist… Or as we know them as hair colorists. When someone asks me who colors my hair, all I have to say is Tracey. She has established herself as the queen of color, our hairy godmother, and a true rockstar recognizable by first name," Halston said.
Halston teared up during her speech, "Tracey is the artist behind the locks of every Hollywood star, top model, studio executive and musician on the radio, but when you are in her chair, she treats you like you are the most important appointment of the day. She welcomed not only my mom and I, but also my sister and my grandma in like her own family, even nicknaming my grandma, "glamma" For that I will always be grateful."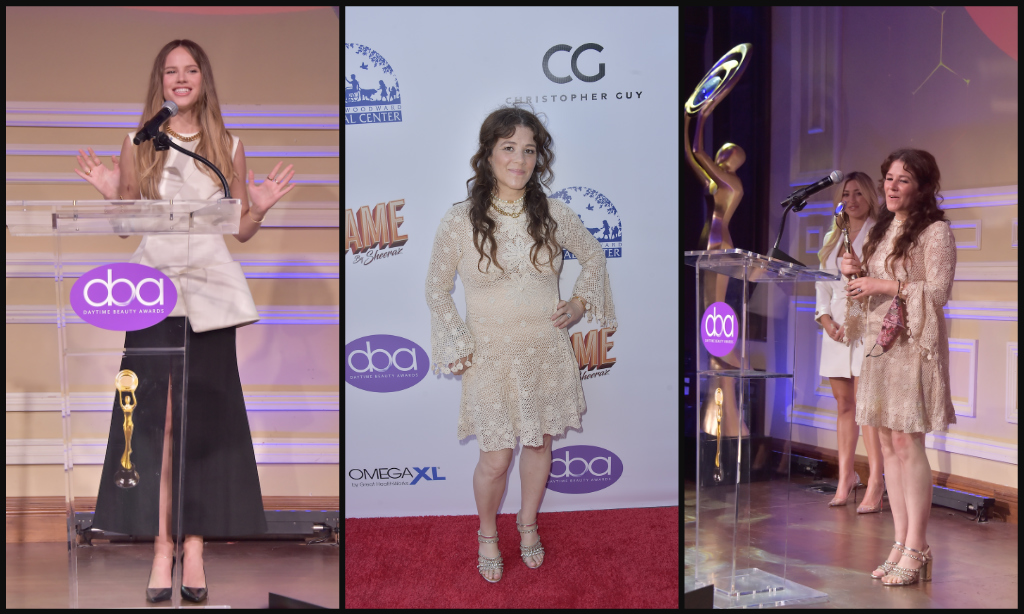 When Tracey Cunningham was a young girl admiring Farah Fawcett's bleach-blonde feathered flip and Debbie Harry's platinum color, little did she know that she would one day be the most sought after colorist in the world.
Sharing her hair journey in the book, True Color; it was Bette Midler who first believed in Tracey's skills, sending her to beauty school to pursue her dream.
From a student to a master of the color craft, today Tracey is Redken's Creative Consultant and an ambassador for Olaplex. Running a Color Academy and teaching nationwide, she opened Meche salon with Neil Weisberg in 2012. With looks gracing countless Vogue covers, Tracey's work is also featured on Elle, Harper's Bazaar, InStyle, Allure and more.
Whether it's Jennifer Lopez at the Superbowl or Margot Robbie at the Oscars, Tracey is responsible for setting color trends with Hollywood's biggest stars including Drew Barrymore, Charlize Theron, Jennifer Garner, Jessica Biel, Chrissy Teigen, Ellen, Dakota Johnson and many more.
Danielle Lauder, actress, entrepreneur and the great-granddaughter of Estée Lauder, officiated as the Ambassador for this year's Daytime Beauty Awards. The 2021 honorees included: Paula Abdul (Outstanding Achievement in Health), Dr. Moncef Slaoui, former Chief Scientist for the U.S. government's Covid vaccine development effort (Special Tribute Award), Chris Appleton (Outstanding Achievement in Fitness), Gary Archer (Outstanding Achievement in Dentistry), Dr. Stafford Broumand (Outstanding Achievement in Aesthetics), Dr. Andrew Caster (Outstanding Achievement in Medicine), Tracey Cunningham (Outstanding Achievement in Color and Styling), Michaeline DeJoria for John Paul Mitchell Systems (Brand of the Year), Nancy Duitch and Nicole Kidman for Sera Labs (The Breakthrough Award), Gary Trudell for Custom Comfort Mattress (The Sleeping Beauty Award), Rea Ann Silva for Beautyblender (Tool of the Year), Erica Skynn for Derm7 (The Innovation Award) and Imelda Walavalkar & Tracy Anderson (The Zen Award for Pure Beauty).
The 2021 presenters included: Jonathan Berlent, Tommy Chong, Regina Hall, Richard Halpern as Austin Powers, Chelsea Harris, Cheryl Hines, Karen & William Lauder, Kurt Rambis, Cesar Deleon Ramirez, Ogema Larry Romanelli, Melissa Rue, Halston Sage, Jordin Sparks, Kitty-Blu & Billy Appleton, and Dr. Jeffrey Tucker.
OmegaXL by Great HealthWorks served as the event's title sponsor. The award statuette, better known as the 'Holly,' was designed by Christopher Guy.