If you live in the United States, chances are you have heard of Dr. Michael Ho, who practices Chiropractic and Acupuncture. Dr. Ho has one of the most successful infomercials on television which has run thousands of times. In fact, this is how I was introduced to him.
Dr. Ho is known for treating patients with painful conditions relating to their muscles, joints, and nerves. He is also an engineer enthusiast who pays close attention to exercise physiology, human body mechanics, and the ill effects that bad ergonomics have on pain related to the body. For over 35 years, he has helped people all over the world, based on his education and clinical experiences. During this time, he has developed a line of self-care products that are effective for relieving pain. Dr. Ho has devoted his life to the study of musculoskeletal pain and the art of self-care. He believes that the body has incredible innate healing powers and under the right conditions, the body can restore its healthy functions without invasive interventions or harmful chemicals.
He is also a firm believer that our modern sedentary lifestyles, high level of stress, and poor diets are the primary reasons why we are not living as healthily as we can. If a person suffering with pain is given the right tool, they can relieve their pain on their own without costly appointments or having to leave their home. A large portion of the population do not have access to pain doctors for many reasons, including living far from cities. Yet, people get stricken by pain wherever they are, so it is nice to know that you have alternatives. Dr. Ho believes that to stay healthy, you need to stay active, and to stay active requires a functional body that is mobile and pain free.
I began my therapy by using the "Pain Therapy system Pro," a device that changed my life by alleviating soreness in my muscles while improving blood circulation in my legs. It works well and is easy to use. Recently, I saw that Dr. Ho was offering the Neck Pain Pro to his patients which is just as effective for the stiffness felt in the neck and shoulders. Of course, I had to have it. I use it regularly and it is extremely helpful.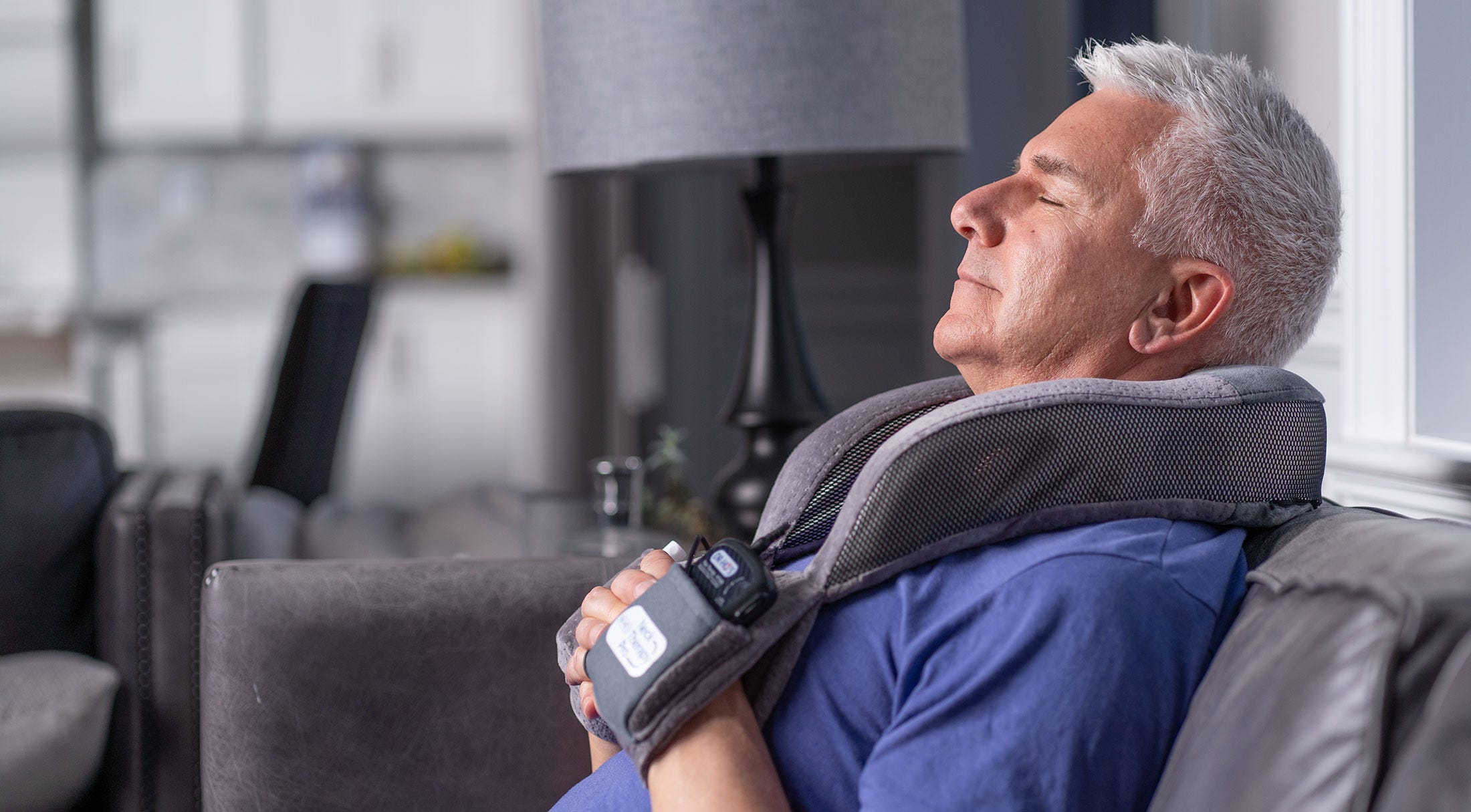 DR-HO'S Neck Pain Pro combines TENS (Transcutaneous Electrical Nerve Stimulation), EMS (Electrical Muscle Stimulation), and proprietary Auto-Modulating Pulse (AMP) technology to temporarily relieve neck and shoulder pain. Unlike other TENS devices that typically offer only one mode of stimulation that the body may adapt to, DR-HO'S AMP technology delivers over 300 types of stimulation to provide constantly changing therapeutic waves.
This allows for safe, effective, temporary pain relief of sore and achy muscles and provides symptomatic relief of chronic pain and arthritic pain.
Why does it work so well?
The Neck Pain Pro stimulates nerves to help temporarily relieve pain, including chronic, intractable pain, and pain from arthritis. It has an ergonomic Neck Contoured Design which stimulates muscles to increase local circulation and improve muscle performance. It is equipped with AMP, delivers 300+ Types of Stimulation, 3 Different Massage Settings, High-Tech & Comfortable Electrodes.
I highly recommend it. If you have any kind of pain in your body, do not hesitate to try Dr. Ho devices, you will not be disappointed.