For as long as I can remember my mother had an O-Cedar dust mop and a Sponge butterfly hinge to wash the floor. Years ago, it was considered a game changer by all the housewives. I was a child then, but even I thought that it was cool.
O-Cedar is an American company created in 1906 by Charles A. Channell, who was a manufacturer of wood polishes and waxes. We are not sure who exactly gave it its name "O-Cedar," but what we know is that the oil they used in their products came from the leaves of cedar trees. Channell soon realized that he needed to modernize his product and that's when he added a handle-mounted applicator which facilitated the cleaning performance of polishes and waxes. No more dust flying all over the place, it stuck to the broom mop. So in 1908, the oil-treated dust mop was introduced as a natural companion to O-Cedar floor polishes. Having wooden floors all over our house, O-Cedar became my mom's best friend. It was so easy to clean that my siblings and I would fight over who would dust the floor. It was the 50s and O-Cedar was pretty revolutionary.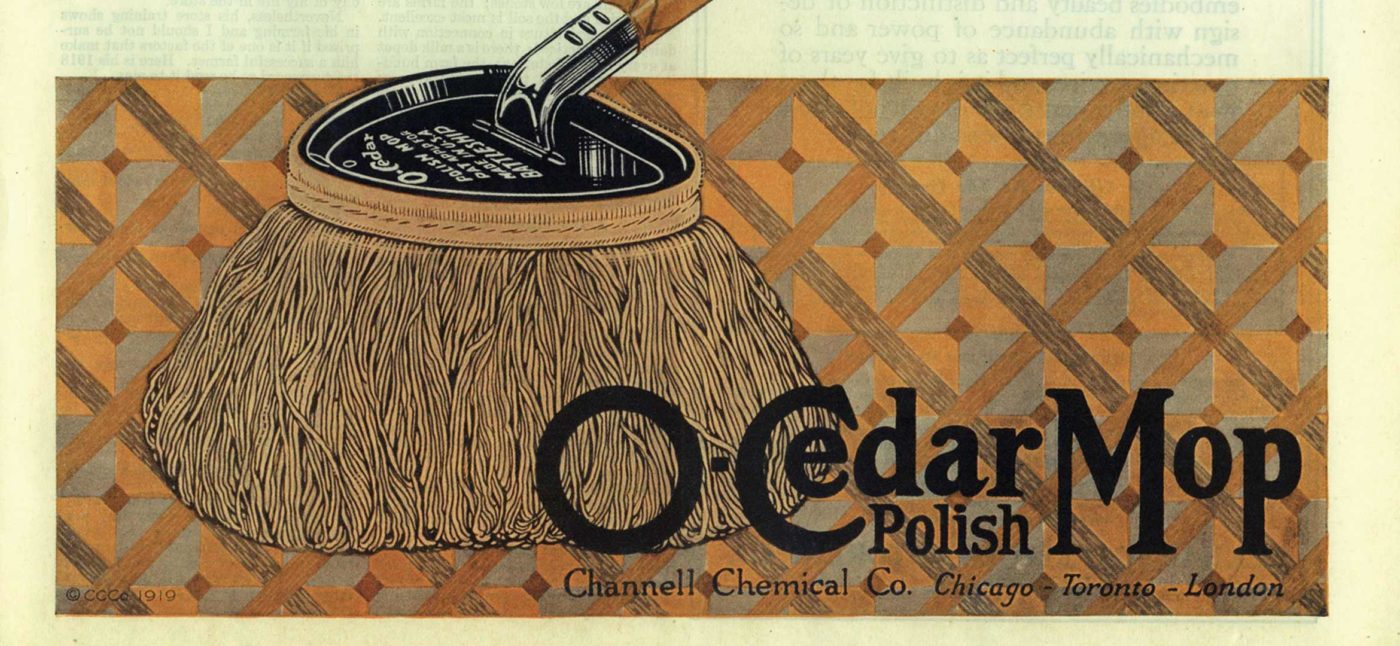 The original O-Cedar
The company has been producing easy-to-use cleaning products ever since. Over the last 12 decades, their mission became simplifying the "work" in "housework," while continuing a constant focus on innovative cleaning products that save people time. They repeated their success in 1949 when they introduced the Sponge butterfly hinge mop which launched the "No Wet Hands" campaign, making them the number one cleaning accessory on the market at the time. Today, like yesterday, O-Cedar remains the #1 spin mop with the new EasyWring TM Spin Mop & Bucket System.
Many other inventions followed including the first dust mop with durable parts for washability called the "Floor" Master Sponge hinge mop with an exclusive "Power Strip."
Also, the "Angler Broom," with an angled broom head for easy corner sweeping. 1986, brings another breakthrough; The Light and Thirsty Cloth Mop is introduced. This is the first wet mop in the country incorporating highly absorbent, synthetic material. In the mid-90's, the "O-Cedar 2000 Twist 'N Mop" was introduced as the company's first mass marketed twist mop. Keeping up with technology, O-Cedar launched the "ProMist," the first microfiber spray mop in 2010, then five years later, the Hands-free wringing becomes a fun and effective way to mop floors with the launch of the "EasyWring Spin Mop & Bucket System."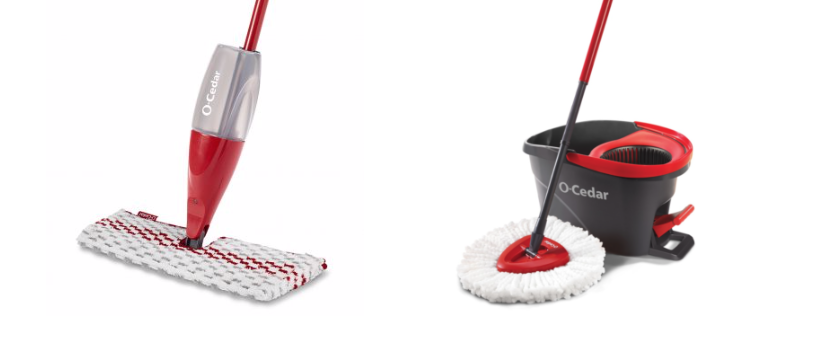 Time and time again, they prove that they can keep on producing new quality products, such as the "ProMist MAX Spray Mop" featuring a larger size mop head than the original ProMist, and a dual-sided, washable microfiber mop pad for quick floor cleaning.
To bring everyone an affordable product, O-Cedar has officially partnered with Habitat for Humanity. Although it is a long way from its wood polish and wax days, O-Cedar leaves a proud legacy about cleaning and continues to innovate their product line to "Make Your Life Easier."