I recently competed on another obstacle course TV show coming soon to primetime! As much fun as it was, I did not walk away from the course(s) without a handful of injuries due to repeated impact and my body twisting every which way!
Over the past few months, I've been healing my right shoulder. Impossible for me to hang or swing without pain, it's been difficult to ease my way back into ninja training and bouldering. Searching for various remedies, I discovered Ojai Energetic's CBD FULL SPECTRUM SPORTS GEL.
They said it was Fast-Acting… and it is. I like the simplicity of the roll-on effect. I apply it to any sensitive areas during my warm up and sometimes throughout my training time. Be sure to massage into the skin and repeat as needed. It certainly soothes and targets.
What's in it?
Water, CBD extract(100MG), xylityl caprate/caprylate, moringa, Spilanthes acmella, wild cherry, buchu, xanthan gum, Arnica montana, glucono delta lactone, rosemary, Calendula officinalis, cypress, clove, ginger, marjoram, peppermint, eucalyptus, wintergreen, black pepper.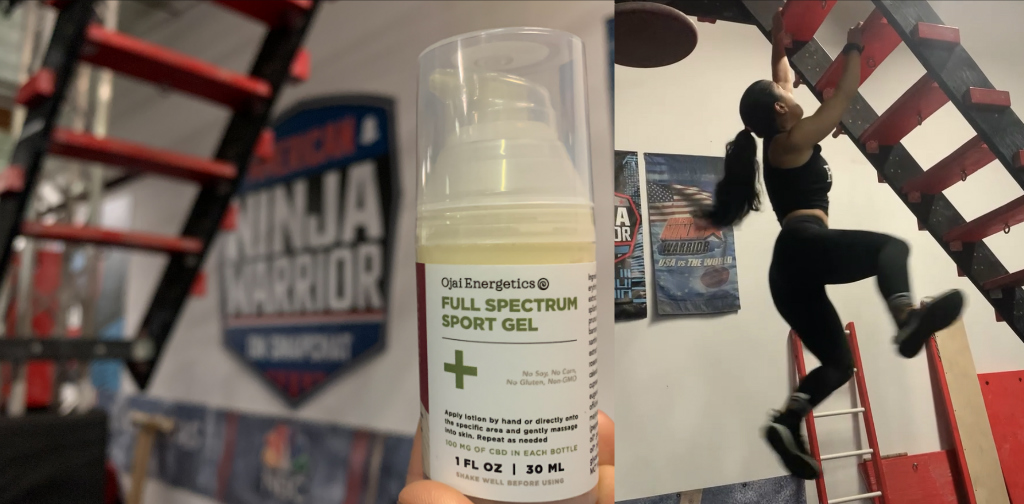 Always Corn, Soy, Gluten, and GMO-free.
Whether you're a rock climber, competitive athlete or weekend warrior, this is a great product to always have in your gym or training bag.
Available at OjaiEnergetics.com and in Erewhon Market.
****CBD can act like grapefruit so please talk to your healthcare practitioner if you are taking medication that says not to take with grapefruit. For those using insulin, please monitor blood sugar levels before the use of insulin after taking out products, as CBD promotes healthy blood sugar levels in healthy individuals.
---
*Pamela Price is a competitive trail runner, rock climber & American Ninja Warrior