Here's a great healthy recipe for your weekday snacking!
With the tahini craze Mighty Sesame Co. is upping the game with the first-ever harissa flavored tahini.
What is harissa? Seen on nearly every Israeli, Moroccan, and Tunisian table, it's a paste made by blending roasted hot red peppers with other spices and herbs. This fragrant chili paste is often combined with garlic, olive oil, cumin, coriander, caraway & mint for a distinctive Mediterranean flavor. There are as many variations of harissa as there are grandmas who've passed their secrets down the generations. It can be hot or mild, smoky or pungent – depending on the ingredients and techniques involved.
Subtle Spice Harissa Tahini Dip*
3 T. Extra Virgin Olive Oil + extra for garnish
¼ Yellow Onion, minced
2 Cloves Garlic, minced
3/4 C. Mighty Sesame Harissa Tahini
2t. Lemon Zest + 2T of Lemon Juice
¼ t. Salt
¼ Black Fresh Ground Pepper + for garnish
¼ T. Flaky Sea Salt as Garnish
WHAT TO DO:
In saute pan heat oil. Add onions and cook until caramelized. Adding garlic for the final 1-2 minutes.
In a small food processor add harissa Tahini , lemon zest and juice. Mix until smooth. Add onion and garlic mixture including oil until well mixed.
At this point add in some hot water to get desired thick or thinness.
Season with salt and pepper
For garnish drizzle oil and flaky sea salt right before you serve.
Serve with warm pita or a variety of vegetable Carrot sticks, celery sticks, Red/Yellow Peppers, Broccoli spears, Asparagus spears etc.
*Recipe by Chef Gregg, renowned food service industry expert and self-described "tahini obsessed." He's joined forces with Mighty Sesame to develop and present a host of innovative, tahini-based recipes for breakfast, lunch, and dinner.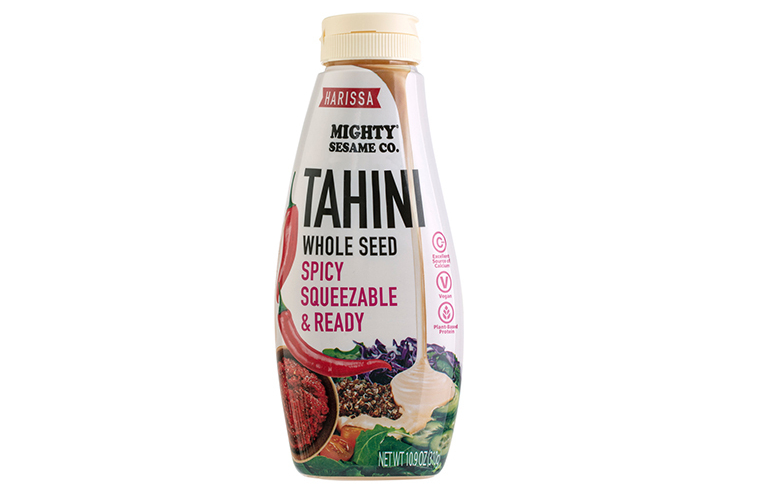 Like all Mighty Sesame tahini's, the Harissa variety is ready to use with just a shake and a squeeze, no stirring required. It is packed with protein and contains 260mg of calcium per serving. Organic, vegan, gluten- and dairy-free, OU kosher, and halal, it's a 100% guilt-free option for everyone. (MSRP $4.99 per 10.9 oz. bottle)
Mighty Sesame Harissa Tahini is available on Amazon.com