I love my morning walks! I can walk around the neighborhood and say 'hi' to my fellow dogs. But, it's important that I have a comfortable harness. Collars aren't enough because the leash will pull on my neck. I recently discovered Doggykingdom®'s Personalized NO PULL Harness.
It's great! Not only does it prevent strains and tension in the neck area that can lead to permanent damage to the spine compared to an incorrect collar, but it also has the option for my name and my Mom's phone number… just in case I get lost.
I love the color options; I have a blue one because I'm a boy and my dog cousin, Laurie has a pink one! They come in: Purple, Black, Blue, Red, Pink and Orange and other patterns. Sizes range from XS to XXL, so they're great for a Yorkie Terrier like me… or even a German Shepherd!
Made of 100% Nylon, the harness has the following features:
STURDY RELEASE BUCKLE the side release buckle is durable and anti-breaking, it's very convenient to unravel.
ADJUSTABLE STRAPS the neck and chest straps are adjustable, it will not give the dog a sense of restraint and anxiety.
3M REFLECTIVE STRAPS ensure your dog's safety at night.
STAINLESS STEEL D-RING virtually unbreakable.
COMFORT EXPERIENCE the fabric material is resistant to tearing and the straps has no elasticity so will not deform. The soft sponge pad won't hurt the pet's skin. Breathable and lightweight, it gives the dog a more comfortable experience.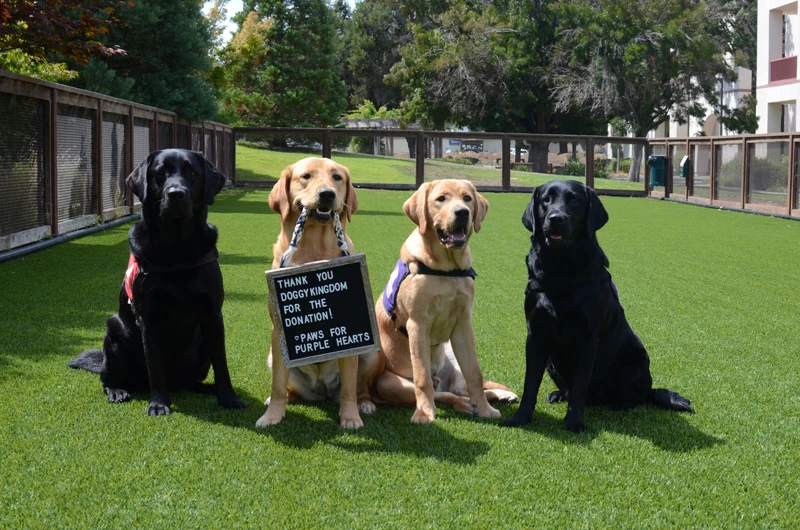 Doggykingdom® also gives back in a big way with their pet accessories. They donate some of their products to various NPO dog organizations. With each purchase you help to extend this service.
If you know a dog organization (NPO, that is close to your heart), send them an e-mail to support@doggykingdom.com they will check it and make a donation if they can!