This morning, Helen Woodward Animal held a very special adoption celebration party for the new family of Louis.
Parents Steve and Kacey Walker and daughter Jordan Walker are the loving new owners of a 3-year old Lab/Shepherd pup who touched hearts across the globe.
Louis, whose eyes were removed due to his former owners' prolonged neglect of a severe eye infection, has become a symbol for the many mistreated pets who find themselves relinquished to shelters and county facilities across the globe. Abandoned only days after losing his eyes, a medical check revealed that a broken leg had also been left untreated, heightening the public's devastation.
Louis' story went viral hitting PeoplePets.com, Yahoo.News, HLN, The Daily Mail, and many more, driving animal-lovers, businesses, and organizations across the globe to call, email, post, donate, and apply to adopt. Throughout the United States and from countries as far away as Spain, Panama, The Netherlands, The Philippines, Mexico, Canada and Chile, the "Love for Louis" was worldwide. Despite this global response, Helen Woodward Animal Center stayed focused on finding a local adopter to reduce the stress of Louis' transition into his new home, and so that the many generous individuals and businesses could provide gifts and services to the adopting family. Helen Woodward Animal Center is happy to announce that the perfect family took Louis to his forever home TODAY.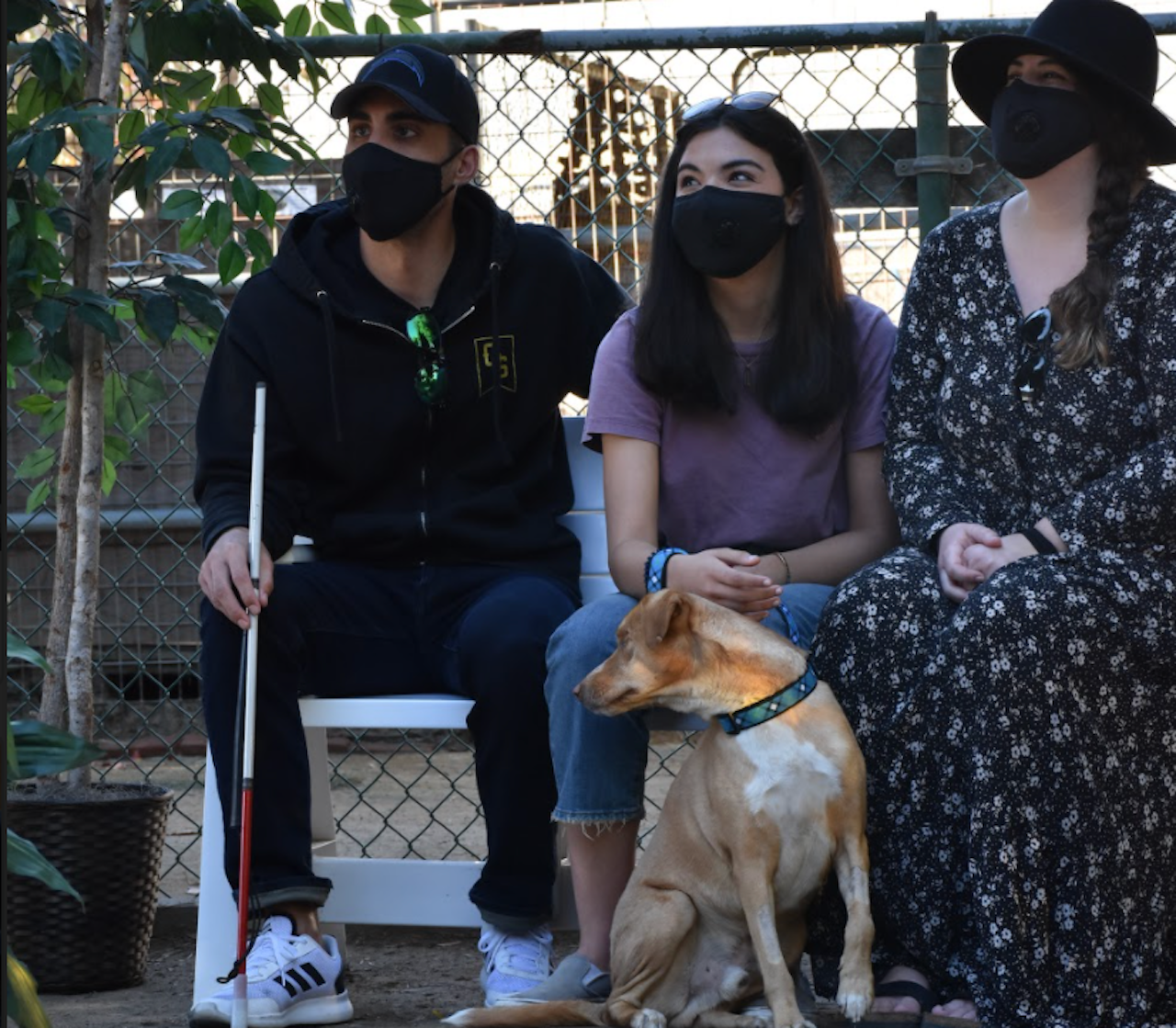 The Walker Family is a family seemingly gifted by fate to sweet Louis. Steve Walker is a Marine veteran who began to lose his sight at the age of 18 due to a rare eye disease called Retinitis Pigmentosa. Despite the loss of his eyesight, Steve has never lost his love of life, competing in marathons, triathlons, and even the World Championship Ironman in Kona, Hawaii. The Walker home has been outfitted to accommodate Steve's blindness, with pocket doors instead of swinging doors, a one-story layout and other special features. The family included videos of the house's special accommodations with their adoption application to show how tailor-made the layout is for Louis.
Most importantly, sixteen year old daughter Jordan Walker described the devotion they have to their pets (a bulldog named Dragon and a bunny named Honey), both of whom are rescues.
"Our pets are so loved and spoiled," explained Jordan. "We just know that Louis is going to be the perfect addition to our pack."
The many gifts of gratitude provided to the Walker Family include: completely covered adoption expenses, paid by a woman from Chicago named of Babette Henderson; an anonymous donor provided one year of veterinary services and 10 sessions of training services from San Diego Pet Training; a $500 Petco Gift Card and a Subaru Loves Pets Adoption Kit from Frank Subaru: an original artwork print of Louis created by an Instagram Louis-fan named Erika Ho; two bags of Blue Buffalo Pet Food; and a card signed by the entire staff who worked with the sweet pup at Helen Woodward Animal Center.
The Center is dedicated to its orphan animals and providing them the life-changing help they need.
To donate to medical care for orphan pets like Louis, please contact VP of Development Renee Resko at (858) 756-4117 x 347 or go to: https://my.animalcenter.org/campaign/save-pets-like-louis/c321245