When a couple's life is upended by the wife's cancer diagnosis, their best friend moves in to help them through tough times in "Our Friend," a poignant comedy-drama starring Jason Segel, Dakota Johnson and Casey Affleck.
Based on the 2015 Esquire article by Matthew Teague, this at-times difficult but profoundly moving film is elevated by the emotionally astute direction of "Blackfish" and "Megan Leavey" director Gabriela Cowperthwaite, who navigates the challenging subject matter with poise and purpose. Featuring a standout script by Brad Ingelsby ("Out of the Furnace") that honors the source material and also employs an ambitious and dramatically effective flashback structure, "Our Friend" avoids being a downtrodden disease movie by focusing on the good times as much as the painful ones. Helping the film achieve its uplifting spirit is a soul-soothing score by Rob Simonsen, vibrant cinematography by Joe Anderson, and a trio of memorable performances, most notably Jason Segel, who gives his best performance to date in the title role.
Cutting between timeframes before and after the cancer diagnosis, "Our Friend" follows Matt Teague (Casey Affleck), an ambitious journalist, and his theater actress wife, Nicole (Dakota Johnson), who move from New Orleans to Fairhope, Alabama after having two lovely daughters, Molly and Evie (Isabella Kai and Violet McGraw). Although their relationship suffers some ups and downs, mostly due to Matt's constant travels and career obligations, the one constant in their lives is their best friend Dane (Jason Segel), who could be best described as a directionless wanderer.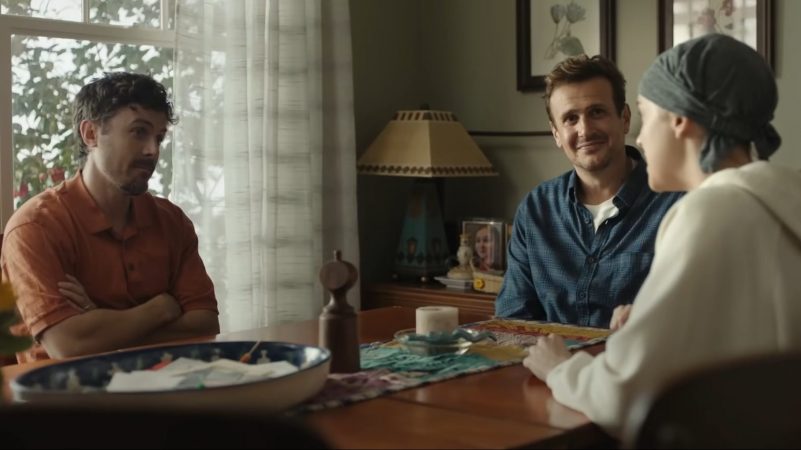 When Nicole is diagnosed with ovarian cancer, Dane puts his life and girlfriend aside to come to Fairhope and help out his overwhelmed friends with household chores. However, as time wears on and Nicole's condition worsens, it soon becomes clear that Dane's assistance is needed on a full-time basis, and so he moves in with the Teagues and helps them manage their daily dramas as Nicole reaches the end. As Dane helps Matt manage this painful chapter in his life, the film paints an unforgettable portrait of friendship in a time of need.
It may seem like an overwhelmingly heavy subject on its surface, but "Our Friend" cuts through the cancer movie stereotypes to offer an honest and unflinching depiction of love, loss and the unbreakable bond of friendship. Putting her documentary background to good use, director Gabriela Cowperthwaite takes a realistic approach to the subject matter, not only in her shooting style but also in the authentic moments between characters as they grapple with Nicole's heartbreaking condition. Whether it is harrowing scenes depicting the ravages of cancer, or uplifting moments of Dane bonding with the daughters, "Our Friend" offers a deeply human portrait of one family's battle with illness, and gives audiences appreciation for life in all its precious beauty.
Portraying the cancer-ridden wife Nicole, Dakota Johnson gives a superb performance that perfectly and painfully charts her character's struggles, capturing the actress's joy for life and also the devastating effects of her disease as she loses control of her mind and body. Playing the ambitious journalist who becomes a full-time caretaker to his wife, Oscar winner Casey Affleck ("Manchester by the Sea") puts in a devastating performance that spans the emotional spectrum and captures his character's love, frustration and helplessness. However, it is Jason Segel in the titular friend role that steals the show. Playing the part of a man who has plenty of his own emotional baggage but puts it all aside to help out friends in need, Segel evokes his characters pathos and humor with great skill, and emerges as the beating heart of this moving film.
"Our Friend" is a poignant disease film that finds light amid the darkness.
By Lucas Mirabella
Running Time: 124 minutes
Rated R for language.
Available in theaters and on demand January 22nd