Not all dogs are lucky enough to come to their parent's office Monday-Friday. Since we're Pet Reporters for LATF, we are allowed to come to the office almost everyday!
There's a lovely garden and patio outside where we can walk around and enjoy the sun during our work breaks.
Normally, our pet parents leave the office doors open and let us go in and out. But, there are definitely moments when they wish we couldn't go in and out… especially when the mail lady, UPS or Fedex show up. My co-pet-reporter, Laurie always barks and she needs to be blocked from running out the door. So, we decided to try out door gates. There are so many on the market, so we decided to try:
The Paws Portable Petgate® from NorthStates!
It's perfect and easy to set-up and take out of the door when needed. It's a 23 inch high gate that keeps us safe and secure while teaching us boundaries throughout the house and outside.
In order to expand the gate, just use the handle and spin it in the OPEN or CLOSE direction depending on if you want to tighten the gate or take it out of its locked position.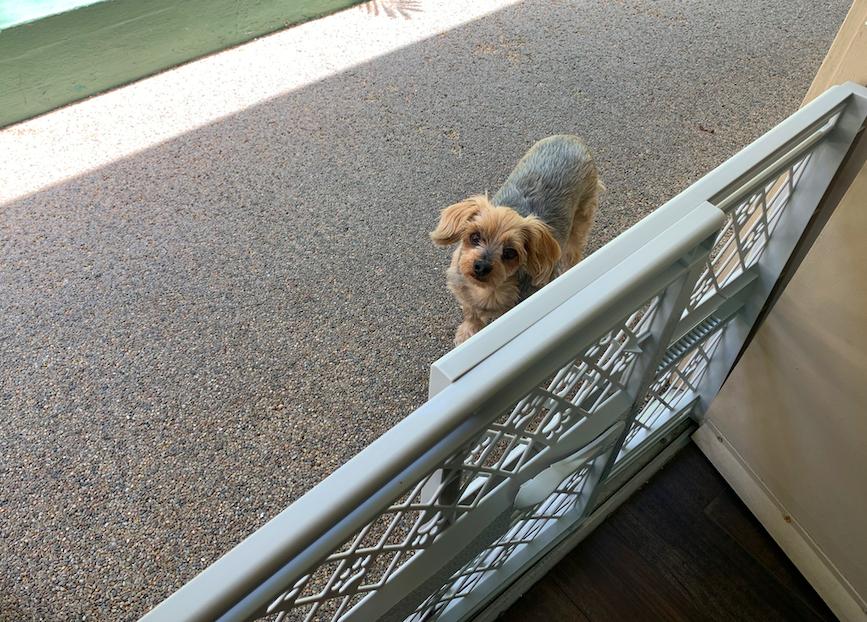 The EZ track does all the work for you. The panels slide on this track expanding and contracting this gate with ease for the perfect fit.
There's no assembly or tools needed.
Use it in doorways, hallways and other spaces measuring 26 to 40 inches wide.
Key features of this gate include:

Curved handle allows for a firm and comfortable grip when locking in place
Rubber bumpers protect surfaces; they're positioned higher than standard gates to accommodate molding up to 4 inches high
Paw print & bone design make this gate a playful addition to any room
We definitely recommend this for all pet owners!