Winterlit returns to Downtown Santa Monica to brighten up the holiday season as Downtown Santa Monica, Inc.(DTSM) transforms the world-class Third Street Promenade into an immersive one-stop holiday experience. Tens of thousands of lights will illuminate the Promenade's festive outdoor retail and dining, storefronts will shine as reimagined art installations, and a new interactive holiday-themed augmented reality mobile app will allow guests to experience the open-air entertainment district in a whole new light beginning Friday, November 27 through Sunday, January 3.
Holiday-inspired art installations will come to life at eleven stops throughout Third Street Promenade featuring window displays in storefronts and murals created by local artists who were asked to interpret what the holiday season means to them during an unprecedented year that has been anything but normal.
Guests will enjoy a self-guided art tour throughout the Promenade, and in other areas of Downtown Santa Monica, at their leisure and from a safe distance. DTSM's holiday art installation is in partnership with the City of Santa Monica's Cultural Affairs Art of Recovery initiative, a program dedicated to funding projects by local artists and highlighting the important role arts and culture play in recovery efforts as they strengthen and connect Santa Monica. This installation is free and open to the public.
Tens of thousands of colorful, festive lights and decor, the official City of Santa Monica 24-foot-tall holiday tree, and festive garland will deck the Third Street Promenade, 2nd and 4th Streets, illuminating convenient shopping and cozy outdoor dining experiences. Nightly menorah lightings will celebrate the Festival of Lights this Hanukkah season from Thursday, December 10 to Friday, December 18. The lightings will begin at Sundown and take place on the 1300 block of Third Street Promenade (located between Santa Monica Blvd and Arizona Ave).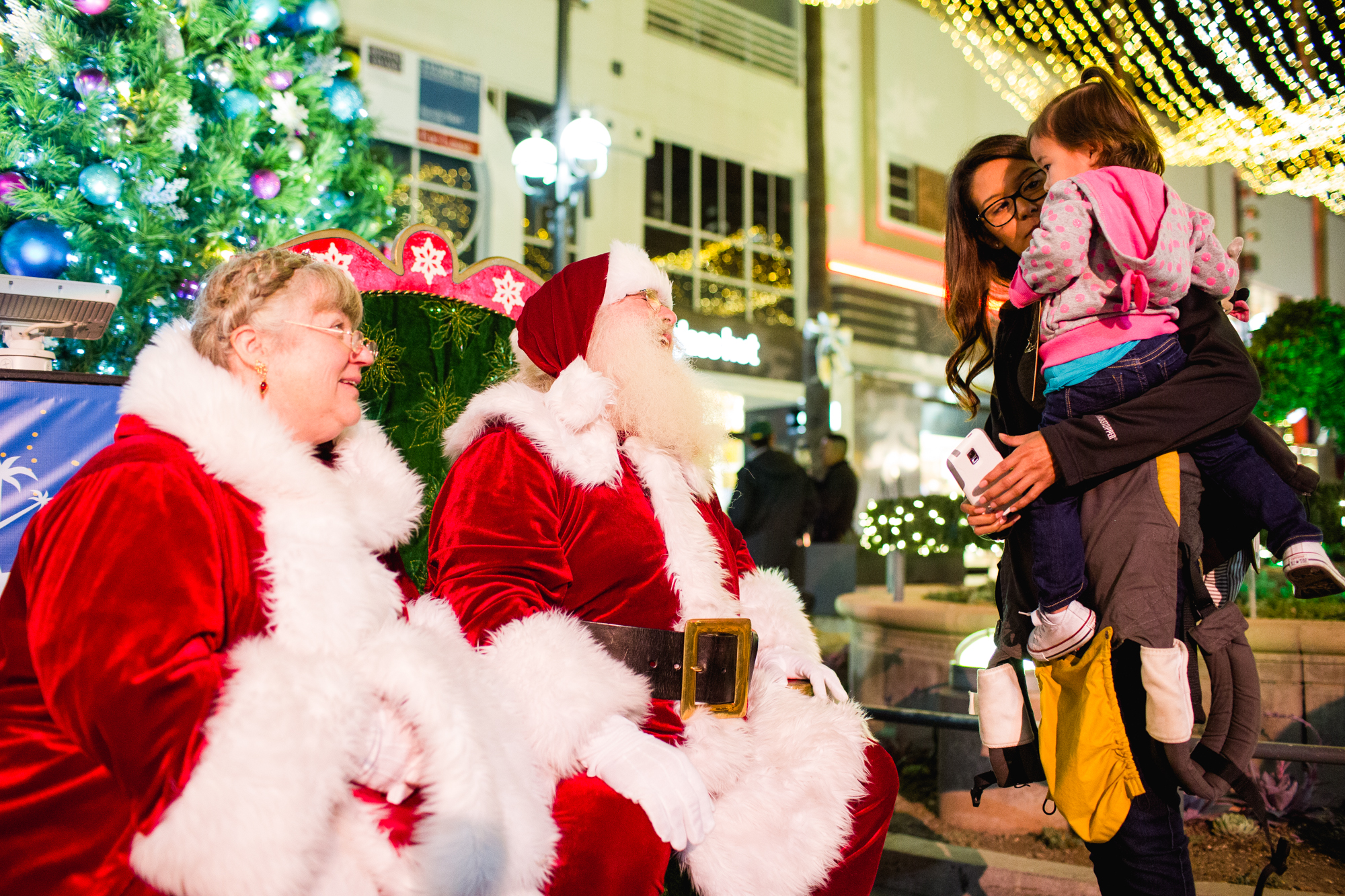 Santa's helpers have also placed a special mailbox on the Promenade for children to drop off their letters and have them delivered to the North Pole. If the letters include a return address, Santa will write back. At the end of the Promenade at Santa Monica Place, guests can visit Santa at his winter home in Center Plaza from Friday, December 4 to Thursday, December 24, and enjoy a contactless visit with Santa, share a wish list, and take home a keepsake photo. Visit SantaMonicaPlace.com/SantaPhotos for reservations.
DTSM remains committed to ensuring the health and safety of the community, visitors, and staff. Face coverings are required when visiting the Third Street Promenade and all guests are encouraged to practice physical distancing. For more information on Winterlit, the new health and safety guidelines, and details on what to expect when visiting the Third Street Promenade, please visit DowntownSM.com or follow along on social media on Facebook, Twitter, or Instagram.