The Academy Museum of Motion Pictures completed installation of one of the most iconic objects from its permanent collection, the only surviving full scale shark model from the 1975 Oscar®-winning film Jaws.
This moment signals exciting momentum toward the Academy Museum's much-anticipated opening on April 30,2021, where the 25-foot model (nicknamed "Bruce the Shark") will be on view, free to the public. Jaws, directed by Steven Spielberg, won Oscars® for Film Editing, Sound and Original Score, and was nominated for Best Picture at the 48th Academy Awards® in 1976.
The week-long installation completed Friday, November 20, 2020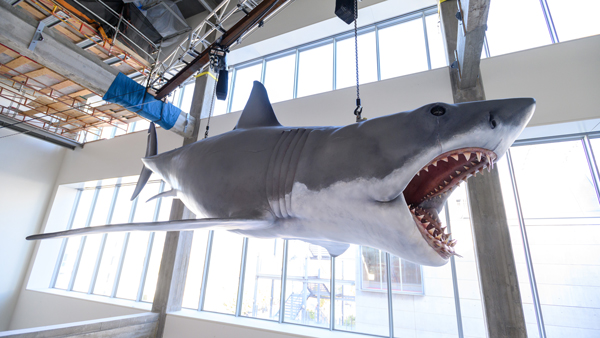 "It's been a long journey for Bruce since he was acquired in 2016, and we couldn't be happier to welcome him to his new home," said Bill Kramer, Director and President of the Academy Museum.
"We look forward to our opening when museum visitors can engage with our exhibitions, experience our beautiful Renzo Piano-designed building, and come face to face with one of the most iconic characters in film history."