Click to watch!
I love to put products to the test that I see advertised on TV, especially the ones claiming miraculous results. Their assertions always seem too good to be true. I have to admit that I regularly order these products to find out if they are worth spending your money on. To my surprise, 9 times out of 10 the product delivers what it promises.
Here is the perfect example; I recently ordered the Shine Armor: Fortify Quick Coat Waterless Wash, Shine, and Protect from Bed, Bath & Beyond. Bottom line; you can clean your car without the use of water or soap and get an outstanding result that not only shines, but makes it look like it has been waxed and professionally polished. All of this at a very affordable price.
What do we know about the company? Shine Armor was created by a group of guys who are absolutely auto obsessed. They felt as though there were no great detailing products on the market and the ones that do exist, are of poor quality and difficult to apply. Let's face it; most of us do not have the time, the money, or the knowledge to keep up with our vehicle's spotless appearance without breaking the bank!
So, they came up with SHINE ARMOR FORTIFY QUICK COAT – CERAMIC CAR COATING – WATERLESS WASH, SHINE & PROTECT. I could not wait to try it. After all, they are the world's leading home detailing company. For years it has been such a big and costly process to simply clean your car at home with absolute quality. Going to a detailing shop for a premium service can get pretty pricey. That is why they created a lab-tested formula to quickly, powerfully, and affordably clean, shine, and protect your vehicle or any other surface! And they are so sure of the results that Shine Armor offers a 100% back money guarantee if you are not satisfied. I decided to make the Shine Armor Fortify Quick Coat Waterless Wash, Shine, and Protect, my weekend project. Who does not want to give their vehicle a shiny gloss while protecting it against scratching, smearing, and streaking? What is so special about their product is that it has a unique and innovative ceramic hydrophobic coating, which creates a clear shield while providing a shiny gloss.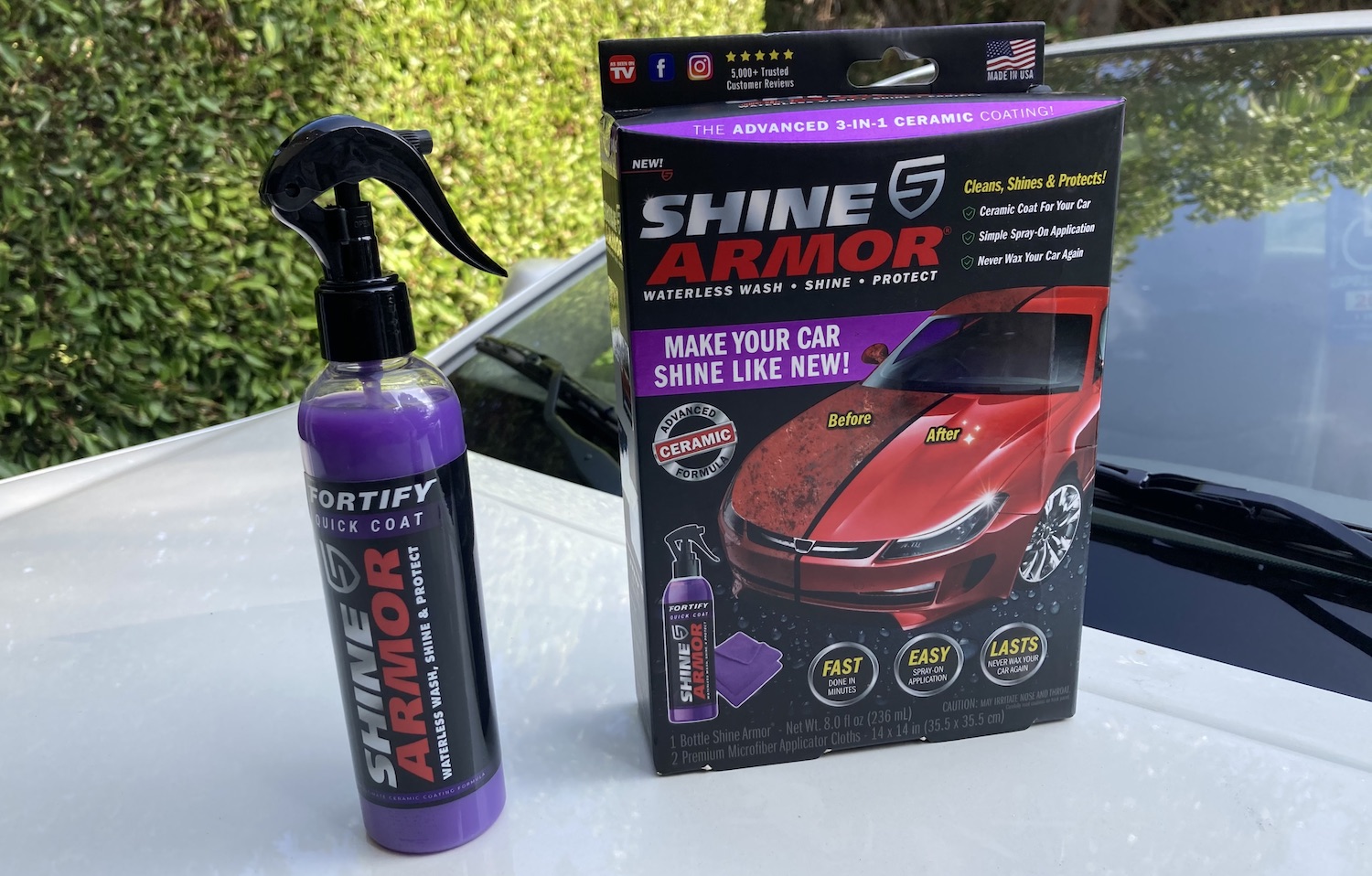 Its purpose is to fill in imperfections while preventing streaking, smearing, and scratching.
And the instructions were simple: Simply spray and wipe, no buffing necessary. It can be applied on paint, glass and metal. Perfect for cars, boats, motorcycles, and 4 wheelers. It offers superior, lasting shine and protection.
At first, I thought; yeah, sure. But in fact, it was true. It was so easy and the result was astonishing. Do imagine; you can clean your car even if you live in an apartment building. You can do it anywhere, no mess of any sort. So perfect during these Covid days when most car washes are closed. I simply loved it! My car looked AMAZING! I highly recommend that everyone should try it. It comes in an 8 oz. spray bottle which should easily give you 6 applications. Thanks Armor, can't wait to try the rest of them.
Made in the United States of U.S. and imported materials.
Shine Armor is easy to find at: https://www.bedbathandbeyond.com/