Helen Woodward Animal Center welcomes you to join the kick-off of the 21st Annual Home for the Holidays campaign, sponsored by Blue Buffalo, the big-hearted pet food company is providing animal rescue organizations and shelters on both coasts of the country, a very special holiday gift.
For the third year, Blue Buffalo, the title sponsor of the Helen Woodward Animal Center-originated campaign, will unload a massive amount of free pet food to San Diego and New York City rescues. At the same time, Naturally Fresh will also provide free pallets of their premium kitten litter.
When: WEDNESDAY, OCT. 8, as local rescue groups arrive in shifts to pick up the generous Blue Buffalo food donation at Helen Woodward Animal Center.
Where: The pickup location will be in the dirt lot behind the education pavilion. Use the address 6523 Helen Woodward Way, Rancho Santa Fe, CA 92067, and head straight back to the dirt lot.
Since its start, Home 4 the Holidays has helped place more than 17 million pets (from over 4,000 participating global rescue partners) into loving homes. The program seeks to encourage families to find their four-legged family members at a shelter, rather than a pet store or breeder, during the holiday season when more families choose to bring home a new pet than any other time of the year.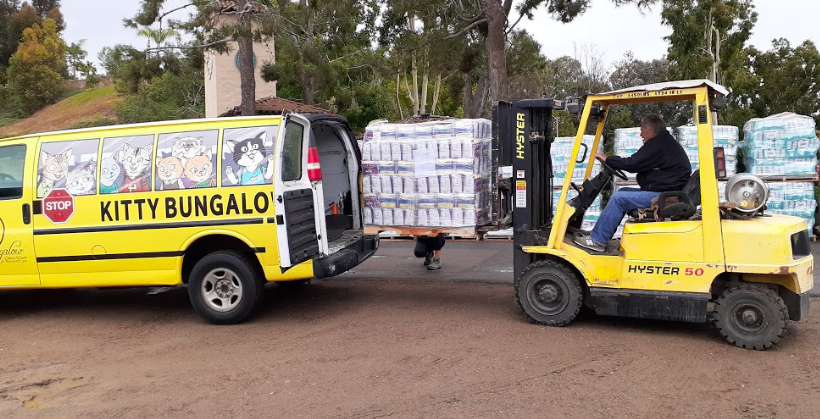 Last year, the campaign resulted in more than 1 million orphan dogs and cats united with loving families.
Many animal welfare organizations struggle with limited funding and hungry mouths to feed while juggling budgets with supply costs and medical expenses. 2020's pandemic placed an even greater financial strain on rescue facilities that depend on donations for much of their limited income. The Coast-to-Coast Blue Buffalo Food Drop helps takes a big bite out of the financial strain; enabling shelters to focus on matching pets with loving families. Blue Buffalo is delivering several truckloads of food to Helen Woodward Animal Center and the Center's partner, Paws Crossed Animal Rescue in New York. The much-needed holiday meals will be distributed to pet rescues within those regions. Locally, those groups include; The Animal Pad, Friends of Cats, Lionel's Legacy, Feral Cat Coalition, Second Chance Dog Rescue, Volunteers in Defense of Animals (VIDA), Rescue House, Spay and Neuter Action Project (SNAP), SPOT, and many others.
For more details visit www.animalcenter.org