Being French, I have been brought up with a certain respect for winemaking as it certainly is a part of our heritage. You hear your parents talk about pairing certain wines with certain dishes; red is for meat, white is for fish and shellfish, rosé is synonomous of summer, therefore light dishes or it's simply enjoyed without food.
When I first arrived in the US in the early 70s, I realized that very few people knew anything about wines. Whenever it was cocktail hour or dinner, they would either go for the hard stuff or white wines, specifically Chablis or Chardonnay. The lack of wine appreciation was all so new to me. No one then spoke about California wines; we did not even know that they existed.
Over the last 40 years, things have changed. The French started visiting the wineries of California, which soon resulted in realizing that we were not the only ones producing wine. In fact, there are a lot of great wines made in California that can compete with the best of them!
I continue to discover great California wines each year. And I have to admit that I love a good glass of dry rosé anytime.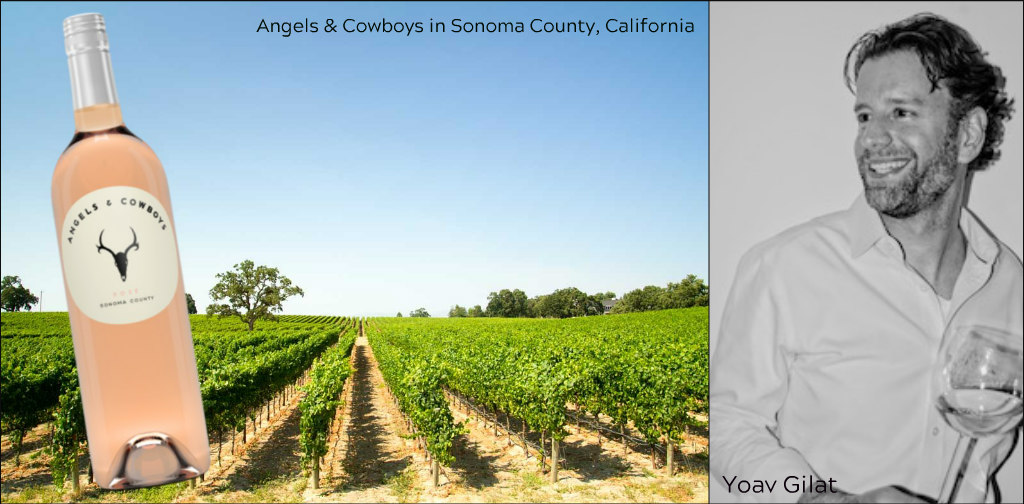 Recently, I received a bottle of Angels & Cowboys Sonoma County Rosé which I knew very little about. I learned that Angels & Cowboys wines are crafted with fruit sourced from some of Sonoma County's most prestigious growers in Carneros, Russian River Valley, and Dry Creek Valley.
The winery launched in 2014, is a collaboration between the founder of Cannonball wines; Yoav Gilat, and Northern California graphic designer Michael Schwab. Their winemaking team draws on traditional and progressive methods to create wines that deliver a standout style of blends.
The Angels & Cowboys journey began with a sentimental namesake, a bold, mysterious icon and an appreciation for down-to-earth wines. These elements drove the vision to create an offering of wines that indulge the lover, the trailblazer and the rule breaker in all of us.
Angels & Cowboys are hand crafted, proprietary blends sourced from some of Sonoma County's most prestigious growers.
Sonoma County Rosé 2019 is the first one I tried. Crafted using the traditional Provençal method, per its maker, I was immediately drawn to its very light pink blush color which of course reminded me of the south of France. But I was taken by surprise by its undeniable acidity and minerality when it hit my palate. Interestingly enough, the feeling soon dissipated giving place to notes of peach and pink grapefruit and spicy floral.
I then tried the Astrolabe Province Marlborough Pinot Gris 2018. Astrolabe Wines was established in 1996 and is named after the ship that in 1827 charted and explored the Marlborough Coast of New Zealand. It is the personal project for winemaker Simon Waghorn and his wife Jane, and marks the culmination. This particular wine is made from grapes grown across three Marlborough sub-regions — the Wairau Valley, the Awatere Valley and the Kekerengu Coast. Half of the grapes are machine harvested at night and whole-cluster pressed to preserve the lifted fruit characters and the rest is handpicked to add fine texture. It has a beautiful light straw color with aromas of pear, light peach and citrus on the rosé . The palate is pure, crisp and dry. Great as an aperitif, or with shellfish and seafood plates.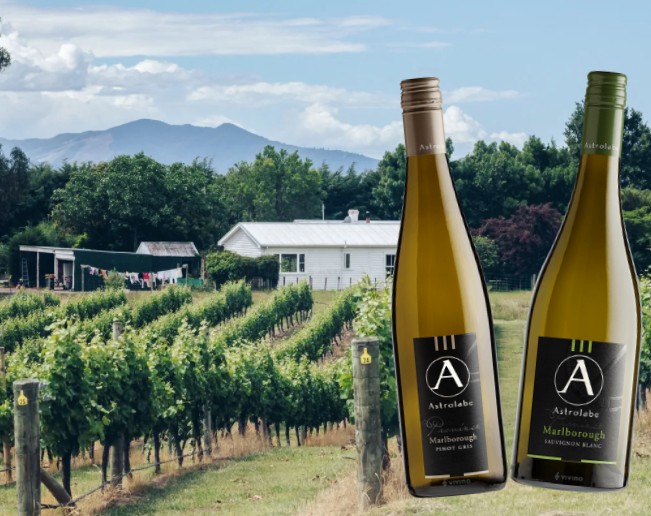 Astolabe Vineyard
From the same region, my next choice was the Astrolabe Province Marlborough Sauvignon Blanc 2019. This wine is made solely from Sauvignon Blanc and comes from growers in Marlborough's Awatere, Waihopai, Wairau, and Brancott Valleys. The fruit was lightly pressed with minimal skin contact. The clear, cold-settled juice was fermented in stainless steel vats at low temperatures allowing the powerful fruit flavors to dominate. Its color is pale straw with green highlights. It has aromas of elderflower, gooseberry, and passionfruit. The palate is broad and lush which leads to a dry mineral finish. Another winner for the winery!
For more info go to https://www.shareasplash.com/