Prop Store is known for focusing on the 1970s and 1980s with memorabilia auctions.
They are auctioning off Star Wars lots with the original 1977 touring Darth Vader costume. In addition to being worn at promotional events for the original movie, the helmet's dome has the distinction of featuring on the Advance poster for The Empire Strikes Back.
They're also auctioning off an original Stormtrooper helmet, a Ewan McGregor Obi-Wan Kenobi lightsaber handle, and much more. Prop Store is thrilled to be offering such wonderful pieces of the Star Wars universe to fans, together with over 850 props and costumes at Prop Store's Entertainment Memorabilia Live Auction on 26th August 2020 and 27th August 2020.
Notable items to be sold at the Prop Store auction (with estimated sale prices) include:
1977 Darth Vader Promotional Touring Costume from STAR WARS: A NEW HOPE (1977). Estimate $150,000 – 250,000 (£114.8k – 191.4k)
Stormtrooper Helmet from STAR WARS: A NEW HOPE (1977). Estimate $60k– 80k (£45.9k – 61.2k)
Luke and Han on Tauntaun Puppet Armature from STAR WARS: THE EMPIRE STRIKES BACK (1980). Estimate $20k – 30k (£15.3k – 22.9k)
Duros Alien Mask from STAR WARS: THE EMPIRE STRIKES BACK (1980). Estimate $60k– 80k (£45.9k – 61.2k)
Count Dooku's (Christopher Lee) Dueling Lightsaber from STAR WARS: ATTACK OF THE CLONES (2002). Estimate $30k – 50k (£22.9k – 38.2k)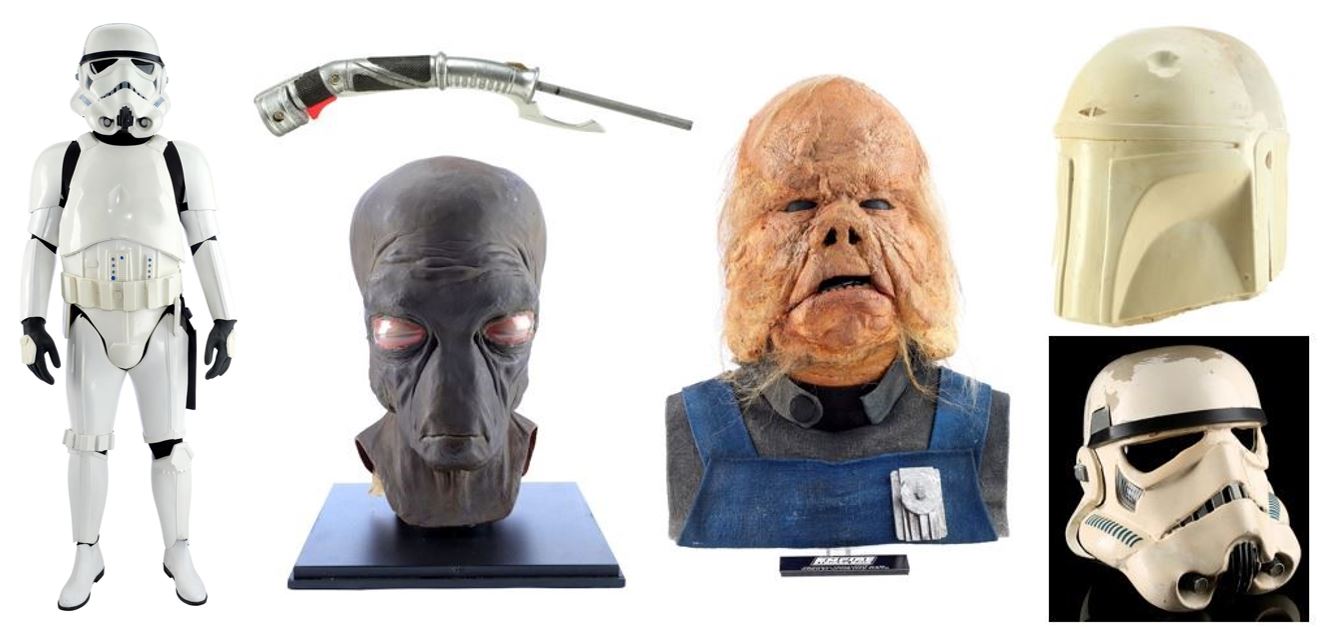 Key Chess Piece Armature from STAR WARS: A NEW HOPE (1977). Estimate $20k – 30k (£15.3k – 22.9k)
Chief Ugnaught Alien Mask from STAR WARS: THE EMPIRE STRIKES BACK (1980). Estimate $25k – 35k (£19.1k – 26.8k)
Obi-Wan Kenobi's (Ewan McGregor) Dueling Lightsaber Hilt from STAR WARS: ATTACK OF THE CLONES (2002). Estimate $25k – 35k (£19.1k – 26.8k)
Production Made Boba Fett Helmet from STAR WARS: RETURN OF THE JEDI (1983). Estimate $20k – 30k (£15.3k – 22.9k)
Stormtrooper Costume from STAR WARS: THE MANDALORIAN (2019). Estimate $8k – 10k (£6.1 – 7.6k)