You may think that there is nothing to it when you are getting ready to buy a new Table Umbrella or Parasol as we call them in France, but in fact there is plenty to consider.
First: What size should the umbrella be? This depends on the sun exposure, the size of your table and what you are primarily using the umbrella for. If you are an outdoor person, as I am, and like entertaining or simply enjoy eating outside with your family, you must make sure that everyone is protected from the sun during the time that you will be sitting at your table. Also, another important factor is the décor of your garden, the color scheme and the other amenities around it.
Second: If you are using your same outdoor space during the summer nights for dinner, you should consider having lights attached to the umbrella. Nowadays umbrellas come with LED lights. After searching the internet, I found the perfect umbrella for my garden at Big Lots.
Big Lots happens to be one of my favorite stores. It offers an array of great things for the home, garden, animals, snacks and gadgets. I have always been a fan of the store since I came to Los Angeles and remain one. I saw the exact umbrella that I wanted online first; an 11' x 8' market umbrella which I was told can provide about 95 square feet of shade and easily cover a large 8-10 person patio set, which is just large enough for my garden.
It was a product from Wilson & Fisher. I made a quick call to Big Lots' North Hollywood location and they confirmed that it was in stock. One important thing was the price. Big Lots is known to carry excellent products affordable for most wallets. Once I got there, I realized that I also could choose the Triple-Vent Umbrella that is great for wide spaces or multiple seating areas. These types of patio umbrellas can be found in sizes up to 15' or larger and provide nearly 132 square feet of shade! Although, I hesitated because I had so many choices, I went with my initial pick: the large umbrella with a rich navy blue canopy. It was equipped with LED lights built into the ribs of the umbrella frame which illuminate from solar-powered technology, perfect for the evening. The only setback was that we had to put it together and you know that assembly is not always so simple.

Thankfully, I had help. Pamela and I put it together in about two hours. Perhaps this sounds like a lot of time but we had to fill up the bags with sand, which secures the feet of the umbrella, and that took a bit of time as there were four individual areas. She began by lining up all parts and assembled the feet in the shape of a cross, then came the plastic conner connectors, then the plastic net. What was the plastic net for? I discovered that the plastic net allowed us to move the gigantic umbrella easily on the cement floor, something we had to do as we were a little too close to the wall. Now we were ready to fill up the Ballast with sand.

The last step was the placement of the fabric base black cover, giving my umbrella the perfect slick look.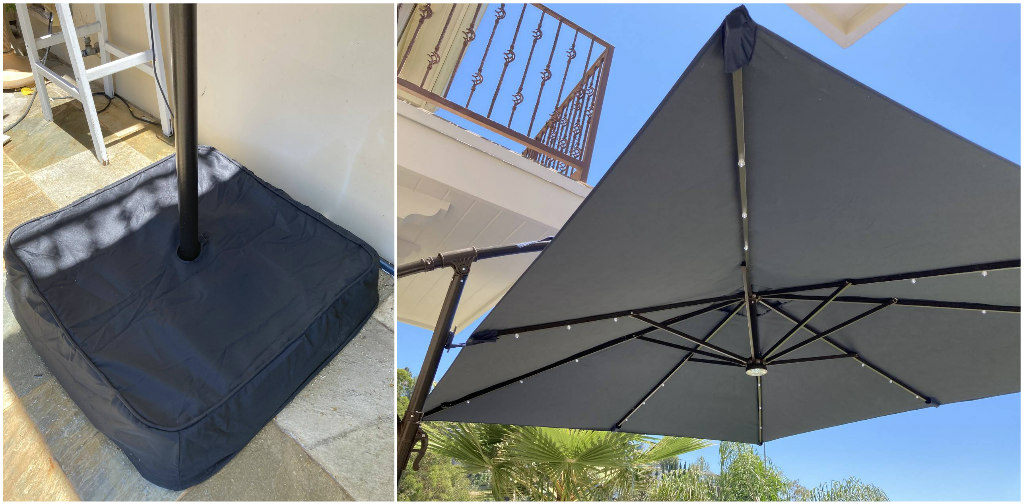 Once that was done, we put the canopy together. However, for some reason; the LED lights did not come on at dusk as they were supposed to. The question remained, what did we do wrong?
We proceeded to read the manual over and realized that there was a switch that needed to be on.
An easy enough fix and it prevented us from having to start all over again. As you can see, it looks great and everything works. Good morning sunshine and Hello summer!