The evolution of the Folgers coffee canister
Folgers Coffee is without a doubt the most well-known coffee brand produced in the United States. It is a part of the iconic food and beverage company: The J.M. Smucker.
Who was the man behind Folgers?
The Folger Coffee Company was founded in 1850 in San Francisco when kerosene began to offer a cheaper alternative to whale oil, resulting in the re-purposing of many of its ships to bring coffee from South America. The founding owner, William H. Bovee, saw an opportunity to produce roasted and ground coffee ready for brewing.
Previously, Californians purchased green coffee beans which they would roast and grind their own. To help build his mill, Bovee hired James A. Folger as a carpenter. After working at Bovee's mill for nearly a year, James had saved enough money to stake a claim in the company and headed out to mine for gold. He agreed to carry along samples of coffee and spices, taking orders from grocery stores along the way. Upon his return to San Francisco in 1865, James became a full partner of The Pioneer Steam Coffee and Spice Mills. He eventually bought out the other partners In 1872, renaming the company to J.A. Folger & Co.
In 1889, James died, and his oldest son, James A. Folger II, stepped into the role of president of J.A. Folger & Co at the age of 26. He moved the plant to Texas. Under the leadership of Peter Folger, the brand became one of the principal coffee concerns in North America, the world's largest coffee market. Procter & Gamble acquired Folger's in 1963 and removed the apostrophe from its name. During P&G's ownership, Folgers became the number one coffee brand in America.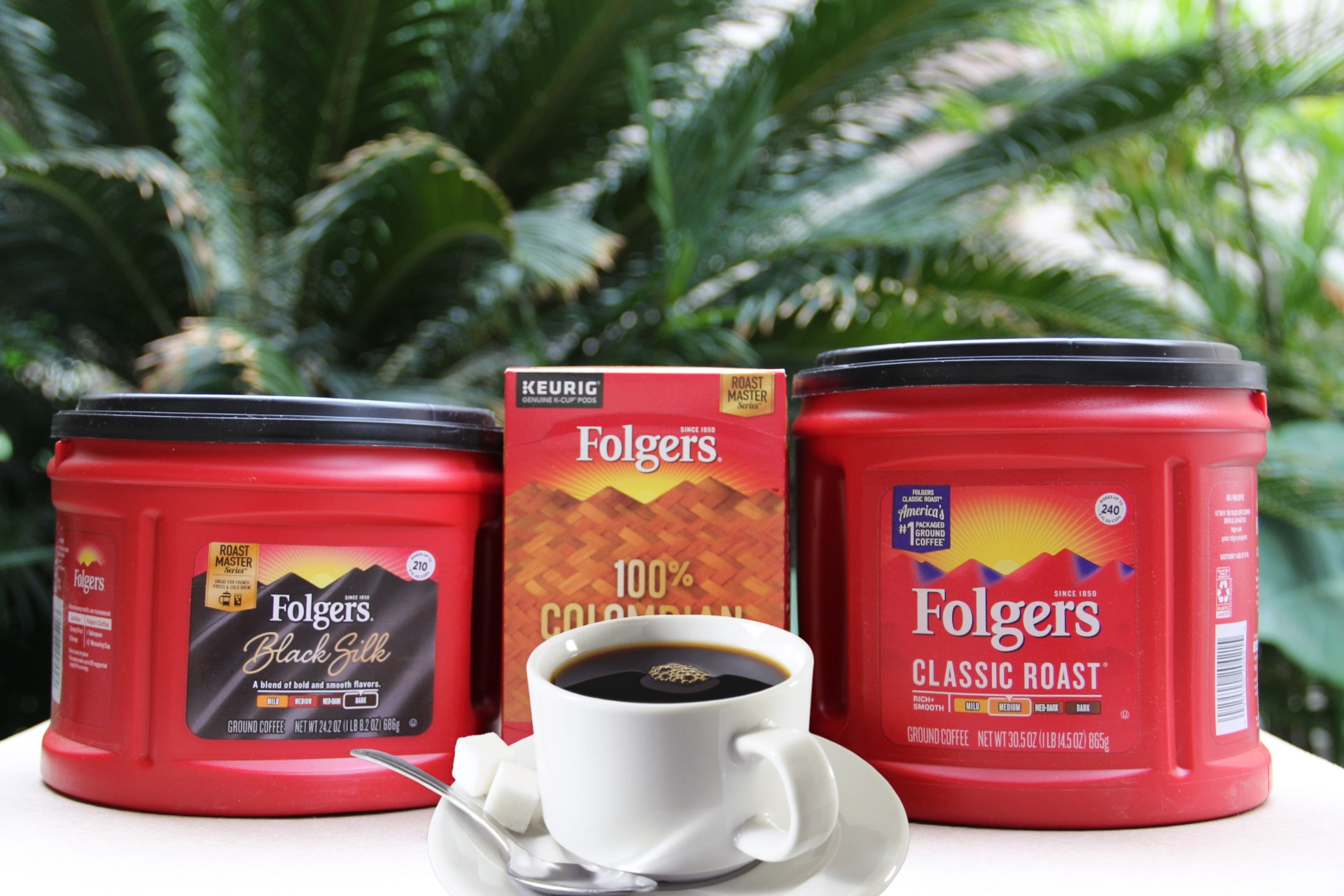 If you have not had a chance to taste a variety of Folgers' delicious coffee, here are three that I recommend.
Folgers Classic Roast® Coffee
First, get acquainted with the degree to which coffee beans are roasted. It determines a coffee's taste and aroma. Learn about the flavor differences by clicking on the roast meter on Folgers' website. Most of the time, people choose Medium roast. It offers a robust taste and full flavor.
Folgers® Black Silk dark delivers a bold, smooth flavor that's distinctively dark and sure to satisfy.
As soon as I get to the office, I get myself a K-Cup 100% Colombian Coffee, Medium-Dark Roast. It has a full-bodied flavor and aroma.
The distinctively rich and full-bodied taste of 100% Colombian beans helps me to start my work day on the right foot.
Now, the only thing you need is the Keurig® brewing system. Next, I will try the flavored coffees from Folgers. They have so much to offer!