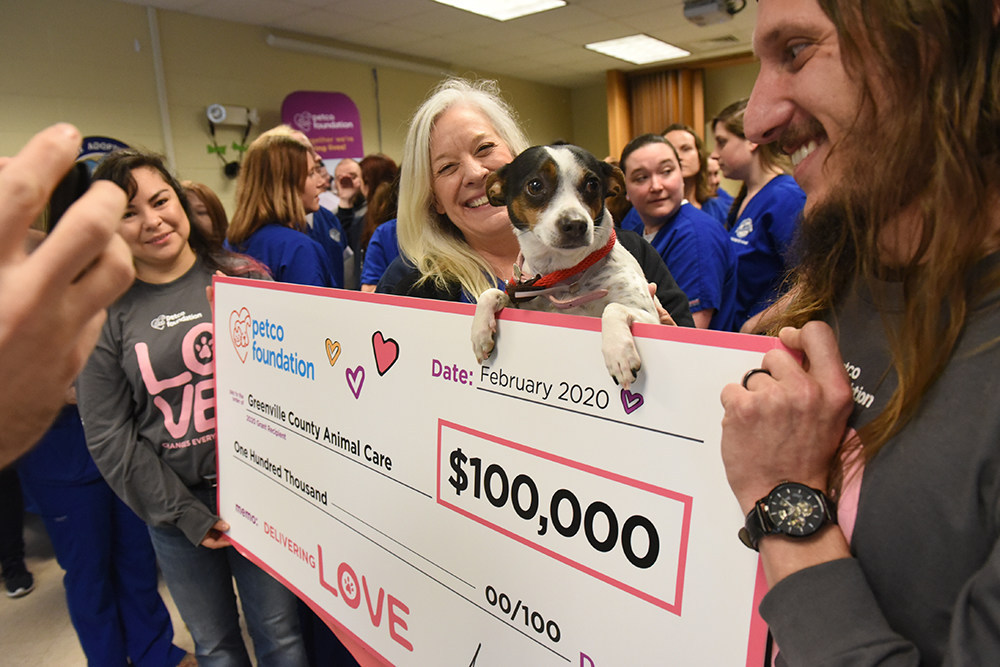 The Petco Foundation has announced a commitment of more than $10 million in grant investments to support the critical work that animal welfare organizations do each day to save lives. It's part of an effort to deliver love and appreciation to animal shelters across the country this Valentine's Day to thank dedicated staff members and volunteers for their lifesaving work.
During the week of Valentine's Day, the Petco Foundation team traveled the country to deliver love and surprised select animal shelter locations with Petco treats and toys for shelter pets, BOBS from Skechers shoes for staff, a giant Valentine's card, and a surprise grant investment check for significant funding to help save more animals.
Leading up to Valentine's Day, the Petco Foundation, in partnership with award-winning artist and creator of the MUTTS comic strip, Patrick McDonnell, and BOBS from Skechers invited the public to also send love to shelter pets and the people who care for them by posting a #ShelterValentine on social media. Thousands of pet lovers shared messages stating how much they love their pets and appreciated the organizations where they adopted from. The Petco Foundation complied the messages and delivered them on Valentine's Day as part of their shelter deliveries and grant announcements and sent a digital valentine to their 4,000 partner organizations containing heartfelt thank you messages from supporters nationwide.
"Valentine's Day is all about expressing love and we're so excited to show our love for shelter pets and the people who work so hard to save them every day," said Susanne Kogut, president of the Petco Foundation. "And it's clear pet adopters agree from the number of #ShelterValentine posts we saw flooding social media, celebrating their adopted pets and sending gratitude to their adoption organizations. We are so happy to deliver these grant investments to organizations so they can continue saving lives, and we're humbled to be a partner in their lifesaving efforts."
Animal lovers who posted from Feb. 1 – 14 and used the hashtag #ShelterValentine and @mentioned both @petcofoundation and their adoption organization were eligible to receive a daily prize pack as well as a $1,000 grant for the adoption organization from the Petco Foundation. One grand prize winner was drawn on Valentine's Day to receive a gift pack and a $10,000 grant for the shelter where they adopted their pet.
Pet lovers can support the Petco Foundation's "Love Changes Everything" campaign from February 29 to March 29 by donating at their local Petco store, Unleashed by Petco store, or online at petcofoundation.org/love to help pets in need. Anyone who makes an in-store donation of $10 or more will receive a limited-edition tote bag featuring MUTTS artwork.
To learn more about the "Love Changes Everything" campaign and the #ShelterValentine initiative, visit petcofoundation.org/love. To learn more about Patrick McDonnell and his commitment to promoting pet adoption, visit MUTTS.com. To learn more about Bobs from Skechers, visit BOBSfromSkechers.com.