Laura Dern's Golden Globes Make-Up by Celebrity Makeup Artist Simone Siegl
"My inspiration always starts with seeing the dress. At this year's Globes, Laura is wearing a stunning YSL gown with colors of gold, blue, green, red, black and silver beading! I'm not that big into matching makeup to dress colors, but of course love to stay in the family, so I decided to do a warm soft purple-bronzy smoky eye with a soft pink lip and flawless, dewy skin to compliment her gown." – Simone Siegl
GET THE LOOK:
SKINCARE: To create the perfect base for makeup, Simone used the NEW Luminous Silk Primer to blur any imperfections while ensuring the foundation would glide on smoothly and last all night long.
EYES: Simone prefers to start makeup application with the eyes. For Laura's soft smoky eye, Simone first prepped her lids with a yet-to-be-released complexion product from Armani. For the shadow, she chose Eye Tint Liquid Eyeshadow in 27 as the dominant shade—a beautiful warm tone to compliment Laura's blue eyes. She applied it in the crease of the eye, blending to the outer corners to create a smoky effect, adding a bit of the hue along the outer bottom lid as well. Then, Simone added Eye Tint Liquid Eyeshadow in 42 in the center of Laura's lids and the inner corners of her eyes to make them pop.
Along the top lash line, Simone applied Eyes To Kill Lacquered Liquid Eyeliner from the middle of the lid to the outer corner. She then darkened the bottom line with a hint of dark brown shadow from the Eyes To Kill Quattro Eyeshadow Palette in 8.
To complete the eye look, she added multiple layers of Eyes to Kill Classic Mascara to achieve optimum fullness and length and filled in Laura's brows with Smooth Silk Brow Pencil in 2.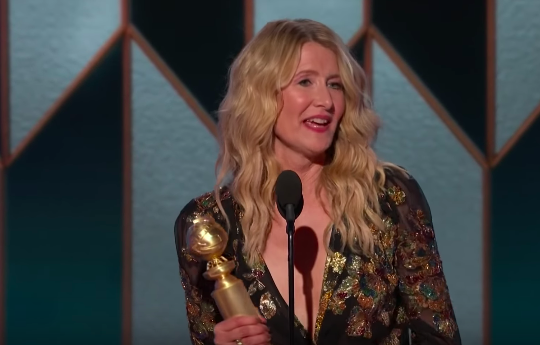 COMPLEXION: After finishing Laura's eyes, Simone moved onto complexion. She began by applying the same yet-to-be-released complexion product under Laura's eyes to hide any redness or darkness. by applying Luminous Silk Foundation in 5.25. Simone says, "A little goes a long way. I'm in love with this product because its weightless medium coverage will make your complexion look flawless and blur out all imperfections."
Next, Simone dabbed Neo Nude A-Blush in 51 to Laura's cheekbones. Pro Tip from Simone: "Liquids keep skin dewier and more fresh-looking than powders! These melt into the skin and blend so nicely"
To finish, Simone brushed Neo Nude Compact Powder Foundation in 3 along Laura's forehead, chin, tops of her cheekbones and down her nose for a natural highlight and subtle glow.
LIPS: Simone used Smooth Silk Lip Pencil in 4 to line Laura's lips, topped with Rouge D'Armani Matte Lipstick in 503 for the ultimate pink pout.
PRODUCT DETAILS:
Skincare: Giorgio Armani Luminous Silk Primer
Foundation: Giorgio Armani Luminous Silk Foundation in 5.25, Giorgio Armani Neo Nude Compact Powder Foundation in 3
Blush: Giorgio Armani Neo Nude A-Blush in 51
Eyes: Giorgio Armani Eyes Eye Tint Liquid Eyeshadows in 27 and 42, Giorgio Armani Eyes To Kill Lacquered Liquid Eyeliner, Giorgio Armani Eyes To Kill Quattro Eyeshadow Palette in 8 Giorgio Armani Eyes to Kill Classic Mascara, Giorgio Armani Smooth Silk Brow Pencil in 2
Lips: Giorgio Armani Smooth Silk Lip Pencil in 4, Giorgio Armani Rouge D'Armani Matte Lipstick in 503