Multi-platinum singer, songwriter, DEMI LOVATO will sing the National Anthem as part of Super Bowl LIV pregame festivities at Hard Rock Stadium in Miami on Sunday, February 2, the NFL and FOX announced today.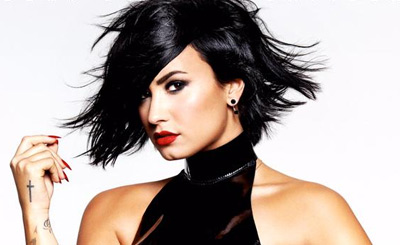 The pregame show, including the National Anthem, will be broadcast live worldwide.
Lovato is a Grammy-nominated singer, songwriter, actress, advocate, philanthropist, and business woman. Within hours of the release of Lovato's fifth studio album, CONFIDENT, the first single, "Cool for the Summer" trended worldwide and hit #1 on iTunes in 37 countries.
Lovato will join a prestigious line up of Super Bowl National Anthem performers, including: Gladys Knight, Lady Gaga, Beyoncé, Luke Bryan, Whitney Houston, Diana Ross, Jennifer Hudson, Billy Joel, P!NK, Jordin Sparks, Idina Menzel, Mariah Carey, Alicia Keys, and Neil Diamond. (See below list of National Anthem performers.)
In addition, on behalf of the National Association of the Deaf (NAD), CHRISTINE SUN KIM, internationally renowned sound artist and performer, will sign the National Anthem in American Sign Language.
The NFL previously announced that Jennifer Lopez and Shakira will headline the Pepsi Super Bowl LIV Halftime Show. The pregame and halftime shows are an NFL NETWORK PRODUCTION and will be executive produced by RICKY KIRSHNER.
SUPER BOWL NATIONAL ANTHEM PERFORMERS
Super Bowl
Performer
Super Bowl
Performer
Super Bowl I
Universities of Arizona & Michigan Bands
Super Bowl XXVIII
Natalie Cole with Atlanta University Center Chorus (Signed by Courtney Keel Foley)
Super Bowl II
Grambling University Band
Super Bowl XXIX
Kathie Lee Gifford (Signed by Heather Whitestone)
Super Bowl III
Anita Bryant (Pledge of Allegiance by Apollo Astronauts)
Super Bowl XXX
Vanessa Williams (Signed by Mary Kim Titla)
Super Bowl IV
Al Hirt (Pledge of Allegiance by Astronauts)
Super Bowl XXXI
Luther Vandross (Signed by Erika Schwarz)
Super Bowl V
Tommy Loy (trumpeter)
Super Bowl XXXII
Jewel (Signed by Phyllis Frelich)
Super Bowl VI
U.S. Air Force Academy Chorale
Super Bowl XXXIII
Cher (Signed by Speaking Hands)
Super Bowl VII
Andy Williams & Little Angels of Holy Angels Church (Chicago) Pledge of Allegiance by Apollo 17 crew
Super Bowl XXXIV
Faith Hill (Signed by Briarlake Elementary School Signing Choir)
Super Bowl VIII
Charlie Pride
Super Bowl XXXV
Backstreet Boys (Signed by Tom Cooney)
Super Bowl IX
Grambling University Band with Mardi Gras Chorus
Super Bowl XXXVI
Mariah Carey (Signed by Joe Narcisse
Super Bowl X
Tom Sullivan
Super Bowl XXXVII
Dixie Chicks (Signed by Janet Maxwell);
"God Bless America" performed by Celine Dion
Super Bowl XI
Vicki Carr (America the Beautiful)
Super Bowl XXXVIII
Beyoncé Knowles (Signed by Suzanna Christy)
Super Bowl XII
Phyllis Kelly of NE Louisiana State University
Super Bowl XXXIX
More than 100 representatives from the four branches of the military (Signed by Wesley Tallent)
Super Bowl XIII
Colgate University Thirteen
Super Bowl XL
Aaron Neville and Dr. John with Aretha Franklin & Detroit based 150-member choir (Signed by Angela LaGuardia of Michigan School for Deaf).
Super Bowl XIV
Cheryl Ladd
Super Bowl XLI
Billy Joel (Signed by Marlee Matlin and Jason Hay-Southwell)
Super Bowl XV
Helen O'Connell
Super Bowl XLII
Jordin Sparks (Signed by A Dreamer)
Super Bowl XVI
Diana Ross
Super Bowl XLIII
Jennifer Hudson (Signed by Kristen Santos)
Super Bowl XVII
Leslie Easterbrook
Super Bowl XLIV
Carrie Underwood (Signed by Kinesha Battles)
Super Bowl XVIII
Barry Manilow
Super Bowl XLV
Christina Aguilera (Signed by Candice Villesca)
Super Bowl XIX
Children's Choir of San Francisco
Super Bowl XLVI
Kelly Clarkson (Signed by Rachel Mazique)
Super Bowl XX
Wynton Marsalis
Super Bowl XLVII
Alicia Keys (Signed by John Maucere)
Super Bowl XXI
Neil Diamond
Super Bowl XLVIII
Renée Fleming (Signed by Amber Zion)
Super Bowl XXII
Herb Alpert
Super Bowl XLIX
Idina Menzel (Signed by Treshelle Edmond)
Super Bowl XXIII
Billy Joel
Super Bowl 50
Lady Gaga (Signed by Marlee Matlin)
Super Bowl XXIV
Aaron Neville
Super Bowl LI
Luke Bryan (Signed by Kriston Pumphrey)
Super Bowl XXV
Whitney Houston
Super Bowl LII
P!NK (Signed by Alexandria Wailes)
Super Bowl XXVI
Harry Connick, Jr. (Signed by Lori Hilary)
Super Bowl LIII
Gladys Knight (Signed by Aarron Loggins)
Super Bowl XXVII
Garth Brooks (Signed by Marlee Matlin)
Super Bowl LIV
Demi Lovato (Signed by Christine Sun Kim)