Did you know that this year will mark the 33rd year of the MATZOBALL.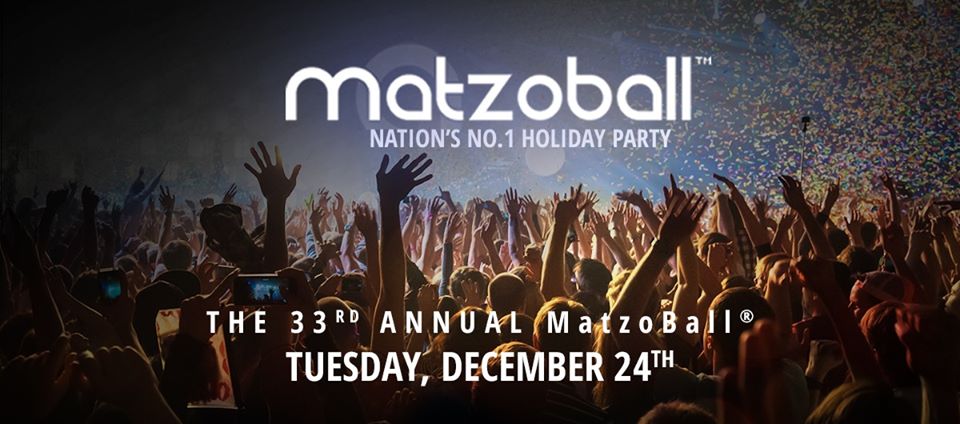 What is the MATZOBALL? Held in select cities around the country, the mingling party for Jewish singles has partnered with the organization Gift of Life Marrow Registry, providing attendees with the chance to save a life this Hanukkah.
This is a fun annual bash that singles will not want to miss out on. Whether meeting up for a fun-filled night, or finding someone that turns out to be their soul mate, MATZOBALL has a long reputation of bringing Jewish singles together.
"Anyone who has ever attended MATZOBALL knows how incredible this party is, those who haven't yet are truly missing out," explains Andrew Rudnick, from Mazel Events, LLC and founder of the MATZOBALL. "Make this the year that you attend MATZOBALL. Once you do, you will never want to miss it again, it's that much fun!"
According to the US Census Bureau, roughly 45% of the US adult population is single, which is more than any other time in history. Despite there being so many singles around the nation, many people find it difficult to meet those who have similar interests or background. Attending MATZOBALL is a great way for Jewish singles to meet others. It provides a fun and stress free atmosphere, which could be the start of a long lasting relationship.
Rudnick started the MATZOBALL tradition in 1987, when he convinced a bar owner to keep the place open so that he and some friends could have a gathering on Christmas Eve. That night, he met his future wife, loved seeing how much fun everyone had, and decided to make it a yearly tradition. Since that time, there have been over 400,000 people who have attended the yearly bash.
Since its founding, MATZOBALL has grown significantly. While the majority of those who attend it are Jewish, increasingly there has been others who are not who attend each year. Singles from all backgrounds and ethnicities are taking part in the annual tradition. This year, attendees will have a chance to save a life when they attend the event.
By partnering with Gift of Life Marrow Registry, MATZOBALL is giving people the option to help those who have blood cancer. The organization will have a table set up at the events and those who would like to be potential lifesavers can easily join the marrow registry with a simple cheek swab. At some point, they may be contacted regarding being a match for someone who needs a blood stem cell or marrow transplant.
MATZOBALL, which is for those ages 21 and up, will be held from 9 pm to 2 am in the following select cities on December 24, 2019:
· Boston – Royale Nightclub, tickets starting at $43
· New York City – Capitale, tickets starting at $85
· Philadelphia – Voyeur Nightclub, tickets starting at $33
· Los Angeles – The Argyle, tickets starting at $44
· Miami – LIV Nightclub, tickets starting at $65
· Delray Beach – II Bacio, tickets starting at $43
· Fort Lauderdale – DAER Nightclub at the Seminole Hard Rock Hotel & Casino, tickets starting at $43
· Washington D.C. – Ultrabar, tickets starting at $33
MATZOBALL will be powered by JSwipe again this year. Their app, which has over 1 million users, makes it easy to swipe left or right on nearby Jewish singles. The app can be downloaded on iOS and Android devices. Their mission is to bring Jewish singles together and create meaningful relationships.
In addition to general admission tickets, many venues offer upgrades, including a fast pass to move you to the front of the admission line. Some parties are also offering group table packages, which include multiple tickets for admission, alcohol, VIP lines, and more. For complete city information, ticket options and pricing, to purchase tickets, or to join the VIP list, visit the website at: https://matzoball.org.