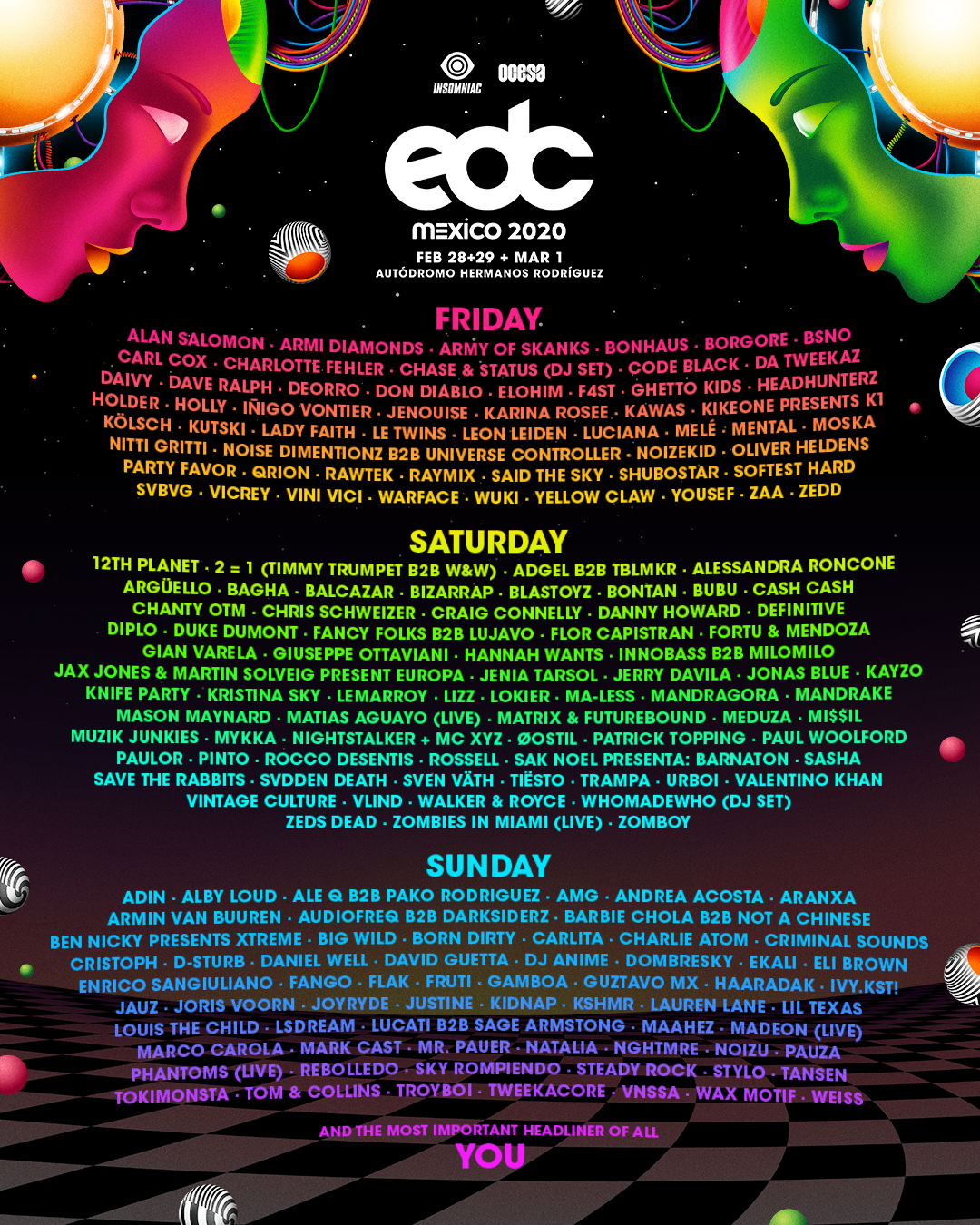 Insomniac and OCESA announced the lineup for the seventh edition of Electric Daisy Carnival (EDC) Mexico 2020, following the historic news earlier this year that the festival would expand to three days for the first time. Kicking off what is sure to be another year of global dominance for EDC, more than 180 of dance music's finest artists will take over Mexico City as the beloved festival, rich in the country's culture and vibrant history, returns to the Autódromo Hermanos Rodríguez Friday, Feb. 28 through Sunday, March 1. A record number of Headliners are expected to unite from across the globe as they join a community where "All Are Welcome" and experience the best sounds in dance music.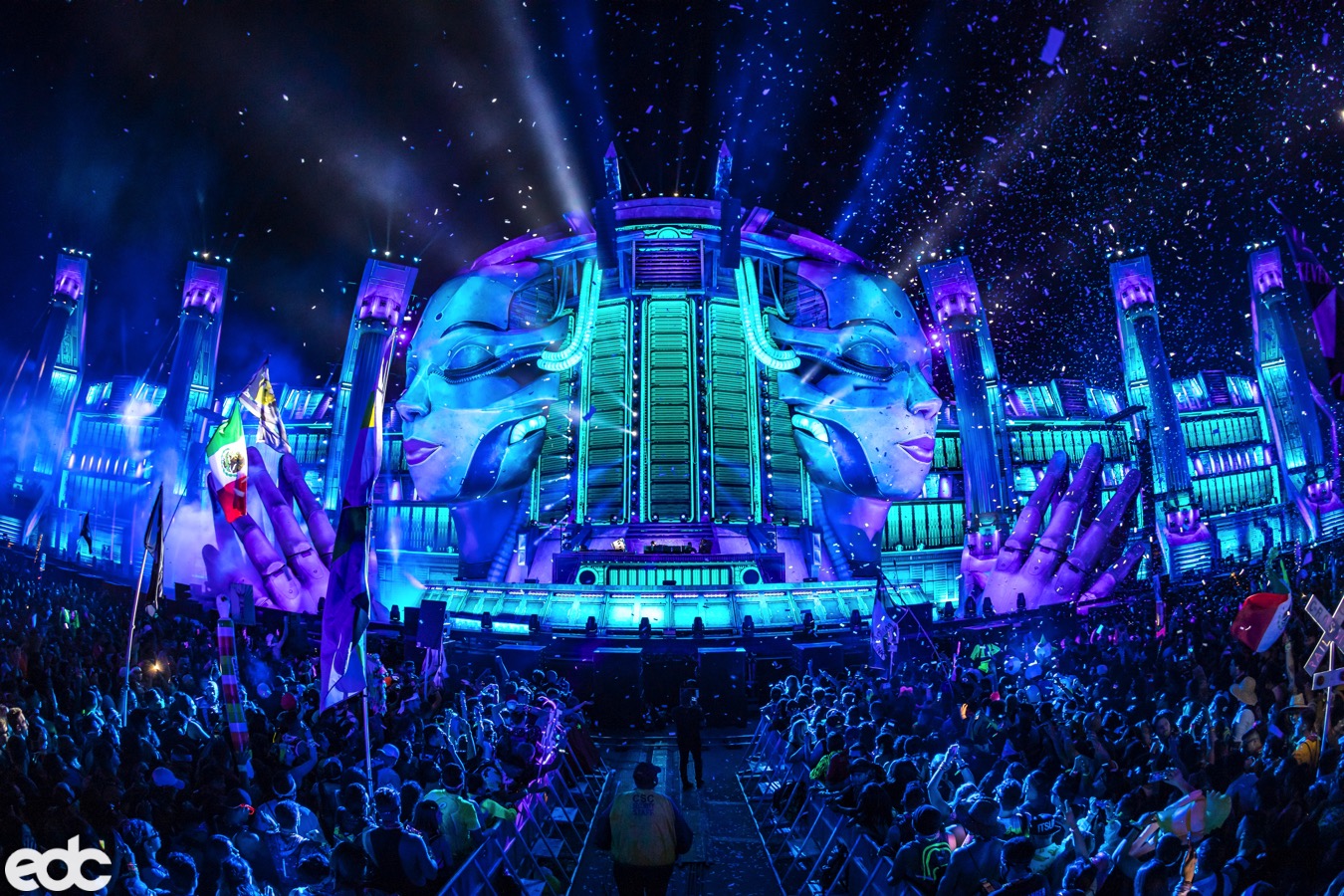 Kinetic Energy will travel to EDC Mexico as the themed stage debuts internationally. Spanning 120 meters wide and 30 meters tall, the stage is the largest kineticFIELD experience ever built at EDC Mexico. Alongside fan-favorites David Guetta, Armin Van Buuren, and Tiësto, kineticFIELD will feature Jax Jones and Martin Solveig making their world debut as Eurpoa, while Yellow Claw and Headhunterz join forces for a world exclusive back-to-back set. The stage will also see Timmy Trumpet and W&W during a rare 2 = 1 performance. As one of the newest stages to visit EDC Mexico—and featuring some of the most eclectic talent on the lineup—the 360-degree circuitGROUNDS experience will be powered by performances from Zedd, Vini Vici, Borgore, Diplo, Knife Party, Louis The Child, TOKiMONSTA, and Madeon, with an entirely new live set he'll be debuting at EDC Mexico 2020. Across the grounds at neonGARDEN, EDC Mexico first-timers Carl Cox, Sven Vath, and Marco Carola—along with neonGARDEN resident Yousef and buzzing artists Mason Maynard, Mele, Eli Brown, and Paul Woolford—will control the decks at one of the largest stages ever built to showcase underground house and techno
Shared by two of Insomniac's hardest brands, Bassrush and Basscon, the post-apocalyptic wasteLAND will feature a fusion of hardstyle and bass music while the stage containers will showcase graffiti designs from some of the most renowned street artists in Mexico. Delivering the flavor to EDC Mexico and always embracing the heritage of Latin, urban and local sounds, the 2020 edition of the festival will feature the biggest stage Dos Equis has ever created. stereoBLOOM, hosted by Insomniac Records and Dreamstate, will bring new music and exciting performances from artists including Wuki, Softest Hard, Giuseppe Ottaviani, Craig Connelly, Dombresky, Wax Motif, and more.
EDC Mexico 2020 will unveil its seventh and newest stage, bionicJUNGLE, featuring musical Mayan vibes in a spiritual place where nature and technology coexist. In a brand new stage setting with eye-catching visuals and show stopping production, the Mayan Warrior Art Car will showcase performances from its crew including Kawas, Jenia Tarsol, Who Made Who (DJ Set), Rebolledo and more.
For TICKETS and more information visit: www.insomniac.com
The full 2020 EDC Mexico lineup includes:
12TH PLANET
2 = 1 (TIMMY TRUMPET B2B W&W)
ADGEL B2B TBLMKR
ADIN
ALAN SALOMON
ALBY LOUD
ALE Q B2B PAKO RODRIGUEZ
ALESSANRA RONCONE
AMG
ANDREA ACOSTA
ARANXA
ARGÙELLO
ARMI DIAMONDS
ARMIN VAN BUUREN
ARMY OF SKANS
AUDIOFREQ B2B DARKSIDERZ
BAGHA
BALCAZAR
BARBIE CHOLA B2B NOT A CHINESE
BEN NICKY PRESENTS XTREME
BIG WILD
BIZARRAP
BLASTOYZ
BONHAUS
BONTAN
BORGORE
BORN DIRTY
BSNO
BUBU
CARL COX
CARLITA
CASH CASH
CHANTY OTM
CHARLIE ATOM
CHARLOTTE FEHLER
CHASE & STATUS (DJ SET)
CHRIS SCHWEIZER
CODE BLACK
CRAIG CONNELLY
CRIMINAL SOUNDS
CRISTOPH
D-STURB
DA TWEEKAZ
DAIVY
DANIEL WELL
DANNY HOWARD
DAVE RALPH
DAVID GUETTA
DEFINITIVE
DEORRO
DIPLO
DJ ANIME
DOMBRESKY
DON DIABLO
DUKE DUMONT
EKALI
ELI BROWN
ELOHIM
ENRICO SANGIULIANO
F4ST
FANCY FOLKS B2B LUJAVO
FANGO
FLAK
FLOR CAPISTRAN
FORTU & MENDOZA
FRUTI
GAMBOA
GHETTO KIDS
GIAN VARELA
GIUSEPPE OTTAVIANI
GUSTAVO MX
HAARADAK
HANNAH WANTS
HEADHUNTERZ
HOLDER
HOLLY
IÑIGO VONTIER
INNOBASS B2B MILOMILO
IVY.KST!
JAUZ
JAX JONES & MARTIN SOLVEIG PRESENT EUROPA
JENIA TARSOL
JENOUISE
JERRY DAVILA
JONAS BLUE
JORIS VOORN
JOYRYDE
JUSTINE
KARINA ROSEE
KAWAS
KAYZO
KIDNAP
KIKEONE PRESENTS K1
KNIFE PARTY
KÖLSCH
KRISTINA SKY
KSHMR
KUTSKI
LADY FAITH
LAUREN LANE
LE TWINS
LEMARROY
LEON LEIDEN
LIL TEXAS
LIZZ
LOKIER
LOUIS THE CHILD
LSDREAM
LUCATI B2B SAGE ARMSTRONG
LUCIANA
MA-LESS
MAAHEZ
MADEON (LIVE)
MANDRAGORA
MANDRAKE
MARCO CAROLA
MARK CAST
MASON MAYNARD
MATIAS AGUAYO (LIVE)
MATRIX & FUTUREBOUND
MEDUZA
MELÉ
MENTAL
MI$$IL
MOSKA
MR. PAUER
MUZIK JUNKIES
MYKKA
NATALIA
NGHTMER
NIGHTSTALKER + MC XYZ
NITTI GRITTI
NOISE DIMENTIONZ B2B UNIVERSE CONTROLLER
NOIZEKID
NOIZU
OLIVER HELDENS
ØOSTIL
PARTY FAVOR
PATRICK TOPPING
PAUL WOOLFORD
PAULOR
PAUZA
PHANTOMS (LIVE)
PINTO
QRION
RATWEK
RAYMIX
REBOLLEDO
ROCCO DESENTIS
ROSSELL
SAID THE SKY
SAK NOEL PRESENTA: BARNATON
SASHA
SAVE THE RABBITS
SHUBOSTAR
SKY ROMPIENDO
SOFTEST HARD
STEADY ROCK
STYLO
SVBVB
SVDDEN DEATH
SVEN VÄTH
TANSEN
TIËSTO
TOKIMONSTA
TOM & COLLINS
TRAMPA
TROYBOI
TWEEKACORE
URBOI
VALENTINO KHAN
VICREY
VINI VICI
VINTAGE CULTURE
VLIND
VNSSA
WALKER & ROYCE
WARFACE
WAX MOTIF
WEISS
WHOMADEWHO (DJ SET)
WUKI
YELLOW CLAW
YOUSEF
ZEE
ZEDD
ZEDS DEAD
ZOMBIES IN MIAMI (LIVE)
ZOMBOY