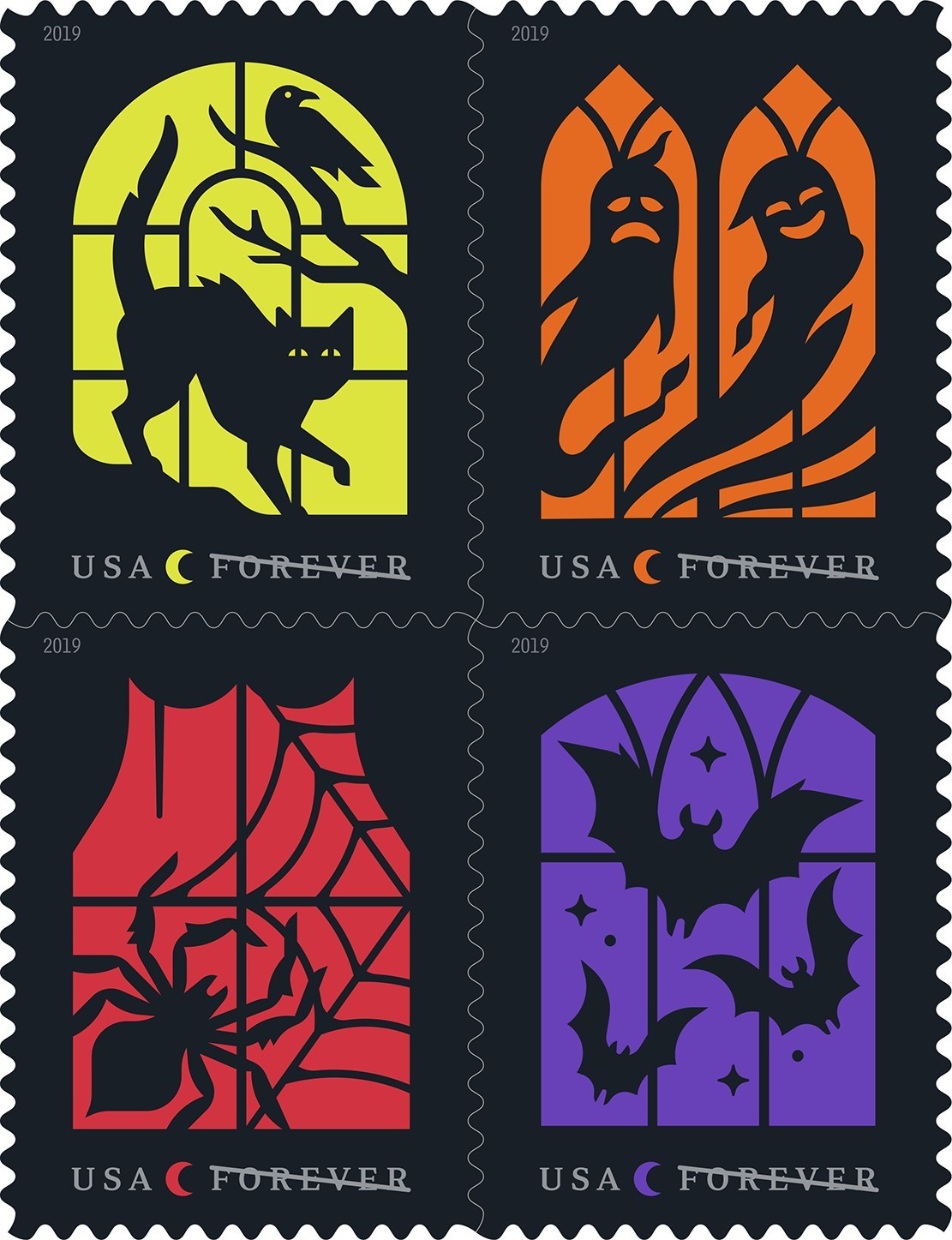 The U.S. Postal Service today dedicated four stamps celebrating colorful, creepy and chilling Spooky Silhouettes during an event at the Milford Pumpkin Festival in Milford, NH.
The Spooky Silhouettes stamps feature digital illustrations with Halloween motifs rendered as black silhouettes in eerily backlit windows. The images include a cat with an arched back beneath a raven perched on a bare tree branch, all against a yellowish-green background; two ghosts against an orange background; a spider and a web against a red background; and three bats against a purple background. These newly available stamps are Forever stamps, which are always equal in value to the current First-Class Mail 1-ounce price.
"We sincerely appreciate the Postal Service for using the 30th anniversary of the Milford Pumpkin Festival for this stamp release," said Mark Bender, Milford town administrator.
"These commemorative Forever stamps highlight the fact that Halloween is the time of year that we can delight in the things that scare us," said Marc McCrery, the event's dedicating official and vice president, mail entry and payment technology, U.S. Postal Service. "It's our hope that these new stamps will contribute to this season's celebrations by not only adding a little spookiness to your cards and letters, but also reminding you of the specialness of the season."
McCrery and Bender were joined to unveil the stamps by Matthew Burdette, editor-in-chief of The Telegraph, who served as master of ceremonies; Jeff Belanger, acclaimed author and journalist; Manya Ziemiecki, sophomore vocalist at Milford High School; and Simon Brooks, Halloween storyteller.
Artist Tyler Lang worked with art director and designer Greg Breeding to create these stamps.
News of the Spooky Silhouettes stamps can be shared using the hashtag #HalloweenStamps.