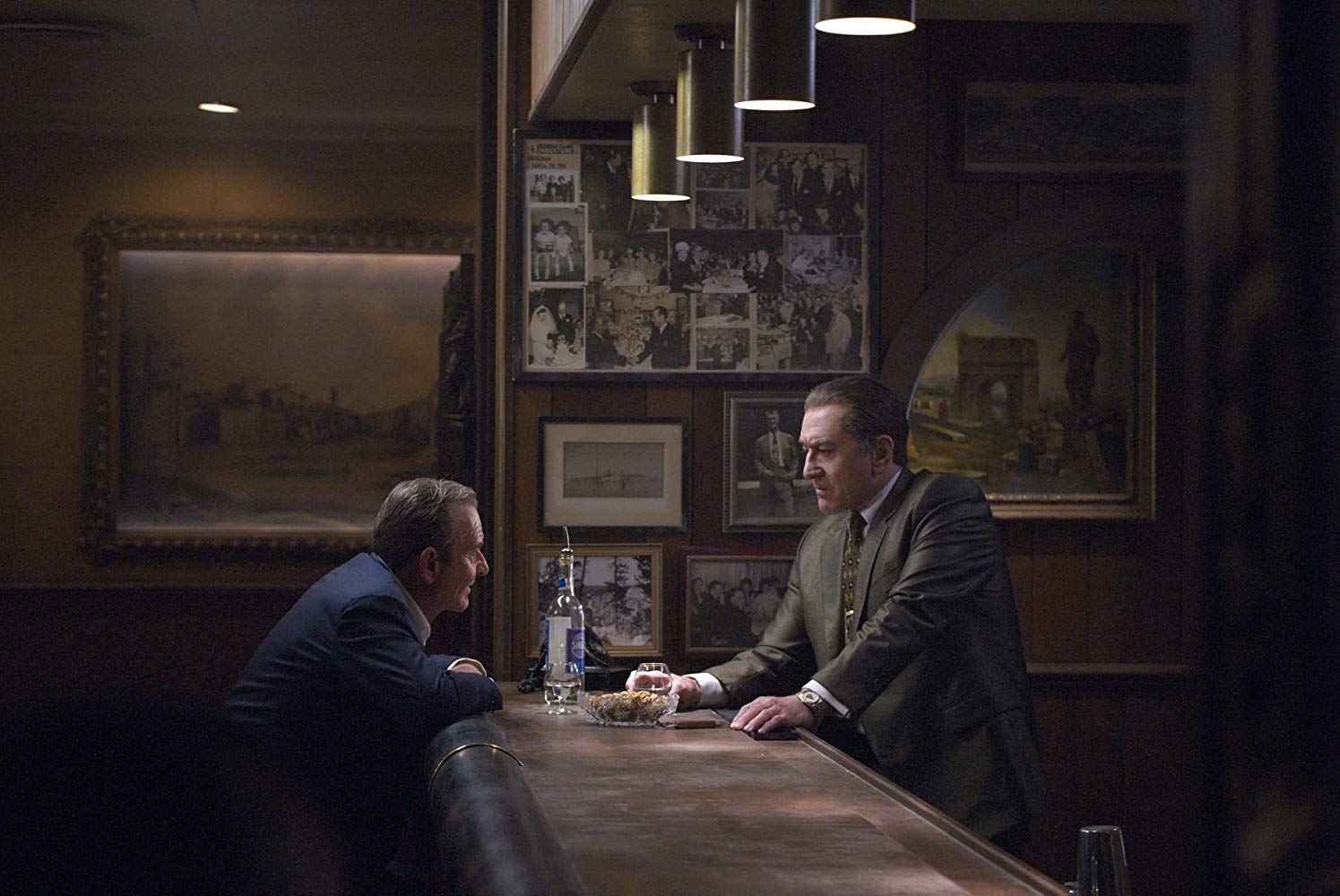 Robert De Niro returns to his gangster roots to portray mob hitman Frank Sheeran as he looks back on his life from post WWII Pennsylvania truck driver to confidante of Teamsters President Jimmy Hoffa in "The Irishman," an instant crime classic costarring Joe Pesci and Al Pacino.
Directed with veteran confidence and youthful vigor by celebrated filmmaker Martin Scorsese, this long-awaited return to the genre for which the director made his name is as epic and entertainingly related as expected, offering audiences nothing short of a modern day masterpiece. A massive directorial undertaking with a sprawling storyline spanning decades and covering a dizzying degree of American and mob history, "The Irishman" is the kind of career-topping achievement that one could hope for from someone of Scorsese's acclaim, exhibiting the storytelling brilliance of a filmmaker who perfected the modern day mob film over thirty years ago and still hasn't lost a step. Finally uniting the acting trifecta of De Niro, Pacino and Pesci for a film befitting their collective talents, the savvy script by Steven Zaillian, adapted from Charles Brandt's book "I Heard You Paint Houses," is a veritable lesson in skillful screenwriting, and the work from Scorsese's longtime editor Thelma Schoonmaker and cinematographer Rodrigo Prieto all greatly contribute in bringing Scorsese's brilliant vision to life. Rounding out this thrilling mob hit for the ages is a stellar ensemble cast, many of whom have previously worked with the director, including Harvey Kietel, Bobby Cannavale, Ray Romano,Stephen Graham, and Anna Paquin.
Presented as a series of flashbacks told from Sheeran's twilight years in a nursing home, "The Irishman" traces the rise of Frank Sheeran (Robert De Niro) from a WWII soldier stationed in Italy to his directionless post war years as a hustling Pennsylvania truck driver, which led to a friendship with Philadelphia mob boss Russell Bufalino (Joe Pesci) and an eventual alliance with Teamsters Union president Jimmy Hoffa (Al Pacino). Hardened by his years behind enemy lines, Frank returns home to rural Pennsylvania to make ends meet driving a meat truck, and his side business of selling stolen meat eventually aligns him with Bufalino, who runs his vast criminal enterprise out of an unassuming drapery business.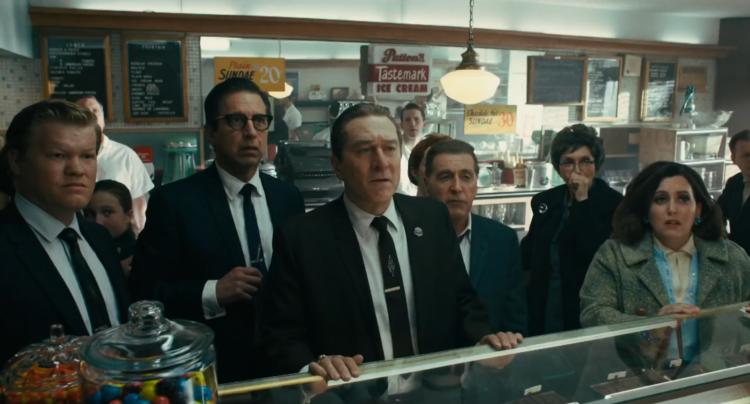 After becoming a close confidante of Bufalino, Frank eventually graduates from hired muscle to full-fledged hitman, which is called "painting houses" in mob speak. Given the type of atrocities he was forced to partake in during the war, this type of wetwork doesn't phase the Irishman, although his hardness doesn't prevent him from eventually marrying a woman named Irene (Stephanie Kurtzuba) and becoming a family man, albeit a distant one.
When Bufalino's close friend and business associate Jimmy Hoffa, who runs the Teamsters and has plenty of mob-related business entanglements, reaches out to him in search of a reliable right-hand man, Russell recommends Frank, and he jumps at the opportunity. But while Sheeran's status rises alongside Hoffa, even running a union of his own, he also gets wrapped up in Hoffa's legal woes and strained mob ties, especially a pension dispute with Tony "Pro" Provenzano (Stephen Graham). As Hoffa's big mouth and hair-trigger temper continue to sour his relationship with these powerful underworld players, Frank finds himself at the very center of one of the great murder mysteries in American history.
Much like his most memorable films before this, director Martin Scorsese excels in the arena of drama told on an epic scale, particularly when that drama relates to the mafia, American history and politics, and "The Irishman" is certainly a story that brings out the very best of his talents. For those concerned that the storyline sounds too much like a filmmaker rehashing familiar ground, rest assured that, while there are inevitably some cinematic similarities between this film and earlier works like "Goodfellas" and "Casino," there is no question that this wholly captivating crime drama stands completely on its own. Helping Scorsese accomplish this grand achievement is the award-worthy script by Steven Zaillian, which not only deftly covers multiple decades but also brilliantly relates the political landscape of the time and the inner workings of the mafia, all while crafting distinctive characters and catchy dialogue. Rodrigo Prieto's dazzling camerawork is also a standout aspect of this towering Netflix production, the company's most expensive drama to date, while the smooth editing by longtime Scorsese collaborator Thelma Schoonmaker also helps in achieving the film's monumental feel. Also, while many voiced concern about the filmmaker's use of special effects to digitally "de-age" the characters for the earlier years, I didn't find the significant work done in this regard to be distracting at all, and actually comes across rather seamlessly.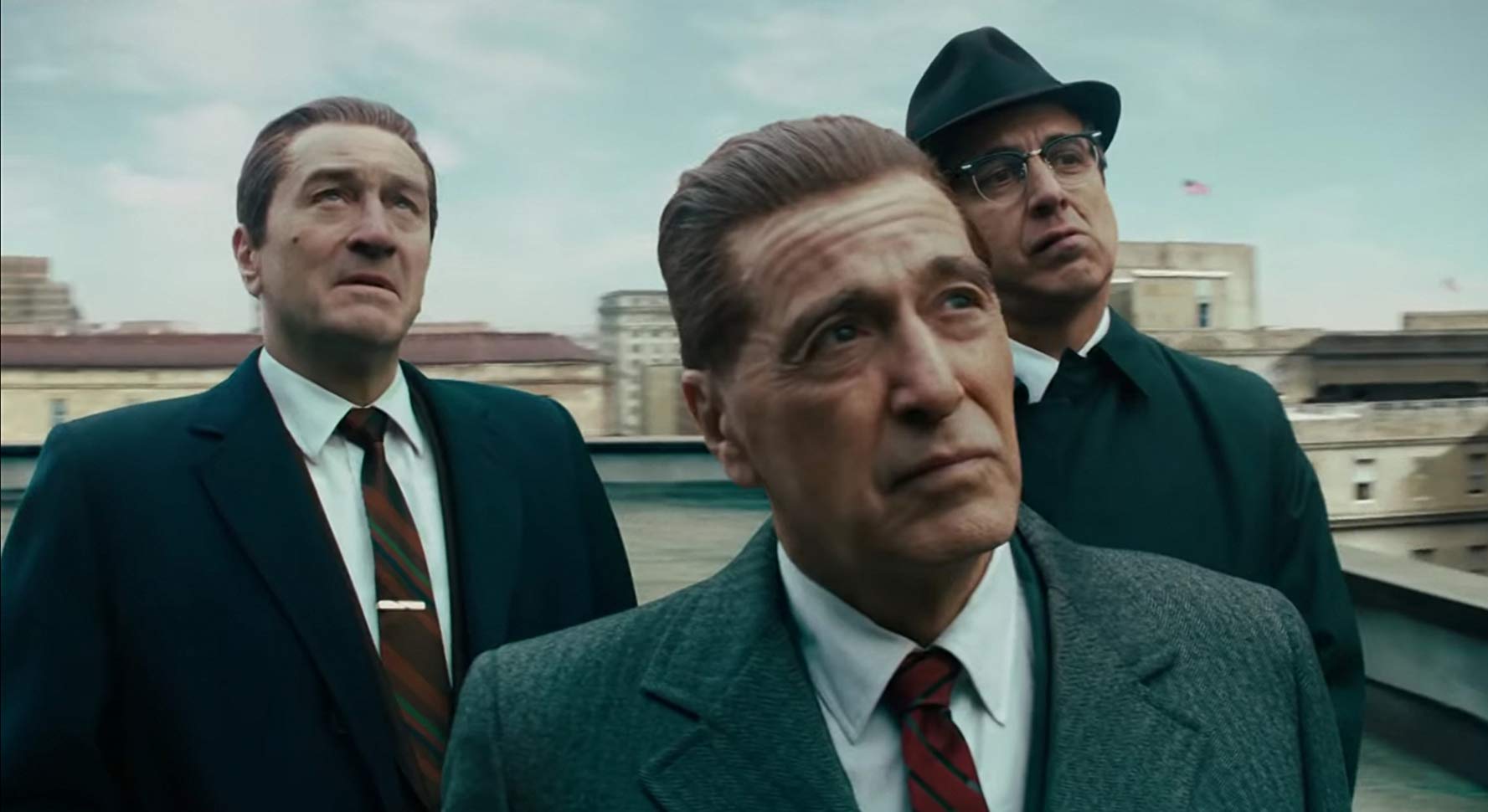 Scorsese has a reputation for eliciting the very best out of his actors, whether it is a minimal supporting role or a showy central character, and "The Irishman" further cements the filmmaker's reputation in this regard. Playing the strong but silent title character Frank Sheeran, Robert De Niro delivers a dialed-down performance that proves to be his most resonant and emotionally complicated work in years, and the secrets he carries in his intimidating but reserved disposition forms the backbone of the storyline. Portraying powerful but unassuming mob boss Russell Bufalino, Joe Pesci's long-awaited return to the big screen does not disappoint, though the role is much more reserved than the explosive characters he previously portrayed in films like "Goodfellas," "Casino" and "Raging Bull." But while De Niro and Pesci have previously collaborated with Scorsese on multiple occasions, this marks the first time Al Pacino has worked with the filmmaker; and despite De Niro being the title character, Pacino's performance as combustible Teamster president Jimmy Hoffa is really the film's centerpiece. Sarcastic, dyspeptic, pompous and power drunk, Pacino's Jimmy Hoffa brings the fireworks to every scene he graces, and in a career full of showy roles, this one may very well be the showiest. Audiences can fully expect to see his name on the short list of this year's best supporting actors.
An epic crime drama that brings together three screen legends and our greatest living filmmaker, "The Irishman" is a mob hit done right.
By Lucas Mirabella
Running Time: 209 minutes
Rated R for pervasive language and strong violence
https://www.netflix.com/title/80175798
In limited theaters November 1st, streaming on Netflix November 27th.