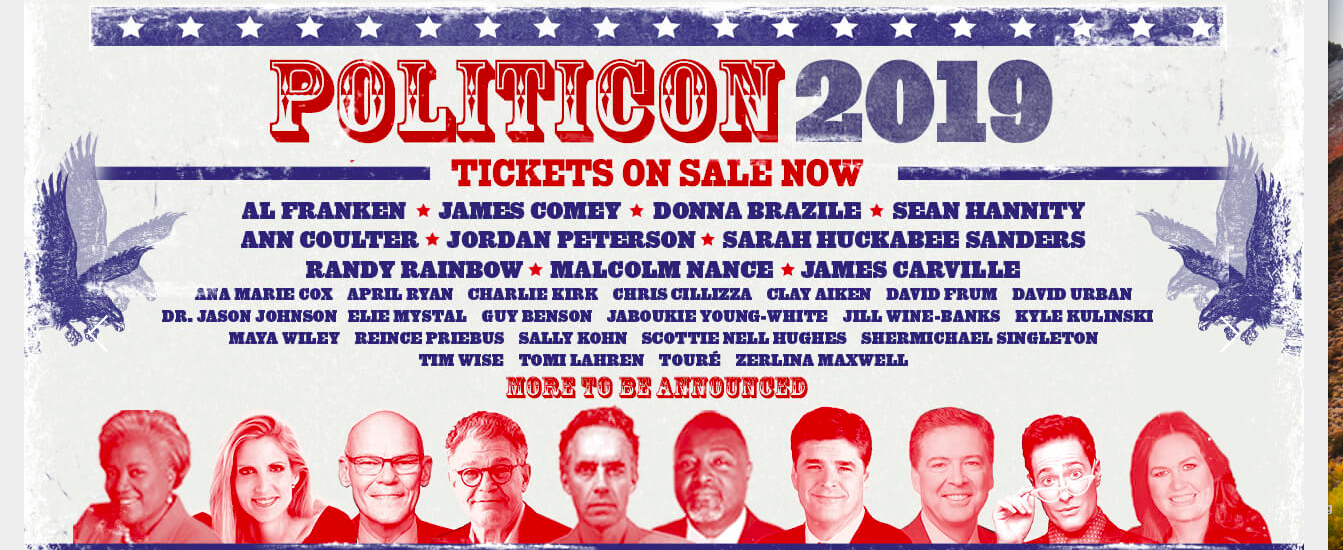 Politicon, the "Unconventional Political Convention," today announced this year's headliners for its 5th annual event, which is set to take place on Saturday, October 26 & Sunday, October 27 at the Music City Center in Nashville, TN. The convention will feature top names in the worlds of politics and media, including Al Franken, James Comey, Sean Hannity, Sarah Huckabee Sanders and many more.
The event promises to be an engaging and informative weekend of political discourse and comedy in the midst of a heated primary and election season. Over the two days, participants will have the chance to witness and engage with top political thinkers in debates, panel discussions, radio and TV broadcasts, live podcast recordings, book signings, interviews, meet-and-greets and more.
In its fifth year, Politicon will continue to draw on both sides of the aisle for robust and rousing conversation, and for the first time ever, Politicon is moving from its home town in Los Angeles to Nashville which highlights its commitment to elevating bi-partisan discourse.
"It's a blue city in a red state making it the perfect city for an event that brings together people of all political backgrounds," said Politicon co-founder Simon Sidi. "The lineup we announced today reflects all beliefs and leanings, matching the diversity of the crowd that attends."
Tickets – which start at just $49 – are now available at www.politicon.com/tickets. This year will be one of the biggest yet as it has already surpassed previous years in ticket sales, attracting visitors from over 25 states.
In addition to Hannity, Franken, Sanders and Comey, Politicon has also announced that the top tier, bi-partisan lineup will also include Clay Aiken, Yamiche Alcindor, Guy Benson, Donna Brazile, E. Jean Carroll, James Carville, Chris Cillizza, Ann Coulter, Ana Marie Cox, Danielle Crittenden, Michael de Adder, Lauren Duca, David Frum, Fred Guttenberg, Nayyera Haq, Scottie Nell Hughes, Mayor Glenn Jacobs, Dr. Jason Johnson, Brian Karem, Ana Kasparian, Charlie Kirk, Michael Knowles, Sally Kohn, Kyle Kulinski, Nish Kumar, Tomi Lahren, Harry Litman, Joe Lockhart, Alison Lundergan Grimes, Zerlina Maxwell, Jess McIntosh, Elie Mystal, Malcolm Nance, Ana Navarro, David Pakman, Mike Pesca, Rev. Jesse Lee Peterson, Reince Priebus, Roaming Millennial, Randy Rainbow, April Ryan, Shermichael Singleton, Christina Hoff Sommers, Touré, Nicolle Wallace, Maya Wiley, Jill Wine-Banks, Tim Wise, Jaboukie Young-White and many more (listed here).