On Sunday, August 11th to Saturday, August 17th, the 6th Annual Burbank Comedy Festival will commence at Flapper's Comedy Club and Restaurant featuring top celebrity headliners and over 200 fresh faces from around the world kicking off with Hal Sparks on Sunday, August 11th at 730 PM.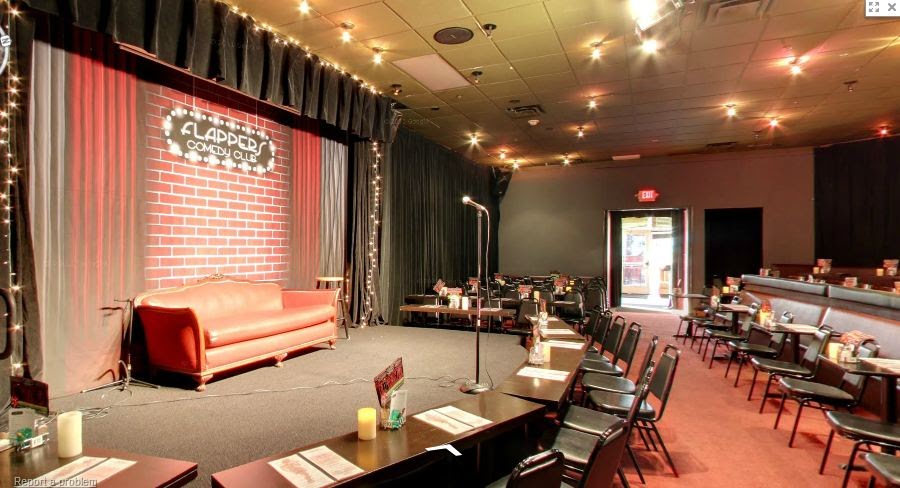 Festival passes, individual show tickets, and special hotel rates are now available at http://www.burbankcomedyfestival.com/.
In addition to unique stand-up comedy showcases, the festival places an emphasis on cultivating comedy's stars of tomorrow by not only presenting performance opportunities on Flapper's various stages but also panels, workshops and networking events to engage with top entertainment professionals. This year, the festival will offer comedians one on one sessions with two comedy greats: Robert Hays (Star of Airplane) and comedy legend Jo Anne Worley.
On Sunday, August 11th at 3PM, Steve Burton and Bradford Anderson, who play the roles of Jason Morgan and Damian Spinelli on ABC's hit soap opera General Hospital, will delight fans to a 90-minute show full of music, comedy and questions and answers followed by a VIP photo meet and greet. Although fans love their unique friendship on screen, their real-life dynamic is even more entertaining- the duo is touring all over the country to adoring General Hospital fans in addition to hosting their own podcast That's Awesome.
On Monday, August 12th, the Burbank Comedy Festival will have 4 different voiceover events:
At 2pm will be the "Voiceover Casting & Agents Panel", featuring top voiceover agents as well as casting directors from Disney, Nickelodeon, Dreamworks and more.
At 5pm will be the "New Voices Comedy Voice Actor Showcase", featuring comedians with voiceover experience in commercials, audiobooks, etc.
At 7:30pm will be a live podcast taping of "Talkin' Toons" with Rob Paulsen ("Yakko" from Animaniacs, "Pinky" from Pinky and the Brain), a wildly popular podcast that's been running for years and will feature the original cast of Teenage Mutant Ninja Turtles (it's the 35th Anniversary of the Turtles franchise going back to the original comic book).
At 9:30pm will be "We Talk Funny", an all-voiceover comedy & variety show, featuring stars from cartoons and video games! Currently scheduled to appear are:
Carlos Alazraqui ("Rocko" from Rocko's Modern Life, "Mr. Crocker" from The Fairly OddParents)
Bill Farmer (Disney legend, the official voice of both Goofy and Pluto)
Austin Farmer (Bill's son and sound engineer for Toonhouse, who will be performing his first stand up set ever to open for his dad)
Bob Bergen (the official voice of Porky Pig)
Brock Powell (voice of the Kool-Aid Man)
Ian James Corlett (the voice of "Goku" from Dragon Ball Z)
Andy Merrill (the voice of "Brak" on Space Ghost: Coast to Coast)
Rikki Simons (the voice of "GIR" on Invader Zim)
Darcy Rose Byrnes ("Princess Amber" from Disney's Sofia the First)
Brittany Ross ("Hidey" from Disney's Sofia the First)
Additionally, the festival will also offer:
Wittiest Women all-female showcase- August 13th – 7:30pm
Best of the Fest hosted by George Gray – Sat Aug 17th 7:30 and 9:30
For further complete listings of shows, podcasts, special events, panels, and workshops, please visit http://www.burbankcomedyfestival.com/.
FESTIVAL PASSES: VIP $350 (access to all events); General Admission $250 (excludes special events). http://www.burbankcomedyfestival.com/.
INDIVIDUAL SHOW TICKETS: Prices vary, plus two-item minimum per person – any combination of food and beverage. http://www.burbankcomedyfestival.com/.
HOTEL BOOKINGS: Burbank hotels are offering special discounts for festival attendees, including the all-new Hilton Garden Inn, located within walking distance of Flappers: http://burbankcomedyfestival.com/hotels/. For a full listing of Burbank Hotels, click here: https://www.flapperscomedy.com/burbank-comedy-festival/hotels/