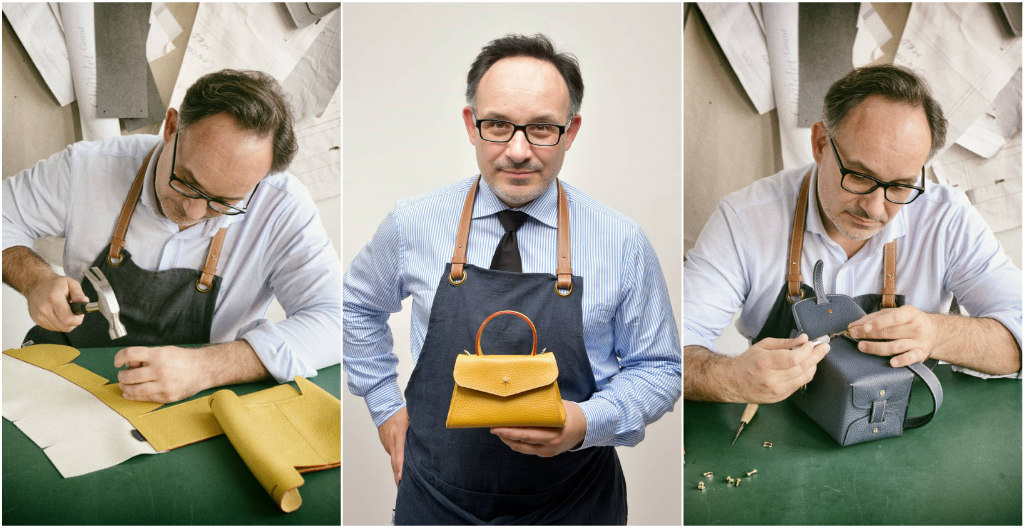 GB-David Eric Jurczynski
Being French, I have been taught since I was a child that a beautiful handbag paired with beautiful shoes and pieces of fine jewelry define the elegance of a woman. It reveals your character and your outlook on style. As we all know, acquiring these accessories can be expensive so you have to look at it as an investment. If you cannot afford all of them, perhaps your first choice should be the handbag. Before I introduce my latest discovery in leather goods, indulge me as I tell you the history and evolution of ladies' bags.
Did you know that bags and purses were used equally by men and women until the late 1500s because clothes did not have pockets until the 17th century? They were created as a practical everyday item which essentially made life easier. Men had bags to carry coins and their tobacco, while women had a purse to carry their Holy Rosary, jewels, keys, a handkerchief or even a small book. The first purse, known then as the "Reticule," appeared towards the end of the 18thcentury. They were made of fine fabrics like silk and velvet and carried by wrist straps. First popular in France, they quickly made their way to Great Britain, where they were called the "indispensables."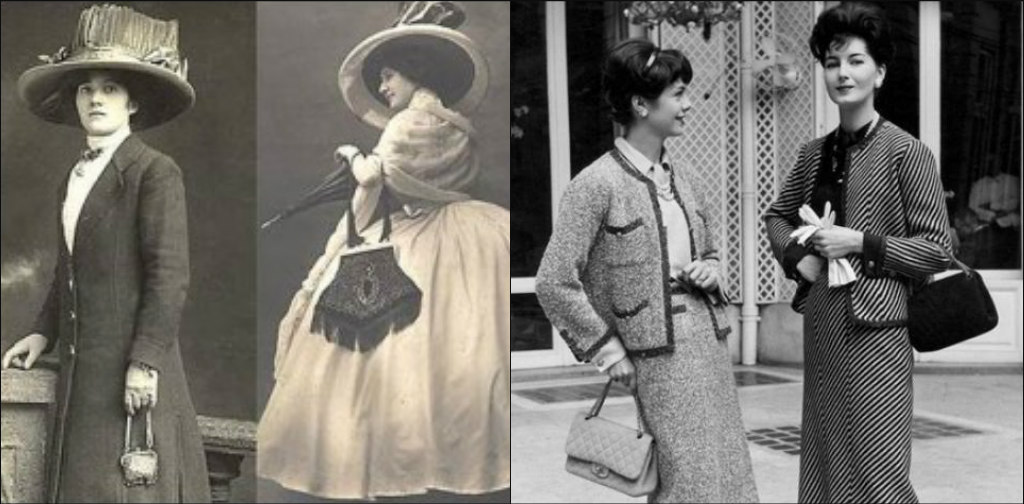 During the 1940s, the rationing of textiles led to the manufacturing of handbags using other materials like raffia or crocheted from yarn. During the next century, the handbag evolved to become framed handbags with a "kissing lock" closure, where interlocking metal beads set on top of the frame. Kissing locks were popular during the early- to mid-20th century, as well as with vintage collectors and in "retro" designs. Bags can be considered notable works of art because many significant designs were manufactured through elaborate craftsmanship with leather, embroidery, paintings, prints, and tapestries, which represent specific periods in history.
In the economic boom of the 1950's, couturiers such as Vuitton, Hermes, Chanel and Dior started to create their own bags; adding accessories to their fashion collections. Among the world's craftsmen, GB-David Eric Jurczynski, who may not be a household name, is still considered one of the best artists of our time. Born in Paris France, David learned his craft from watching and learning from his grandfather who was well-known in the bag industry since 1950. It was during his childhood that David learned the skills of making bags. Also influenced by his father who was a painter, David developed a sensibility to colors. Having been exposed to art since he was four years old, David entered the prestigious French National Art Academy (French National Art School) eventually graduating with a Master's Degree in design.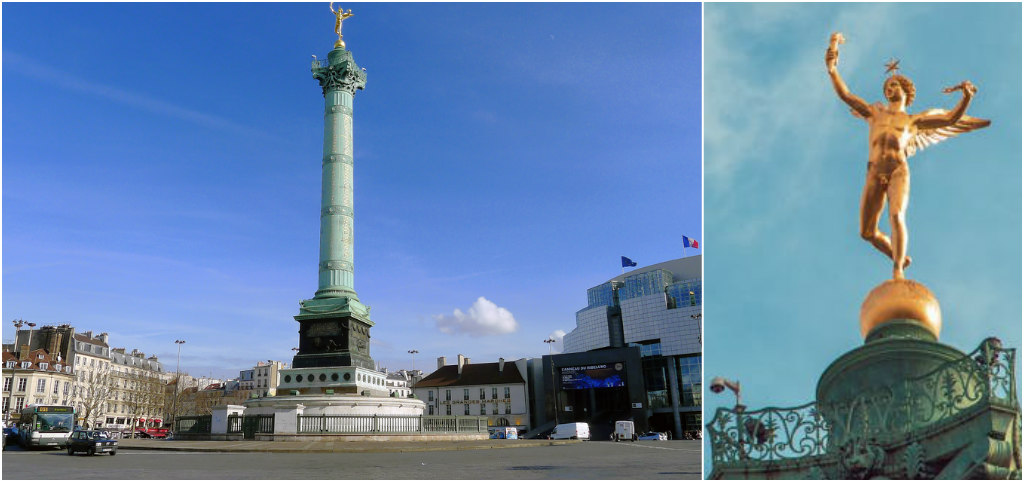 Le Génie de la Bastille monument
In 2004, he returned to the family to create his own brand; GB, which is an abbreviation of 'Le Génie de la Bastille,' the Paris monument in the 11th District, which can be seen from the window of the first workshop established in 1950.
Today, he lives in Shanghai, China where he makes his incredible bags from scratch in his studio. The leather comes from Europe and each bag is hand-made and customized to your individual preferences. Upon request, David will personalize your bag by engraving your name on the inside pocket. At this time, Davis does not have an outlet in the United States but you can order online. I went to his website and fell in love with the "Saint Louis Grand" model, handmade from pure leather inside and out and sewn by hand by the artisan himself. It has a zipper for closure and protection. You can choose among the 31 colors available.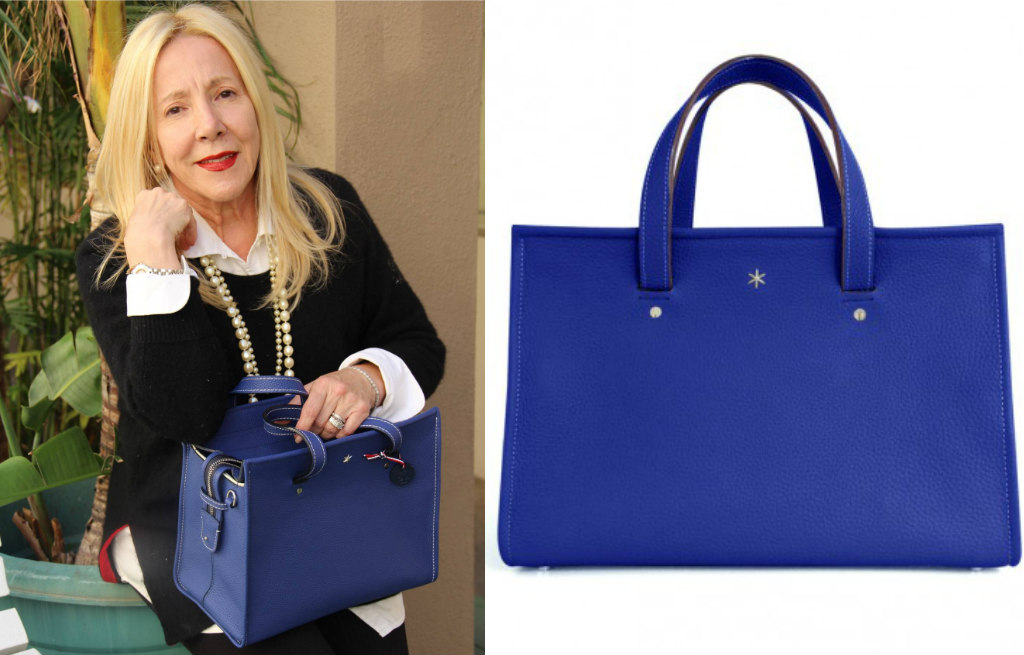 The bag is large enough to accommodate all your needs. It has four metallic studs to protect the bottom and comes with an optional strap that can be used if you prefer carrying your bag over the shoulders. I personally chose a deep blue color. It is elegant yet quite modern, truly a piece of art. Keep in mind that it will take between one to two months before you can receive your bag. It is made to order after all. But when you finally get it, you will be ecstatic. The price is around $1,000. If you spend it, you will not regret it. For more information please visit.