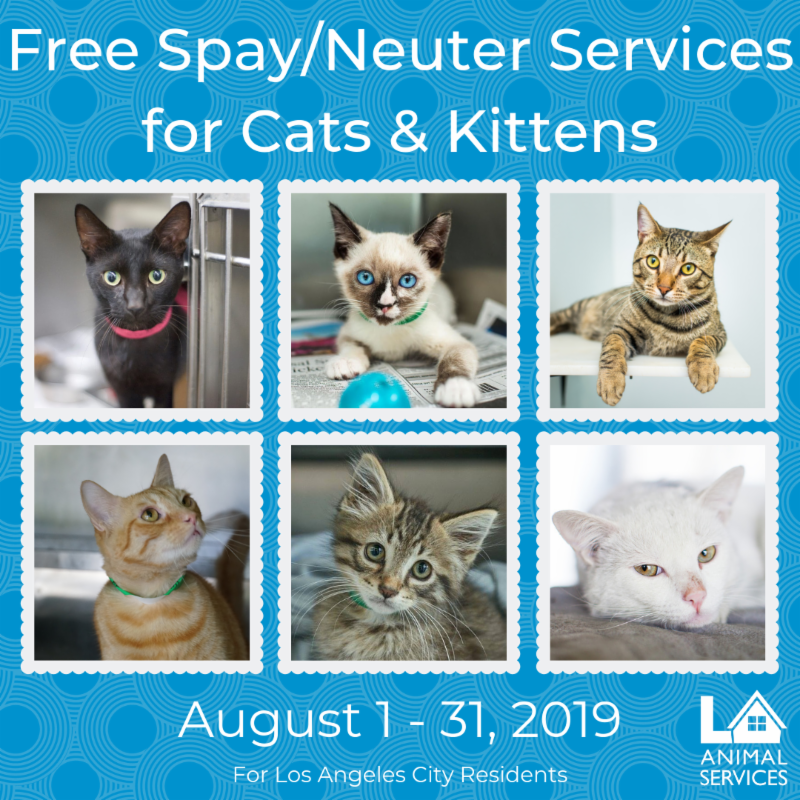 During August, LA Animal Services will be offering free Cat Spay/Neuter Certificates to all LA City residents (three pet cats per household), regardless of income, to encourage our community to get their cats spayed or neutered before they have unwanted litters.
To get your Free Certificate immediately, visit the nearest LA City Animal Services Center, or apply online for a print-at-home Free Certificate at https://www.lacityvet.com/onlinevoucher/.
This program is available for residents of the City of Los Angeles who are 18 years of age or older. Each household is eligible for Free Spay/Neuter Certificates for up to three cats. Free spay or neuter surgeries are for companion cats only, and stray animals are excluded. Once a Free Certificate is received, it must be redeemed at a participating veterinary hospital within 10 days of issuance.
To learn more about how to apply for a Free Spay/Neuter Certificate and to find participating veterinary hospitals, spay/neuter clinics and mobile spay/neuter clinics in your area, please visit: http://www.laanimalservices.com/general-information/spay-neuter/.
To locate your nearest services center, visit: http://www.laanimalservices.com/shelter-locator/