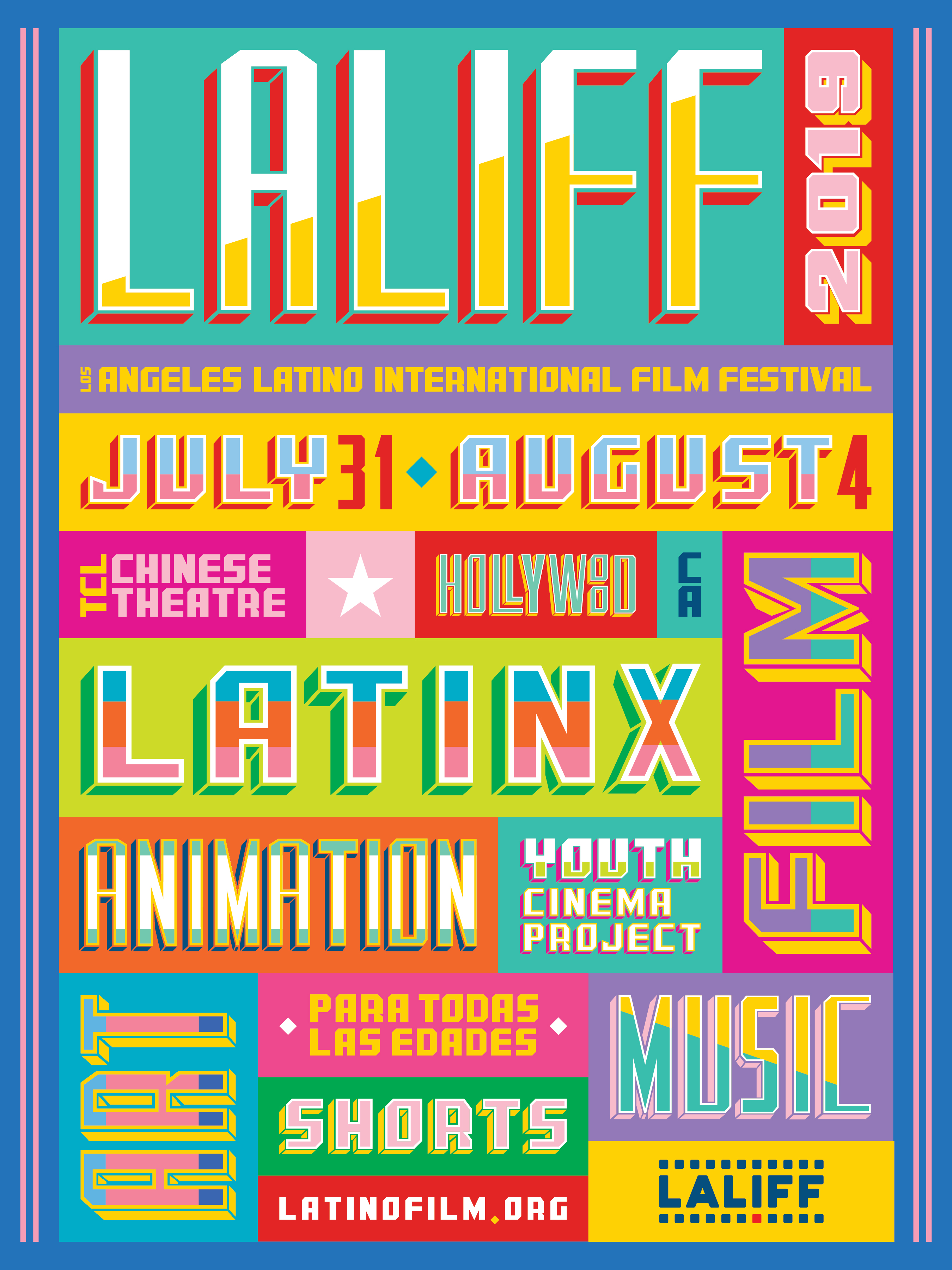 Academy Award®-nominated actor and 2019 Gentleman Award recipient (Hollywood Beauty Awards), Edward James Olmos today announced the program that will be featured at the 2019 Los Angeles Latino International Film Festival (LALIFF) which runs Wednesday, July 31 through Sunday, August 4 at the TCL Chinese Theatres. As the largest Latinx film festival to be hosted in Los Angeles, this year the festival will shine a spotlight on US-born Latinx filmmakers. This year's program includes 15 features, 17 shorts, five episodics, two special events and two Latinx podcasts live from the festival.
This year's program will open with Cristina Ibarra and Alex Rivera's The Infiltrators, which won the Audience Award: NEXT and The NEXT Innovator Prize at Sundance earlier this year. The film, a mixture of documentary and narrative, focuses on a real-life rag-tag group of undocumented youth – Dreamers – that get deliberately detained by Border Patrol in order to infiltrate a shadowy, for-profit detention center. The film is a suspenseful telling of this high-stakes mission – a little-known chapter in American activism, and a rare insider experience of a for-profit immigrant detention center, an institution that is rapidly expanding across the American landscape.
"The Infiltrators represents everything LALIFF aspires to be – a film for our U.S. community by our U.S. community with international ramifications," said LALIFF co-founder Edward James Olmos. "The film was made by a Latinx duo and focuses on the real-life story of undocumented youth that sacrificed everything to help others like them being held inside migrant detention centers. Nothing can be more timely."
The festival program is comprised of 15 feature films including three World Premieres, with ten of the features helmed by women. In addition to The Infiltrators, the section includes Building the American Dream (directed by Chelsea Hernandez), Carlos Almaraz: Playing with Fire (directed by Elsa Flores Almaraz and Richard J. Montoya), Councilwoman (directed by Margo Guernsey), De Lo Mio (directed by Diana Peralta), Divine Love (directed by Gabriel Mascaro), the World Premiere of I'll See You Around (directed by Daniel Fermin Pfeffer), Initials S. G. (directed by Rania Attieh and Daniel Garcia), Midnight Family (directed by Luke Lorentzen), Pahokee (directed by Ivete Lucas and Patrick Bresnan), Premature (directed by Rashaad Ernesto Green), the World Premiere of Raúl Julia: The World's a Stage (directed by Ben DeJesus), Sick Sick Sick (directed by Alice Furtado), the World Premiere of Siqueiros: Walls of Passion (directed by Lorena Manriquez) and The Sharks (directed by Los Tiburones and Lucia Garibaldi).
"This year's program redefines what a Latinx story is," said Dilcia Barrera, Director of Programming. "The diversity in voice, aesthetic and vision propels our narratives beyond clichés and conventions. I am certain that the next generation of storytellers can be found within this group of talented artists."
The program also includes a shorts program comprised of 17 shorts including four World Premieres and five episodics, plus two special events, Latinx in Animation: A Masterclass and Sneak Peek: Latinx TV. Latinx in Animation: A Masterclass will feature some of the most influential creators and producers of upcoming animated projects discussing their influences and how their unique perspectives help bring their projects to life. The discussion will be moderated by Remezcla's film and television editor, Vanessa Erazo. Sneak Peek: Latinx TV
will give the audience a preview of two highly anticipated TV shows, The CW's Two Sentence Horror Stories and Netflix's Gentefied. Written in part by some of the most exciting new Latinx voices in television today including Stephanie Adams-Santos, Linda Yvette Chavez and Marvin Lemus, the event will be moderated by Gadiel Del Orbe from BuzzFeed's Pero Like and is presented by Stage 13.
Additionally, there will be two live podcast conversations from the festival, Latina Representation Podcast and Latinx Podcast. The first on TV Latina representation features Locatora Radio, with hosts Diosa Femme and Mala Muñoz, both who are podcast trailblazers in the Latinx community. They will lead a conversation on Latina representation on television with TV writer, Moises Zamora, creator of the up-and-coming Netflix series, Selena, and writer/director Aurora Guerrero. The second, Latinx Podcast, is focused on media criticism by Espoilers Podcast, featuring hosts StephOH and Rubén Angel. They will lead a conversation on Latinx coming-of-age stories with TV and film writer, Eddie Gonzalez, co-creator of Netflix's hit TV show, On My Block.
LALIFF will also offer special screenings including Les Blank's Chulas Fronteras (1976), marking the Los Angeles premiere of the 4K restoration, and a screening of Ascent of Weavers, 3-channel video piece a by artist, Rebeca Mendez as part of LALIFF Art.
LALIFF Legacy, LALIFF's student festival, returns for its second year. LALIFF Legacy will feature films produced by students of the statewide, public school film program, the Youth Cinema Project, which was also founded by Olmos. This two-day event is presented by CAA and HBO COLLABS, and will feature 93 student produced short films, along with 30 student filmmaker panelists, who range from elementary school, middle school and high school students.