WACO Theater hosted the Third Annual Wearable Art Gala on Saturday, June 1, 2019.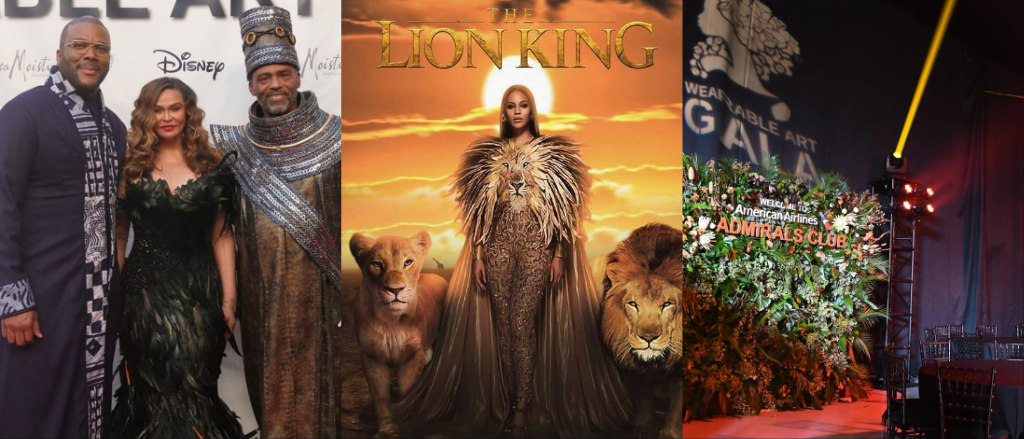 Co-Artistic Directors Tina Knowles Lawson and Richard Lawson founded the event, which is presented by SheaMoisture, to celebrate art and raise funds for the non-profit gallery and performance complex WACO Theater Center.
The theme for the 2019 Gala was A Journey to the Pride Lands, based on the upcoming Walt Disney feature, THE LION KING, opening nationwide July 19th.
Gala guests were encouraged to create their own wearable art attire inspired by the ideals of African tradition that are at the heart of the upcoming film which stars Donald Glover as Simba, Beyoncé Knowles-Carter as Nala, James Earl Jones as Mufasa, Alfre Woodard as Sarabi, and Chiwetel Ejiofor as Scar.
The film is directed by Jon Favreau and utilizes pioneering filmmaking techniques to bring the treasured characters to life in a whole new way. WACO Theater center proudly welcomes back beauty and personal care brand SheaMoisture as the Presenting Sponsor for the 2019 Wearable Art Gala.
The brand has been a consistent supporter of WACO programs since 2016, working closely with the Center to passionately foster art and education initiatives for underserved youth. One of Los Angeles' coveted annual events, the Wearable Art Gala celebrates African American artists, culture and tradition.
Fine art pieces were auctioned to raise money for WACO's mentorship programs, Tina's Angels and Richard's 2 Warriors which consist of enrichment and leadership initiatives that empower inner city students ages 12-14, exposing children to all aspects of art and life that they would otherwise not have the opportunity to experience," says Lawson.
Co-Artistic Director Knowles Lawson hopes that Gala patrons will challenge their imagination and create their own fashions based on the themes of THE LION KING.
"As a designer, I am constantly inspired by themes I discover from paintings, sculpture, photography, nature and films such as THE LION KING, said Knowles Lawson.
"We are in a beautiful moment when black art and fashion are challenging societal norms, transforming the world of music and entertainment and truly being appreciated on a global scale."