The best beauty collaborations are the ones built on innovation!
The creators of Formawell, including Dr. Emil Hakim, have developed the first Ionic-Gold Fusion tools in the United States. Partnering with runway beauty Kendall Jenner, Formawell has launched: A dryer, curling iron, straightener and brushes.
Aiming to perfect and protect hair, Formawell Beauty is made with the most innovative technology, carefully crafted with the proper metals and motors. The negative ions in their collection protect hair color and prevent the breaking of hair follicles, eliminating split ends. I color my hair every three weeks, so this line is wonderful. I tried their dryer, iron and brush, which make the perfect styling trio!
FORMAWELL BEAUTY X KENDALL JENNER DRYER
Incredibly lightweight, this 1875 motor delivers some of the fastest drying on the market. The Ionic Pro harnesses high levels of negative ions and infrared energy emitted from 24 K Gold. Its proprietary rare mineral blend gives you next level runway style with a shine.
Packaged into a lightweight and balanced 1lb frame, it's wonderful for the woman on-the-go. Definitely pair the dryer with either their PADDLE BRUSH, which smooths and detangles with Copper-Tourmaline infused Nylon Bristles, or their LARGE ROUND WAVE STYLER BRUSH, which locks in styles!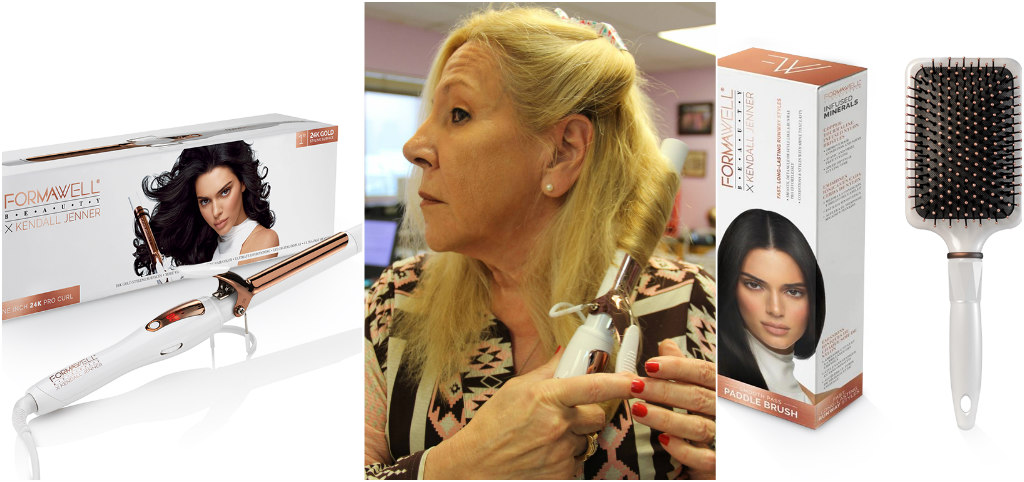 FORMAWELL BEAUTY X KENDALL JENNER ONE INCH CURLER
Also made with lightweight technology (less than 1 lb), this curling iron is extremely efficient. Giving you fast natural curls with a beautiful flow, the Formawell Runway Series' iron is the first to be made with Ionic-Gold Fusion and 24K Gold plating.
Perfect for thick or thin hair, Formawell suggests the heat setting for your hair type. It has an 8' swivel and non-tangling adjustable cords. They are also enabled with an automatic 1-hour shut off, so you never have to worry about forgetting to unplug!