The Prop Store auction on Tuesday 25th June 2019 will have over 70 lots of horror genre posters and artwork.
Lots include original concept artwork for Evil Dead II (1987) estimated to sell for £1,500 -2,000. The auction will feature one of only 75 Mondo "wood" posters for The Mummy (1932) estimated to sell between £300 – 500 plus 10 other Mondo horror Lots
There are seven lots from Hammer Studios including a poster for Frankenstein Must Be Destroyed (1969) and artwork for The Anniversary (1968).
"We have a huge horror collection with over 70 lots. There are some fabulous posters and some rare pieces of artwork too covering films from 1932 to 2010. This represents a real opportunity for fans of the horror genre. We expect great interest in the over 400 lots at Prop Store's Cinema Poster Live Auction on Tuesday 25th June," said Mike Bloomfield, Prop Store's Poster Consultant.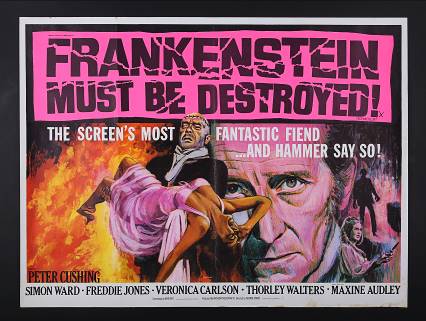 Original artwork and posters from Graham Humphreys including Bride of Chucky (1998), A Nightmare on Elm Street (1984) and the withdrawn A Nightmare On Elm Street 4 (1988).
Prop Store's Cinema Poster Live Auction will offer a range of cinema posters and artwork worth over £170,000.
The auction will be live-streamed online for fans to track the bidding on auction day. Registration and bidding is now open. Bids can be placed online at https://ukm.propstoreauction.com/m/view-auctions/info/id/187/, over the phone or in person.
Prop Store's Cinema Poster Live Auction will take place at their UK facility, Great House Farm, Chenies, Rickmansworth, Hertfordshire WD3 6EP on Tuesday 25th June 2019 from 12:00pm .