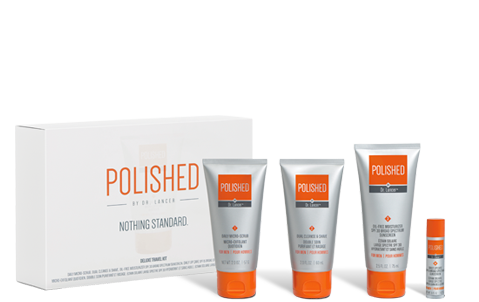 From Hollywood's authority on radiant, youthful-looking skin, POLISHED by Hollywood Beauty Awards honoree Dr. Lancer and Emmy® Award winning television personality, radio host, executive producer, and philanthropist Ryan Seacrest (ABC's "LIVE with Kelly and Ryan" and "American Idol") are scheduled to debut on QVC, the leading multiplatform retailer, on Saturday, June 8th at 10 a.m. EST during 'Saturday Morning Q®'. Ryan will also make a special appearance to kick-off QVC Presents Beauty Bash, a three-day beauty event with 40 prestige beauty brands, experts, interactive experiences and the latest in beauty trends, on Friday, June 7th at The Fillmore in Philadelphia, PA.
Backed by Dr. Harold Lancer's 30+ years of dermatological practice, POLISHED by Dr. Lancer is a grooming brand specifically created for men and provides a set of skincare essentials that together, cleanse, smooth, and protect skin.
"POLISHED by Dr. Lancer was born out of the need to bring results-oriented male grooming to meet the expectations of male consumers, keeping in mind that women continue to be a strong shopper for the man in her life," said Dr. Lancer. "We are thrilled with our strategic partnership with QVC and the proven success of the prestige Lancer Skincare line. The unparalleled reach and engagement of QVC coupled with Ryan's world-wide recognition and the credibility of the Lancer brand, all lend perfectly to the QVC audience. Now men around the country will achieve the same confidence themselves with POLISHED By Dr. Lancer."
On partnering with Dr. Lancer, Ryan said "I've worked with Dr. Lancer for over a decade and wouldn't trust my skin in the hands of anyone else. When we created this skincare line, we set out to make it accessible to the everyday guy and we're excited to be have the opportunity to introduce it to the QVC audience."
The POLISHED by Dr. Lancer Men's Skincare 3-Piece Set for QVC will feature:
4.5oz Daily Micro Scrub
4.5oz Dual Cleanse & Shave
2.5oz Oil-Free Moisturizer with SPF 30
The POLISHED by Dr. Lancer Men's Skincare 3-Piece Set will be available on QVC for $45.
POLISHED by Dr. Lancer is a prestige men's grooming brand dedicated to helping men live better lives through quality skin care designed by men, for men. Polished began when two friends, renowned Beverly Hills dermatologist Dr. Harold Lancer and long-time patient, creative entrepreneur and popular TV/radio and host and producer Ryan Seacrest decided to bring to market a high-quality men's skincare product line, that delivered both results and value.
There's nothing standard about POLISHED. Each double-duty formula is created specifically for the sensitivities of men's skin. All products are infused with a uniquely formulated Men's Power Complex, a proprietary blend of ingredients including antioxidants, mattifiers and peptides, for smooth, soft, hydrated and healthy-looking skin. Daily Micro-Scrub exfoliates with AHAs, BHAs and fruit enzymes while promoting smoother, younger-looking skin. The multi-tasking Dual Cleanse and Shave removes dirt, grime and oil while providing a hydrating cushion for a smooth, close shave. Oil-Free Moisturizer hydrates and offers SPF 30 protection in a mattifying, fast-absorbing formula.