America's sweetheart, the girl-next-door, actress & singer Doris Day has passed away at the age of 97.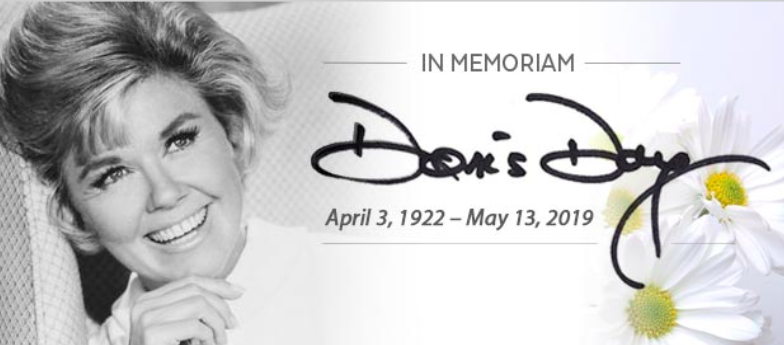 In a statement from the Doris Day Animal Foundation, they said: Doris Day passed away early this morning (Monday) at her Carmel Valley home, having celebrated her 97th birthday on April 3 of this year. Nearly 300 fans gathered in Carmel last month to celebrate Day's birthday. Day had been in excellent physical health for her age, until recently contracting a serious case of pneumonia , resulting in her death. She was surrounded by a few close friends as she passed.
Day was born Mary Ann Von Kappelhoff, on April 3, 1922 in Cincinnati, Ohio. Day's life's work — music, films, and animal advocacy — comprise an enduring legacy. She began her professional singing career at age 15, and she had her first hit, "Sentimental Journey," with Les Brown's band. That tune, and her signature "Que Sera Sera," were her biggest hits.
During her three decades of work in film, Day starred in nearly every genre, not just as a singer/dancer but as an actress with superb comic timing, a natural talent for interpreting a role and a gift for evoking emotion. Her 39 films – many still incredibly popular and shown frequently today — stand as a testament to her talent. While Day was honored with many awards, including the Presidential Medal of Freedom in 2004 and a Grammy for Lifetime Achievement in 2008, she never won an Oscar, and many film critics and fans have decried the Academy's overlooking Day's talents.
Day's music continues to attract new fans worldwide. The 2011 release of "My Heart," a compilation of songs never before released, went to No. 1 in the United Kingdom.
Since the '70s, Day had focused her energies on the Doris Day Animal Foundation. Her lifelong compassion for animals compelled her to fight animal testing and to advocate for spay/neuter education and outreach programs in the U.S. Today, her early Spay Day program had become an international event, with World Spay Day providing thousands of free or reduced-cost spay and neuter surgeries in 75 countries. The Doris Day Animal Foundation continues to provide support to smaller rescue organizations nationwide, with a special focus on those assisting senior pets.
Doris' passionate work on behalf of dogs, cats, horses, sea lions, raptors and other animals in need of rescue, veterinary care and adoption will not end. The Doris Day Animal Foundation is committed to continuing its work as a grant-giving organization, funding smaller animal welfare non-profits across the country. Doris' wishes were that she have no funeral or memorial service and no grave marker. Friends and fans wishing to remember Doris Day, are encouraged to visit www.dorisdayanimalfoundation.org.