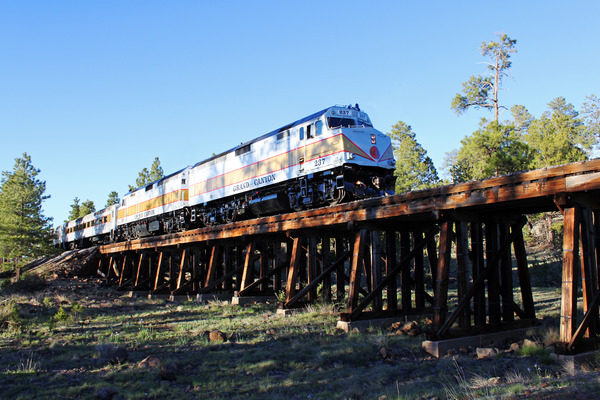 The 150th anniversary of the completion of the first transcontinental railroad — all 1,912 miles of it — is on May 10, 2019. It was in 1869 when railroad officials drove a ceremonially gold "Last Spike" with a silver hammer at Promontory Summit in Utah connecting the East and West by rail. Considered one of the greatest engineering feats in the world, it was initiated by President Abraham Lincoln and cut a hazardous trip of four months or more in rafts, wagons and foot to days. By 1876 a train trip from New York to San Francisco took just three and one-half days.

On the 9:30 a.m. May 10th departure of the Grand Canyon Railway train from Williams, Ariz., to Grand Canyon's South Rim, the Railway will give all passengers a free, real railroad spike to commemorate the anniversary. The train returns to Williams at 5:45 p.m.

The 64-mile line was built by the Atchison, Topeka and Sante Fe Railway in 1901 to increase tourism to the Grand Canyon (it was not then a national park).
The Railway continues to run every day, except Christmas, and carries tens of thousands of people to one of the world wonders and keeps around 70,000 cars out of the National Park (that's a good thing). The Railway is on the National Register of Historic Places.

For more information and reservations visit www.thetrain.com