Just in time for Mother's Day, with spring in full bloom and summer just around the corner there are many expecting moms!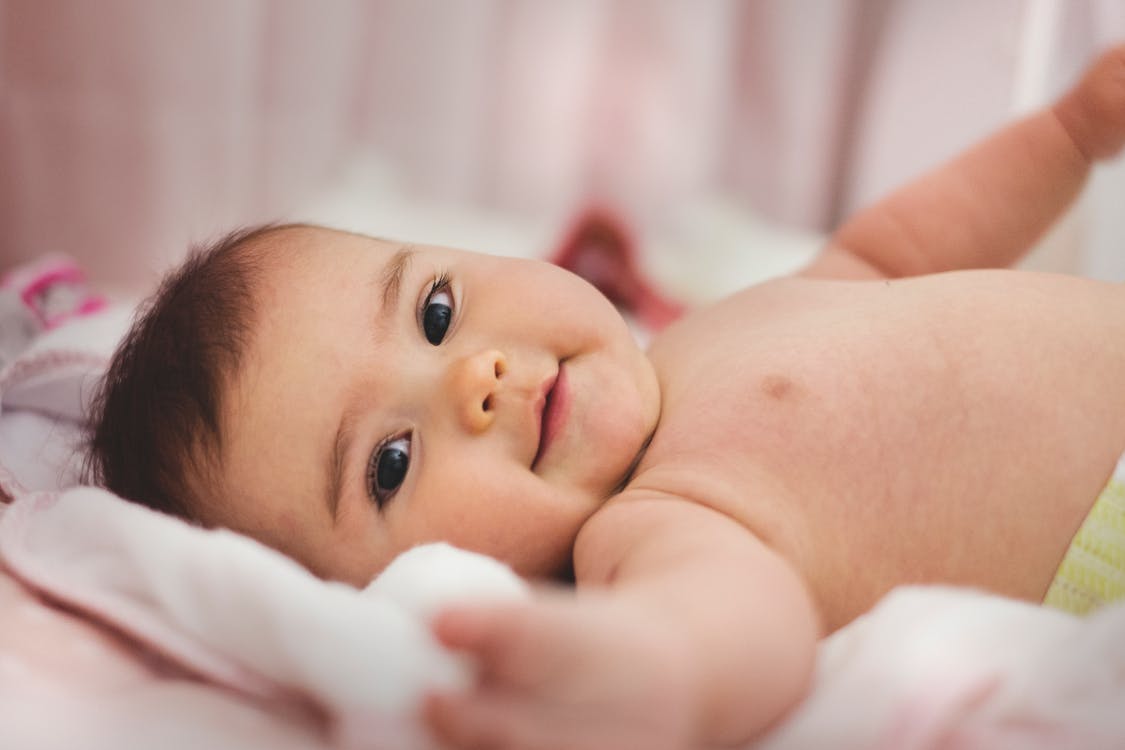 When it comes to selecting gifts for your registry, what do you really need? For first-time parents, this is a hard question to answer. The internet will bombard you with lists and options. We decided to make it a little easier for Mom and Dad by featuring some of the MUST-HAVE baby products and items that will help make your life easier.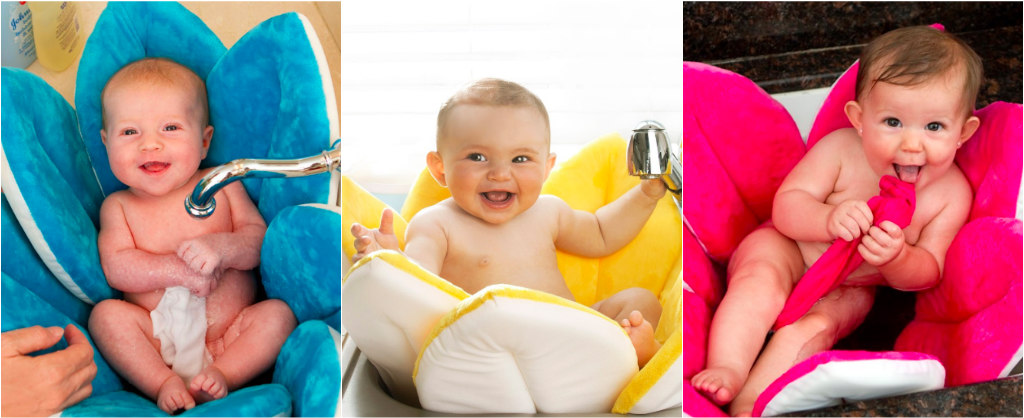 Let's start with BATHTIME. Aside from changing diapers, bathtime can be quite the challenge. But BLOOMING BATH BABY, the winner of the Parent Tested Parent Approved Award changes the bathtime game. Forget the plastic products when your baby can relax and bathe in a soft pillow like flower?!
Handmade from the softest polyester plush materials we could find, the Blooming Bath's petals conform to any sink to cradle and protect baby for a safe, comfortable and fun bathing experience. It's recommended for newborns and babies up 6 months.
After, just squeeze out excess water and place your blooming bath in the dryer for 10-15 minutes, or hang dry using the hangtag on the back. Whether it's a gift for someone or for yourself, Blooming Bath Baby is a must-have for parents. It comes in turquoise, yellow and hot pink. Also try their hooded towels and petal washcloths!
---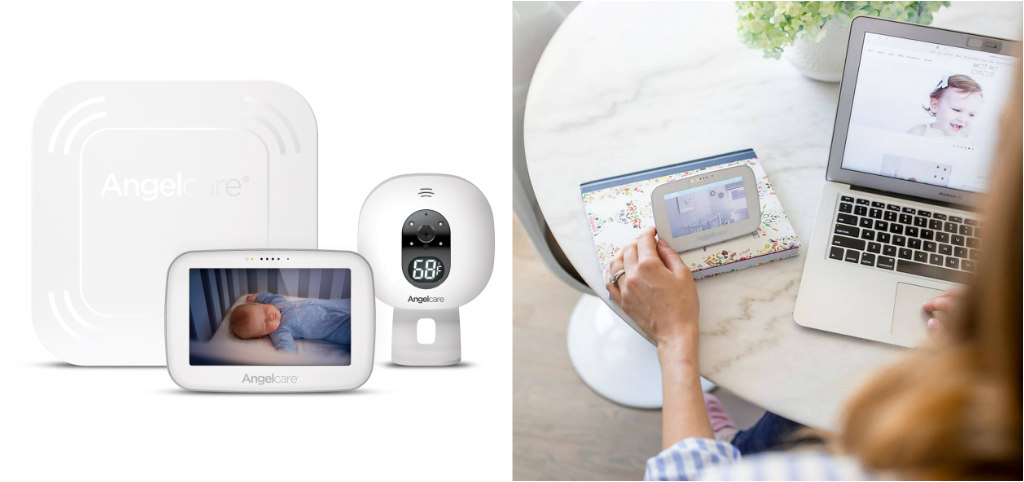 What is the one thing that new parents do? They worry a lot. Keeping track of how your baby is doing is top priority. The ANGEL CARE BABY MONITOR is the answer. The AC517 Monitor helps you to keep track of your baby's movement, breathing and more while they're in their crib napping.
Features include:
Under-the-mattress wireless Breathing Sensor Pad tracks subtle movements that audio and video monitors can't detect (this is the large pad). You slide it under the mattress, and it tracks baby breathing movement.
Alarm will sound if no breathing movement is detected after 20 seconds
This is a NON-CONTACT monitor, so it does not touch the baby

Baby can't feel : sleeps better
Baby can't remove it : reduce false alarm
Does not touch baby skin: safe, low-emission technology
5'' touchscreen Parent Unit
Wall-mount or tabletop Camera Unit with adjustable magnetic mount
Room temperature display on the camera with color coded indicator (turns red for too warm and blue for too cool)
Secure digital transmission (2.4GHz)

This is not an IP baby monitor so it's much more secure.

Two-way talk back
Digital zoom (2x) and pan
Night vision
Add up to 4 camera units
Range up to 820ft (clear line of sight)
---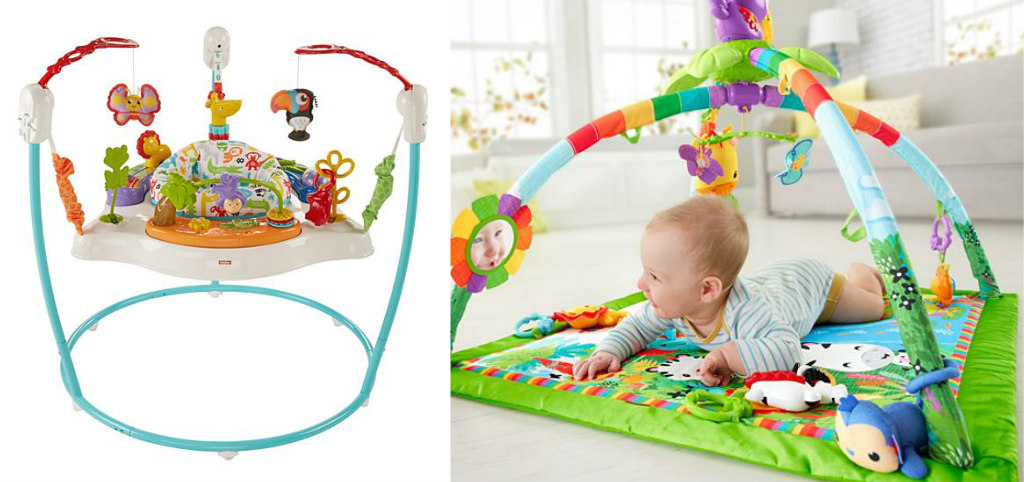 When you're baby is a little older, there will come a point and time when you want to be hands-free to fold laundry or even cook. FISHER-PRICE's ANIMAL ACTIVITY JUMPEROO will not only keep your baby safe, but also entertained.
A rotating seat gives little ones 360-degree access to toys, activities and animal friends, including spinners, clackers, a bead bar, a mirror, and so much more.
360 degrees of play for baby to discover!
Music, lights & sounds reward & encourage every bounce & jump
Easily adjusts to 3 different heights as your baby grows
Colorful toys include bat-at butterfly & toucan, giraffe with spinner-bead neck, froggy teether, lion slider & more!
Removable, machine-washable seat pad
They also have the RAINFOREST MUSIC & LIGHTS DELUXE GYM. During lay & play time, hanging activity toys & motion-activated music encourage teeny-tiny ones to reach, bat & play! Lower the toys or move them to the soft deluxe mat to encourage baby to push up for tummy time fun! Sweet details, including a soft, satiny mat border and large crinkle leaf, offer sensory development as your little one plays.
This deluxe newborn gym keeps baby entertained with more than 10 toys and activities, including a removable toucan that features color-changing lights and up to 20 minutes of music in long-play mode. With the Rainforest™ Music & Lights Deluxe Gym, there are so many fun ways to play, at home or on the go!
Deluxe newborn gym with 10+ toys and activities and a removable, take-along toucan with music and dancing lights
Three ways to play: Lay & play, tummy time and take-along
Responds to baby's movement with music and lights in short-play mode
Up to 20 minutes of music in long-play mode!
Removable, take-along toucan — press its wing or give it a gentle shake to activate tunes & lights.
Link toys to mat or giraffe to encourage baby to push up on tummy
Repositionable toys: Soft monkey, mirror, soft jingle lion, rollerball snail, clacker zebra and more
Baby's kicks and motion activate fun sound effects and musical ditties
Interactive toys, sounds, colors and textures help give baby's sensory development a boost
Introduces cause and effect
Machine-washable mat
Folds for easy storage
---
Now, as far as products go – every parent needs a plethora of diaper wipes, etc. Our favorite Hollywood star parents Kristen Bell and Dax Shepard know best when it comes to products. Now they have their very own line of expertly formulated, plant-derived baby necessities called Hello Bello™!
Available exclusively at Walmart stores nationwide, on Walmart.com and HelloBello.com, the baby venture is a partnership with Sean Kane (co-CEO), Jay McGraw (co-CEO) and Jennifer Pullen (CFO & COO). The complete line of products is designed to give every parent access to high-quality, better-priced everyday essentials that are better for babies, budgets and the planet.
The initial Hello Bello collection includes:
Diapers ($7.97 – $23.94): Hello Bello premium diapers have a specially designed core with proprietary spherical absorbent technology that can absorb over 50 times its weight in fluid – allowing reduced waste (less material) while still providing serious leak protection. They offer a secure and comfy fit that's breathable to promote good skin wellness, without the chlorine-processed fluff, artificial fragrances and lotions found in many other diapers. Will launch with five adorable designs in-store and 13 online.
Wipes ($1.98 – $5.98): Using a fragrance-free, hypoallergenic, over 99% water formula with aloe and chamomile, Hello Bello wipes are gentle and soothing on skin. And the thick, plant-based cloth makes them tough enough to help with whatever mess little ones throw at their parents (literally).
Bubble Bath ($5.98): Made with soothing organic extracts like aloe, calendula and cucumber, Hello Bello bubble bath is pH-balanced and hypoallergenic to clean and calm kids. Made without phthalates, parabens, synthetic fragrances or dyes. Available in lavender, vanilla apricot, and apple blossom.
Shampoo & Body Wash ($5.98): Clean your kiddo from head-to-toe with Hello Bello's hypoallergenic, tear-free, two-in-one formula that soothes with organic aloe vera, calendula, avocado and cucumber extracts while moisturizing with organic jojoba and sunflower seed oils. Available in vanilla apricot, lavender, apple blossom and unscented.
Bug Spray ($7.98): As one of the only USDA Certified Organic options, Hello Bello bug spray is DEET-free, hypoallergenic, non-irritating and lab-tested to repel all types of mosquitoes, along with over 55 other insects for up to six hours.
Diaper Rash Cream ($6.98): Pediatrician-tested, non-nano Zinc Oxide diaper rash formula creates a protective barrier and provides quick relief with a special blend of organic sunflower seed oil, coconut oil and tamanu oil.
Laundry Detergent ($12.88): This USDA Certified Organic laundry detergent formula gives clothes an extra fluffy feel to help keep skin soft and safe. Hello Bello's low-to-no sudsing, sulfate-free formula uses the power of organic soap berries and botanical extracts for a deep clean that also helps combat residue buildup.
Baby Lotion ($5.98): Made with organic jojoba and sunflower seed oils and other botanical extracts, Hello Bello's baby lotion works overtime to nourish, moisturize, soften and support the overall health of baby's skin. This lotion is plant-based and leaves even the most sensitive skin feeling soft. Available in vanilla apricot, apple blossom, lavender and unscented.
Hand Sanitizer ($1.88): Hello Bello's proven effective, plant-based formula helps kill 99.9% germs and bacteria; while also promoting soft skin with botanical extracts like aloe and green tea. Made without triclosan, synthetic fragrance or parabens.
Mineral Sunscreen SPF 50 ($8.78): Hello Bello's SPF 50 Mineral Sunscreen is designed to hydrate and protect baby's delicate skin from the sun. It keeps a child's skin protected using the broad-spectrum protection of Non-Nano Zinc Oxide. And it also includes shea butter, cocoa seed butter, coconut oil, and green tea extract to help moisturize, soothe, and nourish skin.