First launched in 1935, No7 was the first brand to democratize beauty in the UK, bringing premium, affordable products to British women. Since then, it has been rewriting beauty history, with the aim of helping women to look and feel their best.
No7 has evolved over the decades. The 1960's was a decade of color with rouges, lipsticks, eye shadows and nail varnishes in an array of shades. The 1970's focused on natural ingredients and a return to their herbalist roots with an apothecary style skincare range known as No7 Original Formula.
The 1980's was all about creating choices for customers to find the right skincare solutions for different age groups as well as different skin types. Recently, breakthrough innovations have come in the form of their ground breaking age-defying serums, specially designed to respond to the different needs of skin as it ages.
Here are three products that may help to change your skin condition for the better:
Laboratories Line Correcting Booster Serum, 15ml
Per No7, this is clinically proven to reduce the appearance of wrinkles by up to 5 years in 12 weeks. This booster serum is their most concentrated line correcting serum, specially designed to be applied directly to lines and wrinkles. Formulated with a highly concentrated amount of Matrixyl 3000+Suitable for all skin types: Normal, oily, combination or dry.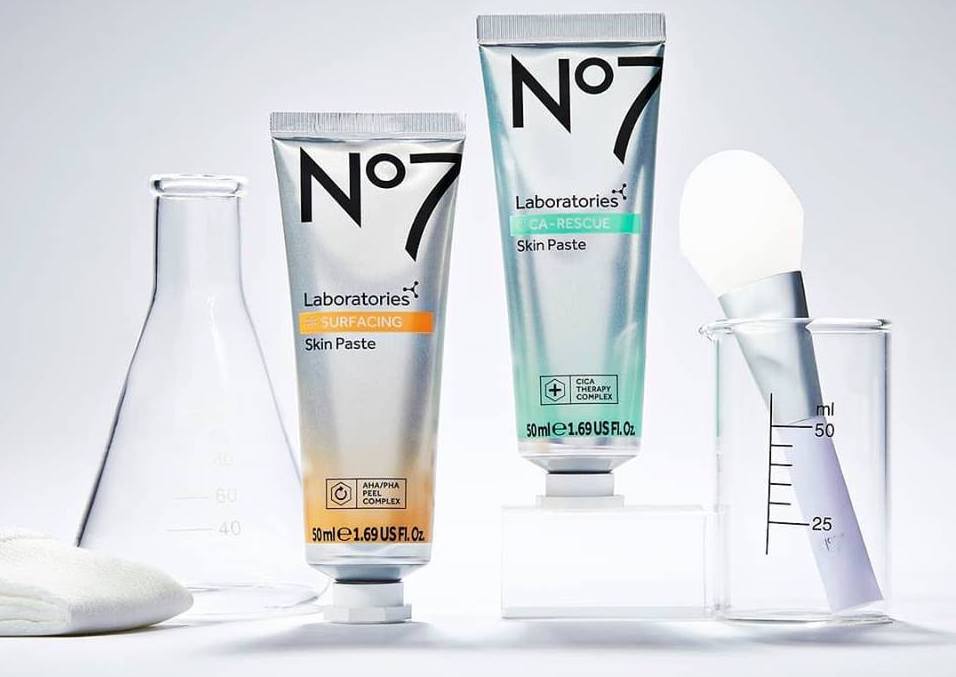 Laboratories Resurfacing Skin Paste Mask, 50ml
A mask proven to visibly brighten and refine skin texture, reduce the appearance of pores and improve the appearance of hyper-pigmentation for brighter even looking skin.
Powered by their Derma-Peel Complex, an optimized AHA & PHA blend to deliver high efficacy exfoliation without being harsh on skin. The formula gets to work instantly to deliver visible results in just 15 minutes.. No7 Skin Pastes combine the instant skin-enhancing boost of a mask with the efficacy of a skin transforming treatment.
Laboratories CICA-Rescue Skin Paste, 50ml
No7's overnight Laboratories CICA-Rescue Skin Paste helps strengthen skin's resilience to effectively reduce the appearance of redness. This product contains: Centella Asiatica also known as "tiger grass" which has calming preoperties. Bisabolol: which nourishes the skin to provide soothing relief and Opthiopogon Japonicus: rich in moisture-boosting essential nutrients to help strengthen skin's protective barrier.
The nourishing formula creates a skin-perfecting veil that works through the night to help boost skin's recovery and deliver results you can see and feel from the very first morning.