Cauliflower is one of the most popular superfoods today. Many are substituting rice and other carb-heavy dishes with cauliflower as the main ingredient.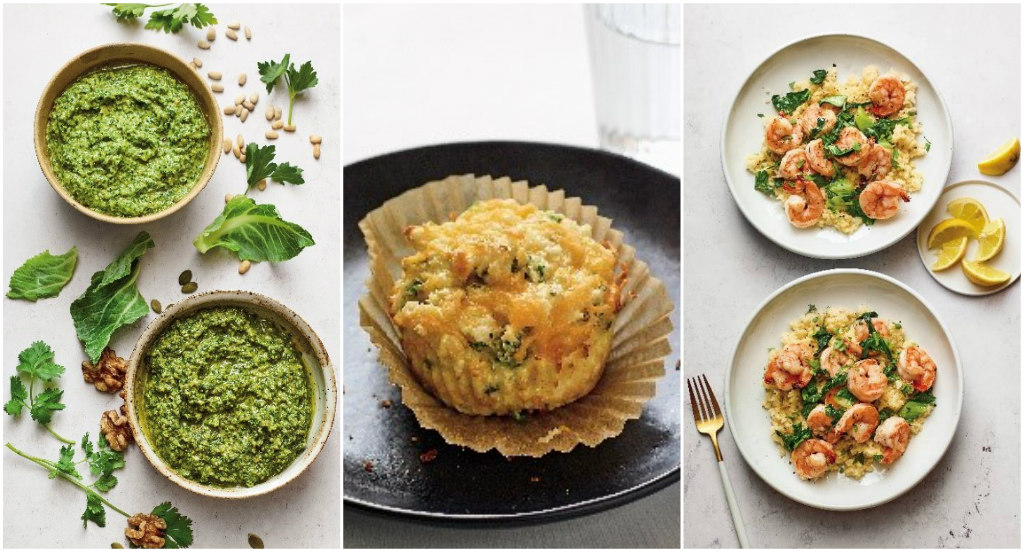 "Cauliflower substitutes are here to stay," says Amy Lacey, author of Cali'flour Kitchen: 125 Cauliflower-Based Recipes for the Carbs You Crave.
"People who can't tolerate certain foods love being able to recreate their favorite dishes like pizza or mashed potatoes using a vegetable that's actually good for them. But cauliflower's uses don't stop there. There are countless creative ways to transform it into foods you can enjoy without any guilt."
Lacey is the founder of Cali'flour Foods, a national brand famous for its grain-free cauliflower-based pizza crusts, crisps, flatbreads, pasta, and more. After being diagnosed with lupus and other autoimmune conditions, she used dietary changes to combat her pain, inflammation, and other symptoms. Upon giving up gluten and processed sugar, her health instantly improved. But Lacey wasn't ready to forgo her favorite foods. Instead, she set out to recreate them using cauliflower—a versatile superfood with abundant health benefits—and began selling her crusts online and in stores, to national acclaim. Now for the first time, she is sharing her award-winning recipes with the world.
Cali'flour Kitchen is designed for people across the dietary spectrum, providing perfect, guilt-free recipes for every carb-heavy craving, whether you're eating vegan, dairy-free, keto, paleo, or a plant-based diet. For those suffering from health issues like diabetes and autoimmune diseases, this cookbook reintroduces those favorites that have long been forsaken, reinventing them to include a full serving of vegetables. With more than 125 quick and easy recipes and photos plus detailed how-tos on creating cauliflower crusts, rice, crisps, wraps, and zoodles, Cali'flour Kitchen is all about indulging without compromising health.
But back to cauliflower and its many uses. Here are just a few of the less mainstream (but no less delicious) foods that can be made with this surprisingly versatile and tasty veggie.
Flavorful flatbreads for panini-style sandwiches
Keto- and paleo-friendly sandwich bread
Breakfast foods like toasts, pancakes, and muffins
A variety of sauces, dips, and spreads
Creamy and savory soups
Riced specialty dishes like stir-fries, poke bowls, and even sushi
Comforting favorites like casseroles, lasagnas, and shepherd's pie
Desserts like pie, tartlets, and cookies
Check out these three quick, easy, and delicious recipes from Cali'flour Kitchen.
---
Cauliflower Leaf Pesto
Makes about 1 cup (240 ML)
Gluten-free | Grain-free | Keto-friendly | Vegetarian
Heroic hours of grinding, baking, and squeezing of cauliflower florets went into testing the recipes in this book. In order to make use of the mountains of leaves left behind, one of my testers, Katie Eyles, came up with this take on pesto. Cauliflower leaves add bright, slightly bitter vegetal notes, transforming pesto into a new classic companion to our crusts. Note that only a small amount of the leaves is needed for flavor, and you'll be using just the green parts of the leaves, not the white crispy parts. If you don't have cauliflower leaves handy, swap in more basil or another herb.
3 cloves garlic, peeled
1/4 cup (35 g) pine nuts
1/4 teaspoon sea salt, or to taste
1/4 teaspoon freshly ground black pepper, or to taste
1 teaspoon grated lemon zest
1 tablespoon fresh lemon juice, or to taste
1/4 cup (25 g) grated Parmesan cheese
1/2 cup (10 g) cauliflower leaves (just the green parts)
1 1/2 cups (60 g) packed fresh basil leaves and tender stems
3 tablespoons chopped fresh parsley leaves and tender stems
6 to 8 tablespoons (90 to 120 ml) extra-virgin olive oil
In a food processor with the motor running, drop the garlic through the hole in the top to mince. Add the pine nuts, salt, and pepper and process until coarsely ground. Add the lemon zest, lemon juice, cheese, cauliflower leaves, basil, and parsley and process to mince the greens. With the motor still running, drizzle in the oil through the hole in the top to incorporate. If the mixture is too thick, add a little water. Transfer to a container, cover, and store in the refrigerator for up to 1 week or in the freezer for up to 3 months.
---
Chive and Cheddar Biscuits
Makes 10 Muffins
Gluten-free | Grain-free | Keto-friendly | Vegetarian
Biscuits were a special treat for my grandma Netta when she was growing up during the Depression. When she could, she would make biscuits for any occasion: breakfast biscuits and gravy with saved bacon grease in a can, biscuits for lunch with some bologna and, yes, Miracle Whip, and biscuits with homemade butter with dinner. She never made a biscuit with cauliflower, but I think she would have loved these!
2 cups (260 g) Cauliflower Rice (page 36)
3 scallions (white and green parts), thinly sliced
2 tablespoons chopped fresh chives
4 teaspoons minced garlic
1 cup (115 g) shredded Cheddar cheese
1/4 cup (25 g) grated Parmesan cheese
1 cup (115 g) almond flour
1/4 cup (35 g) tapioca flour
1 teaspoon baking powder
3/4 teaspoon sea salt
1/2 teaspoon freshly ground black pepper
1/2 cup (120 ml) canned unsweetened coconut milk
3 large eggs
Preheat the oven to 350°F (175°C). Line 10 holes of a muffin pan with parchment paper cups.
In a large bowl, combine the cauliflower rice, scallions, chives, garlic, 3/4 cup (85 g) of the Cheddar, and the Parmesan. Mix to incorporate.
In a small bowl, whisk the almond flour, tapioca flour, baking powder, salt, and pepper. Add the almond flour mixture to the cauliflower rice mixture and mix thoroughly. Pour the coconut milk into a liquid measuring cup. Add the eggs and whisk to combine. Add the coconut milk mixture to the cauliflower mixture and stir, scraping the bottom, until the mixture is homogeneous.
Spoon the batter into the prepared muffin cups, filling them just about to the top. Sprinkle with the remaining 1/4 cup (30 g) Cheddar cheese. Bake for 25 minutes, or until the biscuits are set but not colored (do not let them brown). Cool for 5 minutes in the pan, then remove from the pan and serve. The biscuits will keep, wrapped in plastic wrap, for up to 5 days in the refrigerator or up to 1 month in the freezer. Defrost at room temperature, then reheat in a toaster oven.
---
Shrimp and Cauliflower Leaf Grits
Serves 4
Gluten-free | Grain-free | Keto-friendly
For eight years, my husband, Jim, and I lived in New Orleans, where we ate our fair share of shrimp and grits. This cauliflower rice take on the classic is even easier to make and adds cauliflower leaves to the mix for their incredible flavor. If you don't have cauliflower leaves on hand, you can substitute bok choy.
6 cups (780 g) Cauliflower Rice (page 36)
2 cloves garlic, pressed through a garlic press
1/2 cup (120 ml) chicken stock
3/4 teaspoon sea salt, or to taste
1/2 teaspoon coarsely ground black pepper, plus more for topping
1/4 cup (60 ml) heavy cream
2 tablespoons unsalted butter
1/2 cup (55 g) shredded Cheddar cheese
1/4 cup (25 g) grated Parmesan cheese, plus more for topping
1 pound (455 g) large shrimp, peeled and deveined
1 tablespoon extra-virgin olive oil
1 cup (70 g) thinly sliced cauliflower leaves
1/2 teaspoon grated lemon zest
2 teaspoons fresh lemon juice, or to taste
1 tablespoon chopped fresh flat-leaf parsley
Heat the cauliflower rice and garlic in a medium saucepan over medium-high heat, stirring often, for 3 to 5 minutes to remove excess moisture from the cauliflower. Add the stock, 1/2 teaspoon of the salt, and the pepper, bring to a simmer, and cook for 3 minutes, or until the liquid is mostly absorbed and the cauliflower rice is slightly softened but still al dente. Stir in the cream and butter until the butter is melted. Stir in the Cheddar and Parmesan cheeses until melted. Remove from the heat.
Rinse the shrimp and pat dry with paper towels. Season with the remaining 1/4 teaspoon salt. In a large skillet, heat the oil over medium-high heat. Add the shrimp one by one in clockwise order around the edge of the pan without touching and cook without stirring until the shrimp start to turn pink, about 2 minutes. Using tongs, turn the shrimp in the order you placed them in the pan and cook until the second side turns pink and the shrimp are just about cooked through, about another 2 minutes. Move the shrimp to one side of the pan, add the cauliflower leaves, and cook for about 30 seconds to start to wilt them, then stir the leaves into the shrimp until fully wilted and the shrimp is cooked through. Remove from the heat and add the lemon zest and juice.
Spoon the cauliflower rice into bowls and serve topped with the shrimp. Finish with a squeeze of lemon juice, a sprinkle of Parmesan cheese, and the parsley and serve.