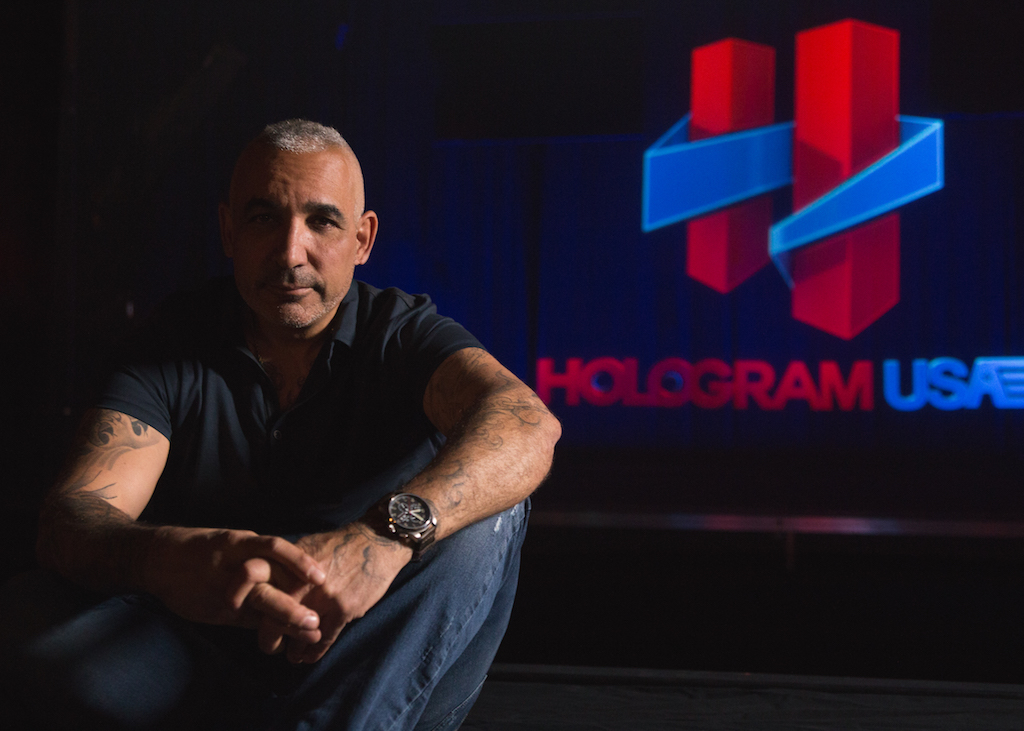 Alki David, CEO & Founder of Hologram USA
Unless you believe in magic and miracles, it's impossible to bring back the dead. But, when Tupac appeared on stage at Coachella in 2012, it was as if the late rapper had been resurrected just to duet with Snoop Dogg. But, it wasn't the work of wizardry… it was the science of holograms. Since the first hologram concept was discovered in 1948 by Hungarian scientist Dennis Gabor, and it's development in the 60's and 70's, holograms have seen a resurgence in the 21st century. It's popularity is due largely in part to the CEO of Hologram USA, Alki David and EVP David Nussbaum.
"Hologram USA started in 2014; we were all very much inspired by the Tupac hologram at Coachella," David told LATF.
The Hologram USA theater lives in the heart of Hollywood just off the Walk of Fame. Post Tupac's performance, Alki's company purchased the technology seen at Coachella from their current global partners; giving them the exclusive rights.
"Giovanni Palma is one of my partners and then there's Uwe Maass. Uwe invented the technology. I own the patent. Uwe and Giovanni are my partners in this business," Alki said.
The incredible technology brings legends to life, from Billie Holiday to Frank Sinatra and Jackie Wilson, and even dinosaurs like T-Rex. But, how does it work?
"It's called Pepper's Ghost. We call it Hologram USA technology. In the last four years, we've done dozens of holograms. Collectively, with our partners, we've done hundreds. We're a hologram sales, production and technology company that works for other people. So, if you were the daughter of a very famous artist who's no longer with us, you would come to me and you'd say, "I'd like you to bring back my mom, so she can perform again at her own memorial concert,"" David said.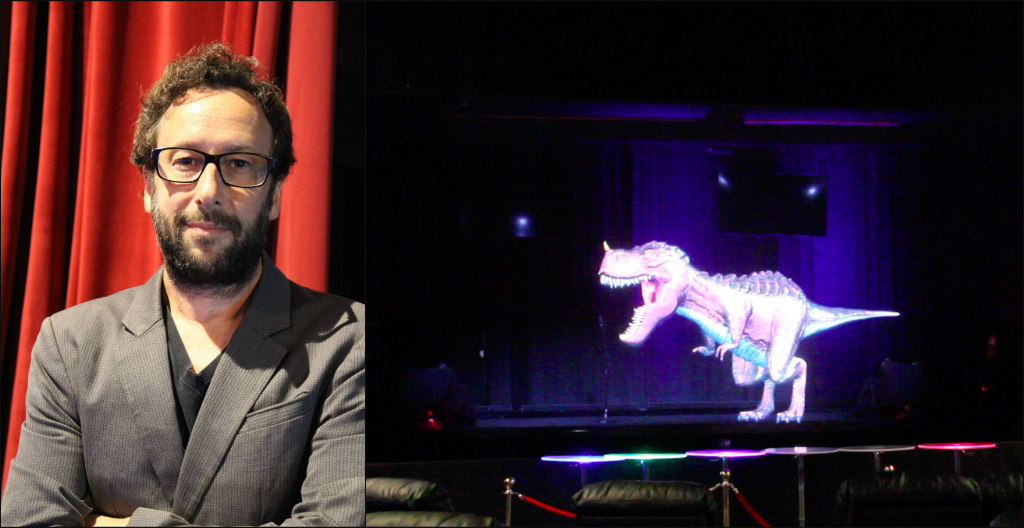 David Nussbaum, T-Rex hologram
Outside of their theater, the holograms they create are commissioned. Inside, theatergoers can walk in and enjoy a series of hologram shows throughout the day. With lounge chairs and couches, it's not your typical theater setup; but more of a casual open space where you can smoke and vape. They even have hologram karaoke nights.
"People stand up on the studio and they appear on the stage alongside real dancers, and the words they're singing along to are bouncing along and floating in the air. Then there's a second round where they are onstage themselves with big dancers and digital dancers. Then, with the winner, we do a full show when they perform their winning song. They can perform alongside artists such as Black Eyed Peas, Tupac and more," Alki said.
As technology constantly evolves, so does hologram production.
Alki told LATF, "We shoot everything with the latest photographic technology, so all of our shows currently up through the last two years are all 8K. We create a variety of formats. At 8K, we can create high-resolution VR content. We also have 360 VR television format, live format, and the various advertising formats. And then within this we're doing a full cannabis concession package."
Yes, you read right: a cannabis concession package. Instead of popcorn and candy, guests can treat themselves to a Swissx CBD treat, which comes from Switzerland.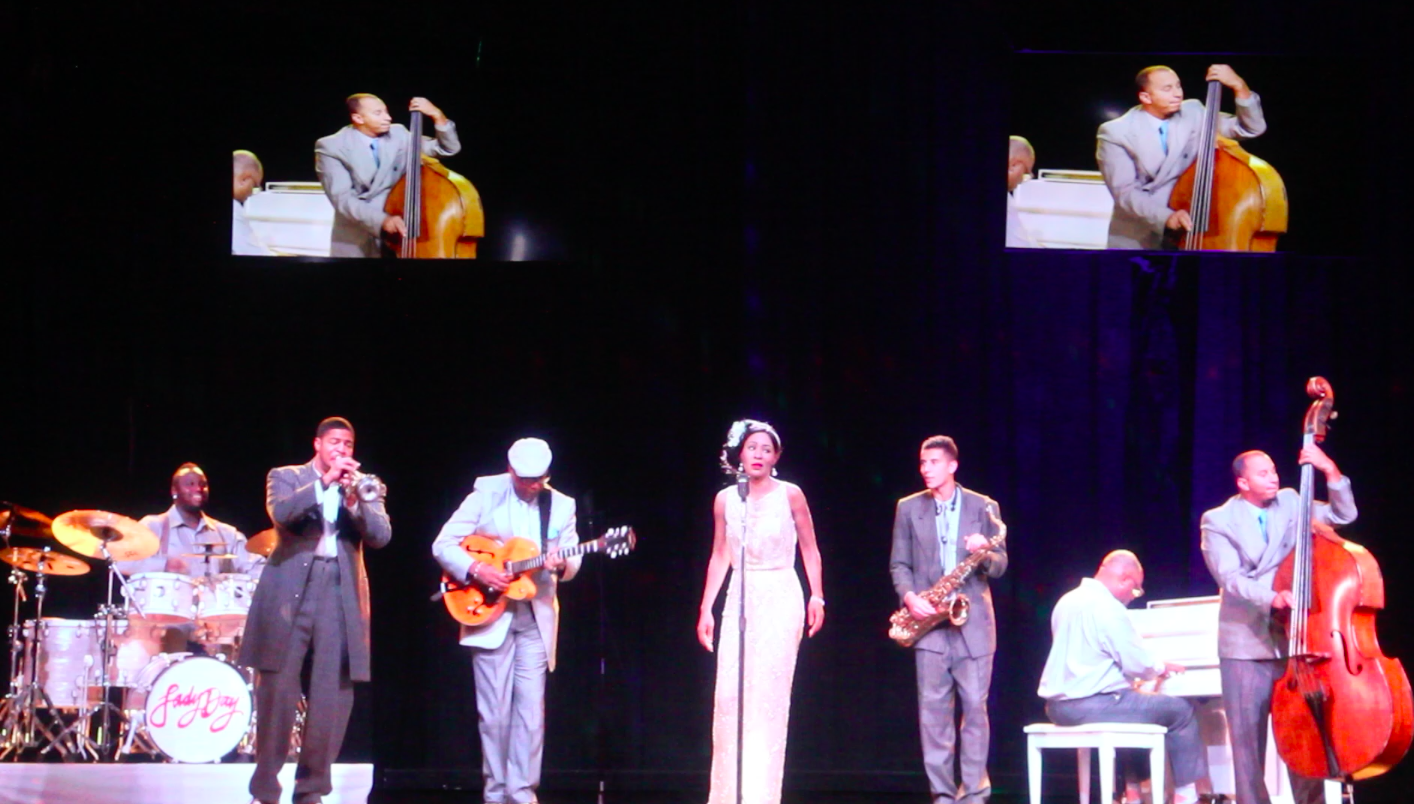 Full hologram band on stage. Hologram USA also has Billie Holiday
What's next for Hologram USA? Well, the sky's the limit. The company achieved international recognition after beaming Julian Assange at a speaking tour in Massachusetts. In reality, Julian was inside the Ecuadorian embassy, where he is living under political asylum; but to those at the Nantucket Project in the Dreamland Theater, Julian was living and breathing on stage… as a hologram.
It's just the beginning of bringing legendary and historical figures to life, including President Reagan who appeared on stage at the Reagan library in present day.
So, if you'd like to bring back your great grandmother to sing you Happy Birthday, now you know who to call… Hologram USA.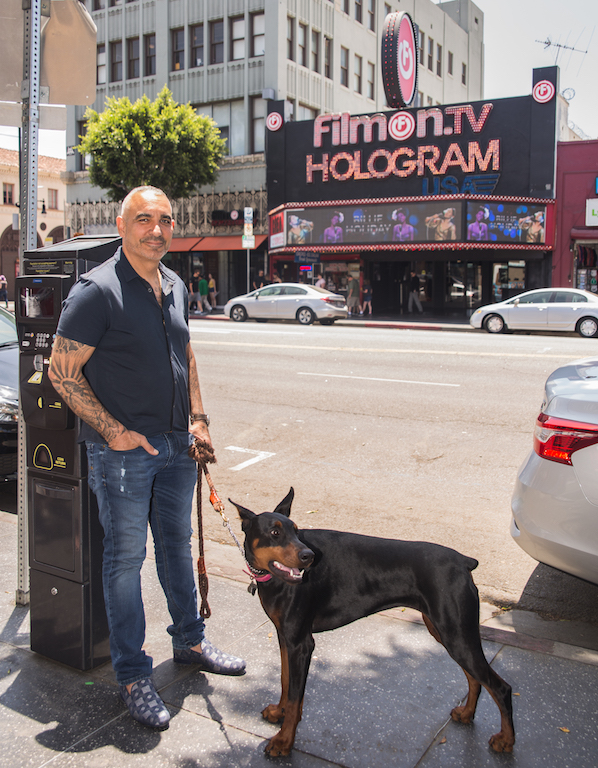 Alki with his best friend Vader on Hollywood Blvd. outside Hologram USA