Give your face a little more pampering and hydration with DRUNK ELEPHANT.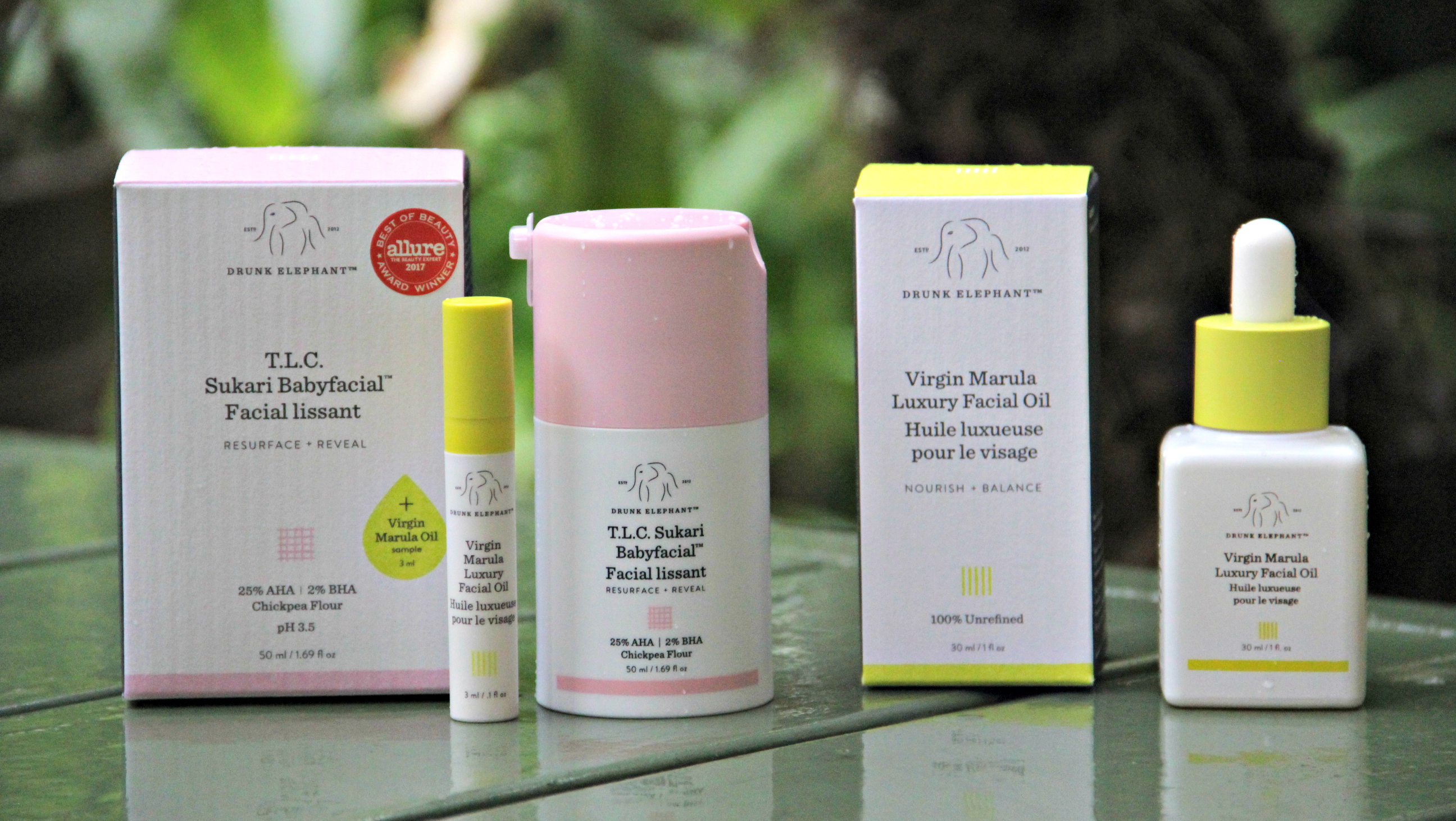 It is very difficult to find a skincare brand that effectively suits men and women. My skin is constantly changing with the intense summer rays and winter winds. Living in Los Angeles, I get to experience both sunny and rainy weather; sometimes weeks and even days apart. I have very dry skin so hydrating products are always essential for my daily skincare regimen. I recommend:
T.L.C. Sukari Babyfacial™
Price: $80 50 ML / 1.69 FL OZ
Description: "Babyfacial™ is a pro-quality AHA /BHA "facial" that resurfaces to reveal greater clarity, improved skin texture and tone, and a more youthful-looking radiance."
I apply the babyfacial once a week after I wash my face and leave it on for 20 minutes, giving me a very mild tingling sensation. 2 pumps is good enough to cover my entire face. After the mask, my skin is always left feeling very soft and smooth. After consistently using it for a couple of weeks in a row, the fine lines on my forehead and the pores on my nose have been less noticeable. Don't be alarmed by the slight redness after using the product, that means it's working! The great thing about this product is that it includes a sample size of the Virgin Marula Luxury Facial Oil that is great to apply right after the facial.
Virgin Marula Luxury Facial Oil
Price: $72 30 ML / 1 FL OZ
Description: "Like rehab for your skin, this wonder-working, luxury facial oil, high in critical antioxidants tocopherol (vitamin E),tochotrienol, antioxidant polyphenols, and rich in omegas 6 and 9, helps to moisturize, rejuvenate and nourish skin while restoring a youthful glow."
The Virgin Marula Luxury Facial Oil has become one of my favorite Drunk Elephant products. I apply this oil three times a week at night for a soothing hydrating boost. Usually around two drops on my hands are good enough to cover my face at night for a lighter feel. When I wake up in the morning my skins feels and looks more plump. The oil helps a lot with bringing down the redness from using the Sukari facial. What I like most about this oil is that you can apply it anywhere in your body and it will not leave a greasy uncomfortable feeling that other facial or body oils give you.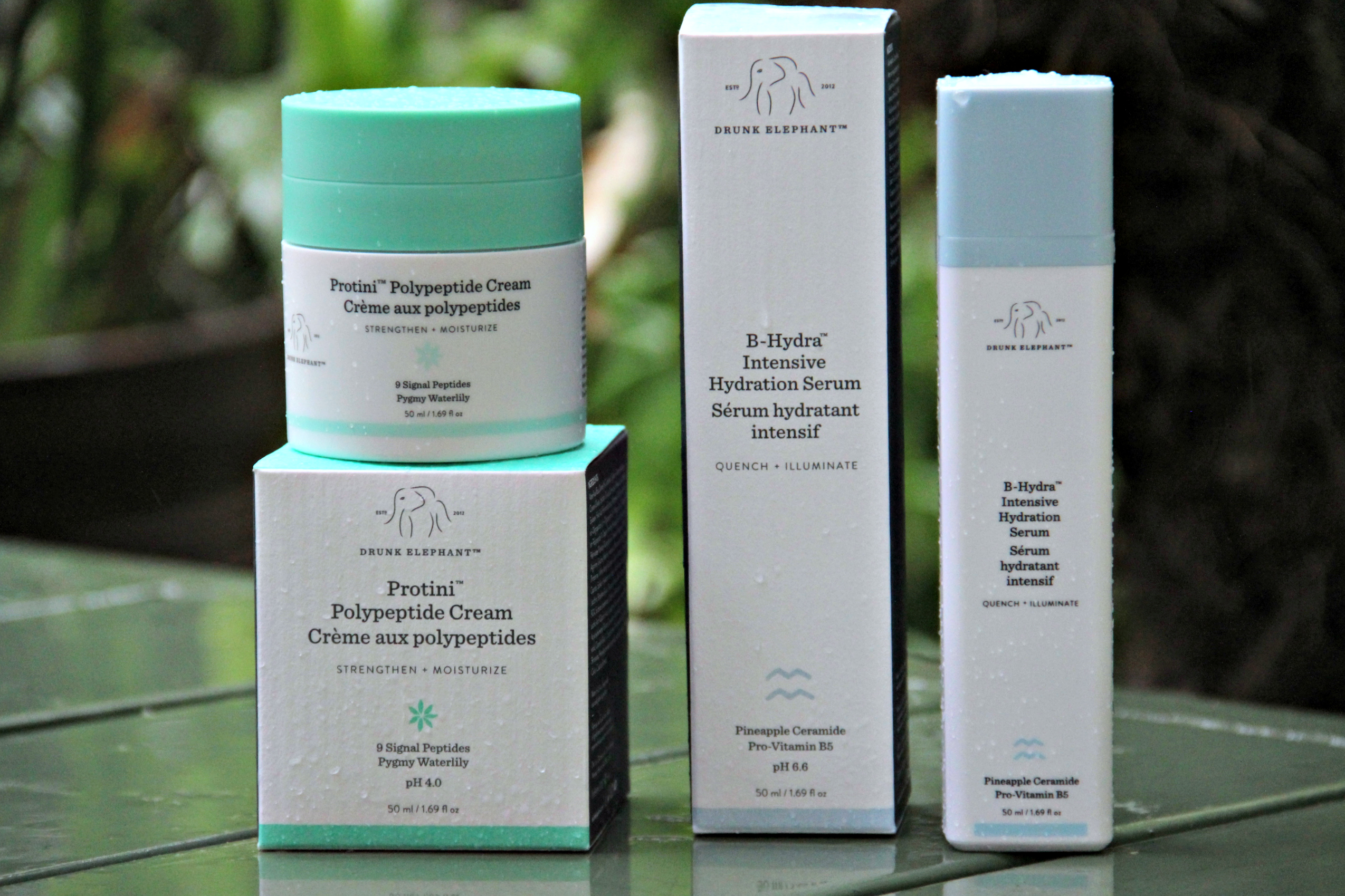 Protini™ Polypeptide Cream
Price: $68 50 ML / 1.69 FL OZ
Description: "Protini's proprietary formula delivers younger, revived-looking skin, almost from the first application. Lines, wrinkles and signs of sun-damage appear reduced; depleted skin feels strengthened and moisturized."
I can start by saying that I cannot live without this cream. It is now my go-to every day. I have tried many face creams but never found anything that would give me the right amount of hydration and without feeling the heaviness of the product on my face. The Polypeptide Cream is very light and does not have a disturbing scent to it. I apply it every morning after I wash my face. Almost instantly I have a more youthful glow. The sanitary pump keeps the product intact with every use, which is great!
B – Hydra™ Intensive Hydration Serum
Price: $52 50 ML / 1.69 FL OZ
Description: "B-Hydra™ delivers steady hydration throughout the day, leaving the skin looking healthy and more illuminated. This ultra-hydrating serum replenishes the complexion and improves the look of skin tone and texture."
The B-Hydra™ Serum is the ying to the Protini™ Polypeptited Cream's yang. I discovered that the best way to use the serum is using it as a primer right before the facial cream. I apply two pumps from the twist and pop pump and let it soak into my skin. The combination of both locks in the hydration, making it last all day. While using the serum I've noticed my skin appears much brighter and smoother.
You can find Drunk Elephant on: