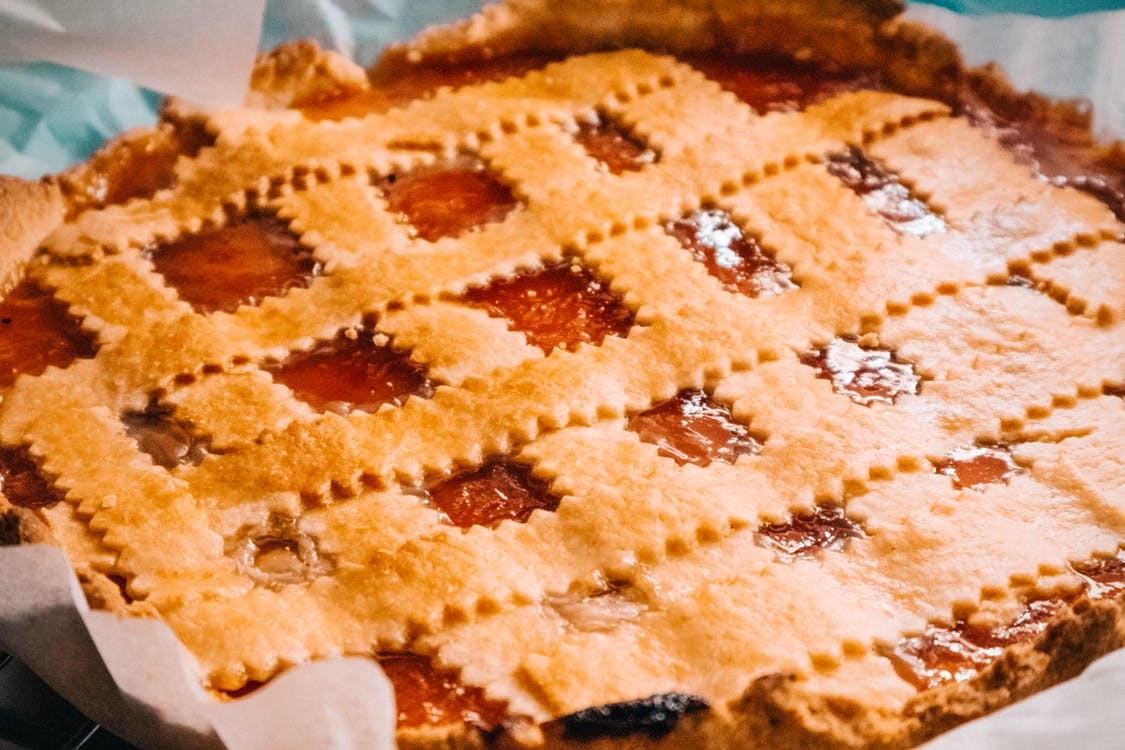 Pi Day is celebrated on March 14th (3/14) around the world today. Pi (Greek letter "π") is the symbol used in mathematics to represent a constant — the ratio of the circumference of a circle to its diameter — which is approximately 3.14159… you get the point. To celebrate this national mathematics holiday… here is a delicious Dutch Apple PIE recipe.
Recipe
Makes 2 Pies
Filling:
2ea: 9 5/8" Pie Dough in disposable pie tin
12C Peeled, Cored Sliced Apples – Honey Crisp, Granny Smith, Pink Ladies
2 Lemons, juiced
1C Sugar
½C Brown Sugar, packed
6Tbs Flour
1tsp Cinnamon
1/2 Tsp Nutmeg
Preheat oven to 375°F
Par bake 10in pie crust for approximately 5 minutes. Let cool.
In a large bowl, mix sliced apples, lemon juice, both sugars, flour, cinnamon and nutmeg.
Place apple filling into pie crust, gently pressing crust to form a mound.
TOPPING
1C Flour
½ C Oatmeal
½ C Finely Chopped Pecans
½ C Granulated Sugar
½ C Brown Sugar, packed
1 Stick of Butter – Cold
In a bowl, cut the dry ingredients in with the butter using a pastry cutter, a fork or your hands. Continue until it becomes a course crumble.
Sprinkle topping evenly over the pies.
Bake the pies for approximately 40-50 minutes or until pies are golden brown on the crust and top.
Here are some great tips from the Pie Council!
Read the recipe in its entirety before beginning. Make sure you have all of the ingredients and utensils and that you understand all of the directions. Many mistakes have been made skipping steps.
Cold ingredients are essential to making a great pie crust It even helps to have cold bowls and utensils. In addition, be sure to chill the dough for at least an hour before rolling it out. Keeping the shortening cold ensures a nice flaky crust!
Don't overwork or overhandle the dough. Your shortening/butter should be coated with flour mixture, not blended with it. Over-processing causes gluten to form, a substance that toughens the dough. It's even a good idea to have cold hands before handling.
Carefully transfer the dough into your Emile Henry pie dish (the "Official Pie Dish" of the American Pie Council). Fit the dough into the dish (avoid stretching). Trim the dough to 1" inch over hang and tuck it under itself to create a thick rim.
With the index finger on one hand, press the dough against the thumb and forefinger of the opposite hand; continue around the perimeter of the crust and dish following the natural flute of the Emile Henry pie dish.
To ensure that your bottom crust is finished, bake pie in the lower third of the oven. You may have to cover the edges with foil or a crust protector to avoid overbrowning the edges.
Make sure that all of your ingredients are really fresh. Try making fruit pies when the fruits are in season to ensure a wonderful pie.
In other PI DAY NEWS: In celebration of National Pi Day (3-14), Experimac West Houston and Experimac Pearland Parkway are launching a series of kid-focused programming workshops centered on the Raspberry Pi, a fully-functional computer that fits in your hand and opens your mind to a world of computing and programming possibilities. The workshops will be open to kids 8-15 years old.
The Raspberry Pi offers a wonderful opportunity for teaching children about computers and programming with accessible exercises for new and experienced digital makers. This workshop incorporates the innovation of 21st century STEAM education to better prepares students for higher education and skilled trades.