More delicious Cauliflower based recipes from Amy Lacey, just in time for the weekend!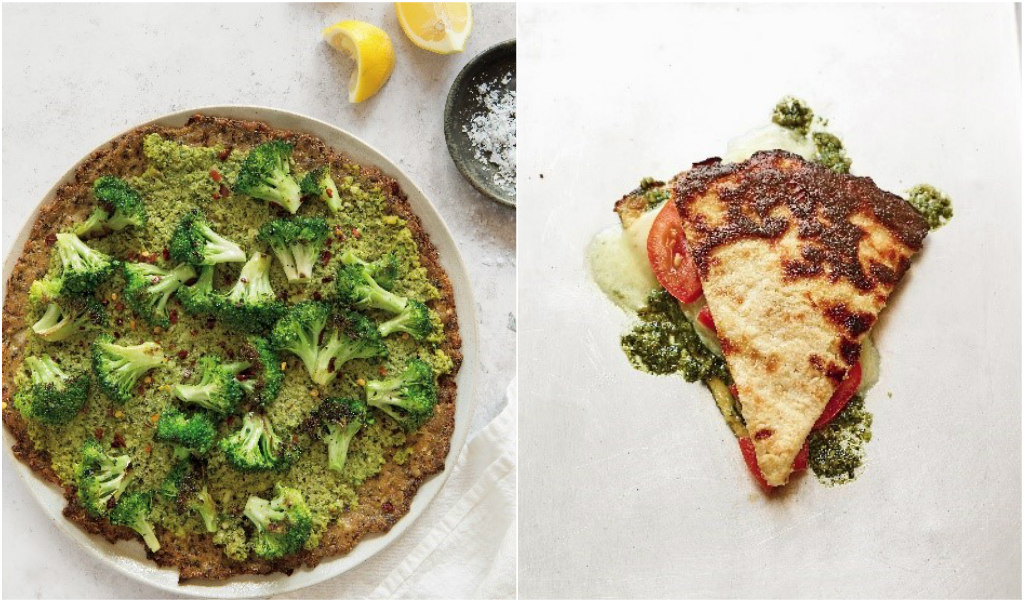 "Cauliflower is one of the best foods to focus on when you're transitioning to or sustaining a ketogenic diet," says Lacey, author of Cali'flour Kitchen: 125 Cauliflower-Based Recipes for the Carbs You Crave. Amy gives us two recipes perfect for weekend lunches:
Provolone, Pesto, and Tomato Sandwich
Serves 2 (Makes 4 Mini Sandwiches)
Gluten-Free | Grain-Free | Keto | Vegetarian
The only thing more comforting than a cheese sandwich is when you make yours on a cheese-containing crust! Follow the recipe as written, or use it as a blueprint for constructing a cheese sandwich using your personal favorites.
1 Cali'flour Pizza Crust (page 26)
4 teaspoons Cauliflower Leaf Pesto (page 48)
4 thin slices provolone cheese (1 ounce/28 g)
8 small, thin tomato slices
Preheat a medium cast-iron skillet over medium-high heat.
Using a pizza wheel or kitchen scissors, cut the crust in half, then cut each half into quarters to make 8 triangles. Spread 1 teaspoon pesto each over half of the triangles and top each with 1 slice cheese and 2 tomato slices. Place the remaining triangles on top to complete the sandwiches.
Using a metal spatula, place two of the sandwiches in the skillet and cook for about 1 minute, until browned on the bottom. Flip and cook for another 1 minute, or until they are browned on the second side and the cheese is melted. Repeat with the remaining two sandwiches, place on plates, and serve.
---
Pan-Roasted Lemon Broccoli Pizza
Serves 3
Gluten-Free | Grain-Free | Paleo | Keto | Vegan | Vegetarian | Dairy-Free
Like my oldest son, James, I didn't like many vegetables growing up. Rice cereal and fish sticks were my reason for eating, but broccoli was an exception. I was a fan then, and I continue to be, and who wouldn't love broccoli when you toss it with pesto and serve it on a pizza!
1 Plant-Based Cali'flour Pizza Crust (page 28)
1 tablespoon extra-virgin olive oil
1 1/2 cups (about 5 ounces/140 g) small broccoli florets (about the size of a quarter)
Sea salt and freshly ground black pepper
1/2 small lemon
1/4 cup (60 ml) Plant-Based Pesto (page 50)
2 teaspoons Plant-Based Parmesan Cheese (page 55; optional)
Pinch of red pepper flakes (optional)
Preheat the oven to 425°F (220°C). Line a baking sheet with parchment paper or get out your pizza pan and put your crust on it.
Heat the oil in a medium skillet with a lid over medium-high heat. Add the broccoli in an even layer and sprinkle with 1/8 teaspoon salt and a pinch of pepper. Lay the lemon half cut side down on the pan. Cover and cook without stirring for 2 minutes, or until the broccoli is well browned on the bottom and crisp-tender throughout. Remove from the heat.
Spread the pesto over the crust and arrange the broccoli on top. Place in the oven and bake for 8 to 10 minutes, until everything is hot. Remove from the oven to a cutting board, sprinkle with the cheese and red pepper flakes, if using, and squeeze the lemon half over the top. Finish with a pinch of salt and pepper, then slice and serve.
Variation
Broccoli, Marinara, and Ricotta Pizza: Use Marinara Sauce (page 40) in place of the pesto and dollop 1 tablespoon Almond Ricotta (page 58) on top after the pizza comes out of the oven.
Bon Appetit!