Actor, Luke Perry has passed away at the age of 52, according to reports.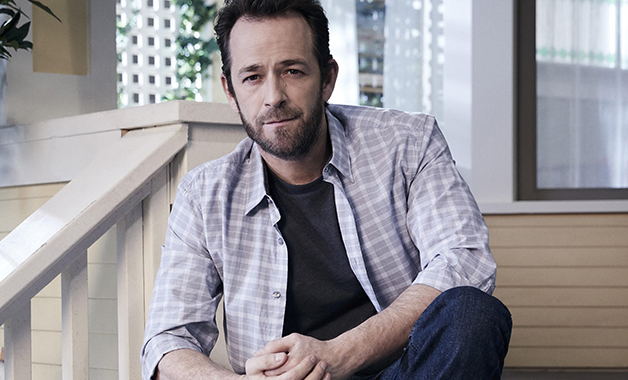 The TV actor, who was best known for "Beverly Hills, 90201," died after suffering a massive stroke. According to Perry's rep, he passed away on Monday morning, March 4th, at St. Joseph's Hospital in Burbank.
The beloved actor was surrounded by his children Jack and Sophie, fiance Wendy Madison Bauer, ex-wife Minnie Sharp, mother Ann Bennett, step-father Steve Bennett, brother Tom Perry, sister Amy Coder, and other close family and friends.
It was just last week that Perry was rushed to the hospital after suffering a stroke.
More recently starring on CW's hit series "Riverdale," Perry portrayed Fred Andrews, owner of a Riverdale construction firm and father to Archie. He was best known for his role of Dylan McKay in the wildly popular 90's television series "Beverly Hills 90210." The series won a Golden Globe for Best Dramatic Television Series in 1991.
Perry made his feature film debut in a starring role in "8 Seconds," the remarkable account of champion bull rider Lane Frost, which he co-produced. His serious devotion to the inspirational legend of Lane Frost led him to train vigorously for 18 months in order to master the techniques of bull riding and to be able to perform many of his own stunts during production. Other film credits include "Fifth Element," "Riot," "Normal Life," "American Strays" and "The Florentine," in which he co-starred with Chris Penn, Jim Belushi, Michael Madsen and Mary Stuart Masterson, and he recently completed production on Quentin Tarantino's forthcoming film "Once Upon a Time in Hollywood."
Perry made his debut on Broadway in the critically-acclaimed musical "The Rocky Horror Picture Show," where he portrayed "Brad," the character originally played by Barry Bostwick in the cult film classic. In 2004, Perry appeared onstage in London opposite Allyson Hannigan in "When Harry Met Sally."
Perry's television credits span a myriad of roles, including a lead role in the drama "Windfall." He also starred in "John From Cincinnati," "Jeremiah" and had a multi-episode arc in the critically-acclaimed series "Oz." He has also had roles in Hallmark Channel productions including "Johnson Country War," "Supernova," "A Gunfighter's Pledge" and "Angel and Badman." Perry also starred in "Goodnight for Justice," which he conceived and executive produced for the Hallmark Movie Channel.