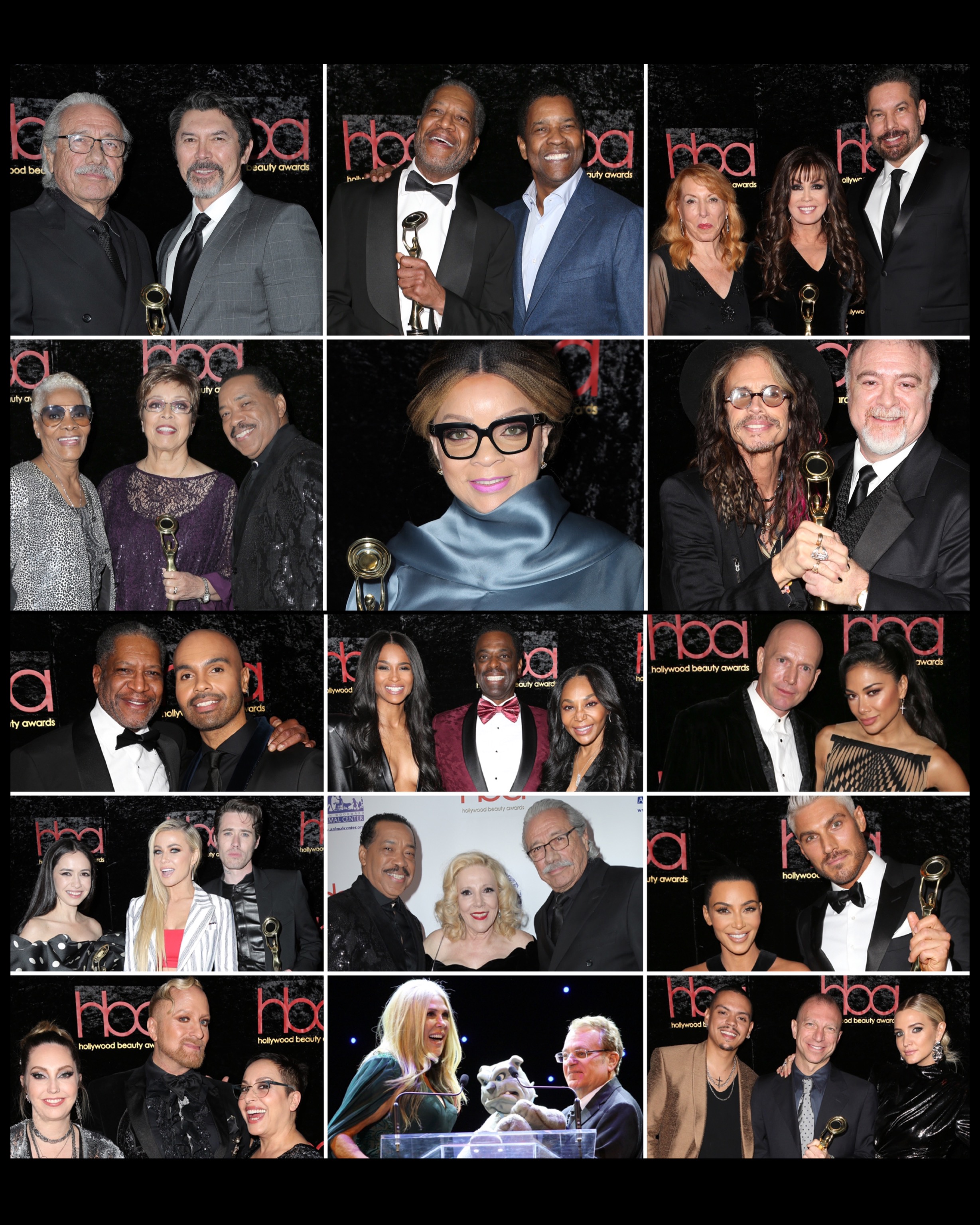 The annual Hollywood Beauty Awards (HBAs), founded by Michele Elyzabeth, celebrated their 5th year honoring the architects of beauty on Sunday, February 17, 2019 at Avalon Hollywood, recognizing talent in hair, makeup, photography and styling for Film, TV, Music, the red carpet, editorial and more. Radio personality, Lisa Stanley (K-EARTH 101) returned to host the black tie dinner gala, benefitting Helen Woodward Animal Center. Ventriloquist, Joe Gandelman and his animal puppets joined Lisa on stage throughout the night.
Denzel Washington presenting Outstanding Achievement in Hairstyling to Larry M. Cherry, who has worked with the Oscar and Golden Globe winning actor for almost thirty years.
Kim Kardashian West made a surprise appearance to announce the nominees for The Lori McCoy-Bell Hairstyling Award; revealing her longtime hairstylist, Chris Appleton as the winner of the evening.
Actor, Obba Babatunde and multi-Grammy winner Dionne Warwick co-presented Outstanding Achievement in Makeup to Wynona Y. Price. Steven Tyler presented The Beauty Enhancement Award to Dr. Steven Zeitels for his incredible medical career in vocal restoration surgery.
Lou Diamond Phillips celebrated his birthday while presenting The Gentleman's Award to his longtime friend Edward James Olmos.
Marie Osmond was honored with The Timeless Beauty Award, presented by John Redmann of "The Talk," with a surprise speech from Garth Brooks and Trisha Yearwood.
After 2019 Oscar nominated Ruth E. Carter received Outstanding Achievement in Costume Design, Carmen Electra presented The Ruth E. Carter Styling Award nominees. Ashlee Simpson and Evan Ross announced the winner of the Saint Photography Nominees. 2017 Photography Honoree, Timothy White co-presented with Nicole Scherzinger to Saint for Outstanding Achievement in Photography. Actress Nina Dobrev, Mara Wilson, Gregory Arlt (MAC Cosmetics), Daniel Martin (Dior, 2019 Makeup Nominee), Angela Levin (2017 Makeup Winner), Gail Ryan (Oscar winner/2018 Hairstyling Honoree), Riawna Capri (2018 Hairstyling Winner) and more presented.
And the winners are:
LORI MCCOY-BELL HAIRSTYLING AWARD
Chris Appleton – WINNER
Frederic Aspiras
Lee Rittiner
---
LARRY M. CHERRY HAIRSTYLING AWARD
Felicia Leatherwood
Lacy Redway
Miles Jeffries – WINNER
---
VE NEILL MAKEUP AWARD
Daniel Martin
Patrick Ta
Sarah Tanno – WINNER (Sarah's 2nd HBA win)
---
WYNONA Y. PRICE MAKEUP AWARD
Ernesto Casillas
Etienne Ortega
Yolonda Frederick – WINNER
---
RUTH E. CARTER STYLING AWARD
Alexandra Mandelkorn
Sandra Amador & Tom Eerebout – WINNERS
Wendi & Nicole Ferreira
---
SAINT PHOTOGRAPHY AWARD
Axelle Woussen
Mario Anzuoni – WINNER
Matt Sayles
---
The 2019 HONOREES:
OUTSTANDING ACHIEVEMENT IN HAIRSTYLING: Lori McCoy-Bell
OUTSTANDING ACHIEVEMENT IN HAIRSTYLING: Larry M. Cherry
OUTSTANDING ACHIEVEMENT IN MAKEUP: Ve Neill
OUTSTANDING ACHIEVEMENT IN MAKEUP: Wynona Y. Price
OUTSTANDING ACHIEVEMENT IN COSTUME DESIGN & STYLING: Ruth E. Carter
OUTSTANDING ACHIEVEMENT IN PHOTOGRAPHY: Saint
THE BEAUTY ENHANCEMENT AWARD: Dr. Steven Zeitels (Outstanding Achievement in Medicine & Surgery)
THE GENTLEMAN'S AWARD: Edward James Olmos
THE TIMELESS BEAUTY AWARD: Marie Osmond
PRODUCT OF THE YEAR: Dior for ROUGE DIOR
THE BREAKTHROUGH AWARD: Simin Hashemizadeh for Forbelle
SPECIAL TRIBUTE – THE MICHELE ELYZABETH AWARD: John Demsey of Estée Lauder
---
ABOUT HOLLYWOOD BEAUTY AWARDS:
The HBAs was established in 2014 for the purposes of recognizing excellence in hair, makeup, styling and photography. The voting board is comprised of past honorees, winners, professionals from the beauty industry; encompassing Journalists, Publicists and Beauty Experts. Beginning in 2019, the public will be invited to participate in the voting process.
Executive Producers are Michele Elyzabeth, Pamela Price and Otis Stokes.
ABOUT HELEN WOODWARD ANIMAL CENTER:
A private non-profit organization and no-kill facility in San Diego County committed to the philosophy of people helping animals and animals helping people for over 40 years.
SOCIAL MEDIA:
#HollywoodBeautyAwards
#HBAs
Instagram & Facebook: @HollywoodBeautyAwards