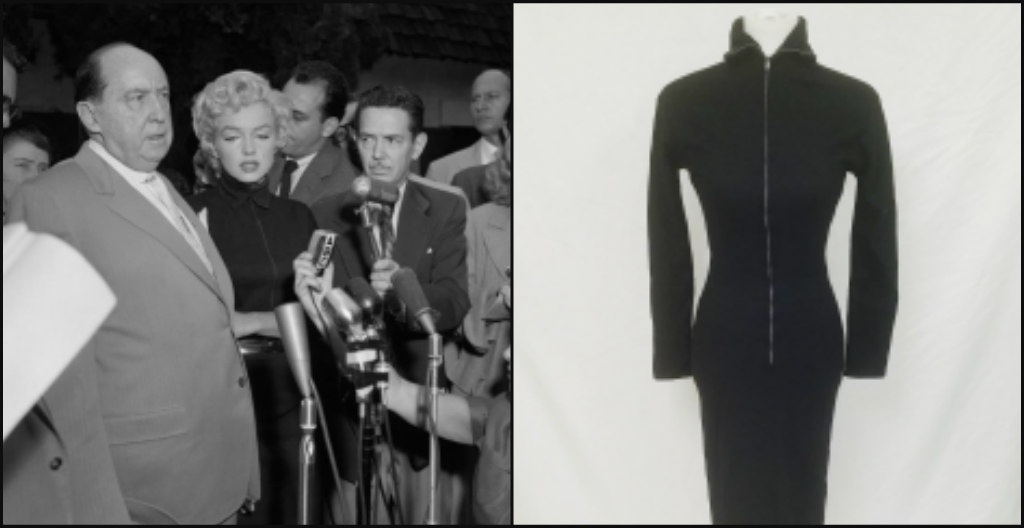 Can a simple black dress express and become a symbol of the sadness and inner torment of the world's most iconic Hollywood star—Marilyn Monroe? The rare and austere black wool dress a devastated Monroe wore during her teary 1954 press conference announcing her separation from baseball legend Joe DiMaggio, a seismic event that rocked the Hollywood and sports worlds simultaneously, will go on sale through Kruse GWS Auctions on Saturday, March 30, at 10 AM Pacific Time.
The dress signifies the end of one of the most celebrated and tempestuous marriages in Hollywood history, a union of mega-watt superstars.The dress, which is black wool with long sleeves and has a zippered turtleneck front, is an under-recognized treasure that marks the troubled, enigmatic life of this iconic actress.
Despair etched on her face, Monroe could barely stand up when she walked out on North Palm Drive in Beverly Hills on October 6, 1954. A frail and distraught Marilyn appeared with every curve embraced by the tight-fitting dress, to reveal she would seek a divorce from DiMaggio on the grounds of mental cruelty. The news instantly made headlines around the globe, generating a barrage of media attention and gasps from fans in every corner of the world.
Though foreseeable given the conflict in their careers, the unhappy ending to the fairy-tale love story, came to a head as Monroe was filming the scene in "The Seven Year Itch," a scene that has become one of the most legendary in movie history. On set, DiMaggio horrified by the sight of his wife's public display before some 2,000 strangers at a promotional event, is quoted as saying "What the hell's going on here?" The fate of the relationship sealed, Monroe soon after filed for divorce.
More than 50 years after her unexpected and tragic death in 1962, fascination with the sex symbol continues unabated. This is the dress that mourned the end of a marriage that still captures the imagination of adoring fans. This iconic piece will go on the auction block during the Kruse GWS Auction Event on March 30, 2019.
To register or for more info, please visit: www.gwsauctions.com/