The Palace of Versailles and the Réunion des Musées Nationaux – Grand Palais opened a refurbished retail outlet at the heart of the tour.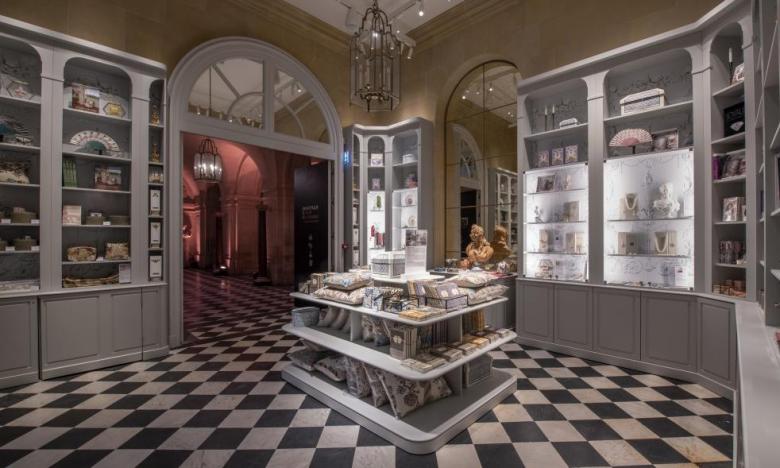 The three members of A Paris chez Antoinette Poisson worked with the interior design studio Supercraft to design the layout of the Marble Courtyard boutique, under the supervision of Frédéric Didier, chief architect of Historic Monuments in charge of the Palace of Versailles.
This sales area of 182 sq.m, revitalized and modernized, comprises four rooms in sequence. In this shop, a veritable exploration of the French way of life, more than twenty brands present their expertise and many designers reveal their talents. Creative partnerships, exclusive collaborations and offbeat, contemporary range take you on a journey back in time. From room to room, the shop multiplies the architectural references to the royal apartments of Marie-Antoinette and Louis XVI, infusing modernity and refinement. Antoinette Poisson's domino wallpapers and the elegant furniture designed by Supercraft resonate with the original black and white chequered floor to offer a new look at an intimate and unknown Versailles.
From the first room, The Queen's Apartments, inspired by the boudoir of Marie- Antoinette at the Petit Trianon, the rounded furniture and the pale grey windows, lined with domino wallpapers, transport us to the intimate Versailles of the 18th century. The spirit of this ladies' salon extends to the feminine ranges dedicated to beauty and well-being. Gloves, perfumes, creams, jewels, scarves, bags and fashion accessories celebrate life at the court and its great figures with quality and simplicity. In the second room, a royal dresser, entirely redesigned, invites us into the gourmet universe of the Office and Gardens. Its ethereal lines are subtly warmed with touches of copper that respond to the soft hues of chalk and stone. This room is filled with exclusives in table dressing developed with fine French brands, and garden products produced in partnership with artisans. In the third room, The King's Apartments, with a more masculine atmosphere, historic cups, candles, slippers and accessories in high-end leather are displayed alongside objects based around writing, games, science and hunting. The fourth room reveals Children's' stationery and books section with low furniture, adapted to children, which brings together other new creations and dedicated lines. Princess, marquise and queen's costumes rub shoulders with the chivalrous world of budding musketeers. Reproductions of eighteenth century toys are an invitation for playful moments to be shared.
The Marble Courtyard boutique at the Palace of Versailles Tel.: + 33 1 30 97 70 95 Closed Mondays 1 November to 30 April from 9:30 am to 5 pm 1 May to 31 October from 9:30 am to 6 pm